Apple (NASDAQ:AAPL) has picked up a bit of share in the United States recently, but will it beat the street in its quarterly earnings due out shortly? It might, but I think it more likely its results will be in line with its own guidance this time. This article sets out why.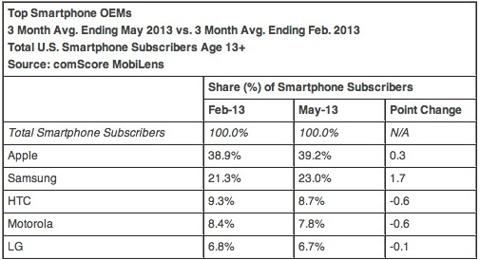 In the rapidly growing Chinese market, Apple is fighting an enormous push by Samsung which has kept Apple in a number five position based on the data available so far in 2013.
Apple has also struggled to hold share in Europe (according to data from Kantar World Panel) where Android has enjoyed rapid growth and Windows 8 phones are finding a market.
Apple guided to flat revenue for Q3 in its last earnings release, disappointing many but perhaps for a change from its historic practice of guiding low and beating, Apple has given investors a reasonably accurate look at the outlook.
The quarter was a quiet one for Apple with nothing dramatic by way of product announcements and very little activity in terms of corporate developments. Rumors of new products abound on the internet but have not been backed by any official indication that anything material is imminent. As a result, I don't expect a lot to happen on its quarterly earnings call.
SA contributor Gary Cheng recently set out the bull case for a good quarter by Apple in terms of unit sales, based on web search data. He also pointed to some aggressive pricing by Apple on older versions as a reason why unit sales may beat. Recent reports suggest it more likely that sales are soft and that Apple has cut production to balance inventory. In any event, in my view, any additional unit sales are likely to be offset in lower margins which may fall in the 35 to 36% range - a bit below Apple's guidance of 36 to 37% - and if there are risks they are to the downside.
As a result, I am on the sidelines this quarter and currently hold no position in Apple. Before the quarterly results are released, I may write both calls and puts straddling the market price on the eve of the announcement in the expectation that both sets of options will expire worthless and the stock will simply drift sideways until there is a clearer picture of the way forward.
Disclosure: I have no positions in any stocks mentioned, and no plans to initiate any positions within the next 72 hours. I wrote this article myself, and it expresses my own opinions. I am not receiving compensation for it (other than from Seeking Alpha). I have no business relationship with any company whose stock is mentioned in this article.
Additional disclosure: I may write both puts and calls near the market as Apple approaches its release since I think the market will not react materially to the news and the options are likely to expire worthless.