I read SA contributor Douglas Friedman's excellent article on Allana Potash (OTCPK:ALLRF) published recently. One of the major concerns facing investors in Allana is the political risk of assets in Ethiopia. An alternative investment with similarly outstanding opportunity for long term gains is Canada's Western Potash (OTC:WPSHF). The market's distemper with junior mining companies has punished the stock of Western Potash severely, creating an opportunity for patient investors.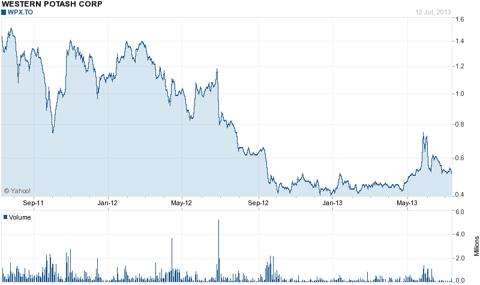 Source: Yahoo Finance
Western Potash has a major project called Milestone which contains an estimated 137 Million Tonnes of Potash, enough to support a 2.8 million tonne a year mine for over 50 years. Western completed a feasibility study in 2012 and this year received Environmental Assessment approval from the Saskatchewan Ministry of the Environment.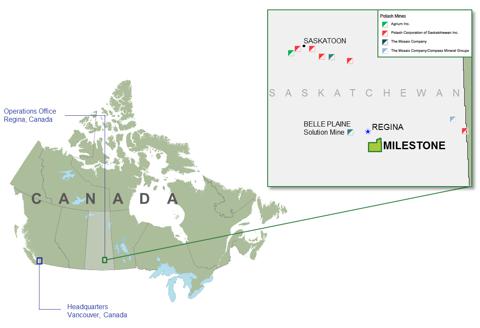 Western Potash has a market capitalization of just over $100 million, is debt free and recently completed a strategic placement of 19.9% of its shares with China Blue Chemical Ltd. (a subsidiary of Chinese National Offshore Oil Corporation or CNOOC as it is known) and others for net proceeds of $32 million. The issue was priced at a 15% premium to market ($0.70 per share), a testament to the investors' confidence in Western Potash, and included commitments for an off take of 1 million tonnes of potash for 20 years and assistance with project financing.
The company has just over 210 million shares outstanding fully diluted and trades for about $0.50 per share today.
Shares Issued

181,295,183

Warrants

20,000,000 (0.58) Expiry October 24, 2015
9,091,000 (1.75) Expiry June 21, 2013
1,272,740 (1.10) Expiry June 21, 2013 (These warrants entitle the holder to convert to one share and one-half of one common share purchase warrant with and exercise price of $1.75)

Insider Holdings

~ 7 % (as of January 28, 2013)
The project economics are compelling. Western Potash completed a NI 43-101 report on the Milestone project which calls for capital expenses of $3.3 billion and start of production in 2016. Financing such a large project is always difficult for a small company but the strategic relationship with China Blue Chemical Ltd. suggests it is not only possible but also likely that the company will be able to raise the necessary funding.
Based on the feasibility study, the project has robust economics with a pre-tax net present value of $3.6 billion and a 21% Internal Rate of Return.
At this point it would be pure speculation to try to determine how much dilution existing shareholders would experience as the project gets financed. With strong partners and a politically safe jurisdiction, close to infrastructure and competently managed, Western Potash is likely to reward investors handsomely. If current shareholders could bring the project to fruition and retain 15% of the equity in the resulting company, the share would be worth a multiple of their current trading price. Mining projects are risky and there is no guarantee commodity prices will be favourable as the mine gets into production, but as a businessman's investment the balance between risk and reward favors purchase.
Disclosure: I have no positions in any stocks mentioned, but may initiate a long position in OTC:WPSHF over the next 72 hours. I wrote this article myself, and it expresses my own opinions. I am not receiving compensation for it (other than from Seeking Alpha). I have no business relationship with any company whose stock is mentioned in this article.