Apple Inc. (NASDAQ:AAPL) shares have had a bounce since they reported a lower than expected 20 % drop in year over year net income for the June quarter and Tim Cook advised they had something "big" up their sleeve to be announced later. Apple bulls have been vocal about the terrific ecosystem; the high quality products; the massive cash position enhanced by an equally massive stock buy back; and, of course, the dividend. These are all good things.
IDC reports smartphone markets grew 59% in units in the June quarter to a worldwide volume of 238 million and Apple market share slumped to 13%.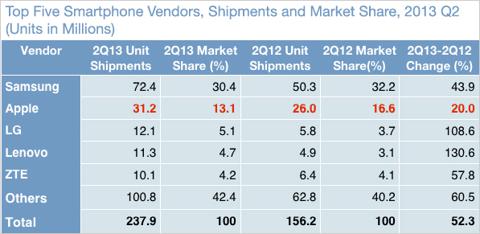 LG Electronics, Lenovo and ZTE all expanded market share at enormous rates as did the "Other" category which makes up 42% of the market and (necessarily) includes BlackBerry, Nokia and a handful of others.
The implications for Apple are dire. Apple owned the smart phone market not that long ago and it is following a BlackBerry like trend of shedding share at an enormous rate and keeping an "its not important" demeanour just as many Apple bulls commenting on my recent SA article maintained that Apple's share of the so-called "high end" of the market is what is important.
Smartphones is not the only arena where Apple market share is taking a drubbing. Despite creating the Tablet market, Apple sales of iPads dropped substantially last quarter as the market flattened and consumers opted for more lower priced Android tablets. The total market reported dropped 14% in the June quarter while Apple sales dropped a whopping 25% from its first quarter volume shipping 14.6 million units.
Margins are falling as well and year over year Apple saw sales declines in key markets like China, Europe and Asia Pacific. This is not a trend favourable to Apple investors.
At this point, seven out of eight smart phone users choose a product not made by Apple. Over half of tablet users choose a product not made by Apple. It is starting to sound a lot like the PC market where more than 7 of 8 computer users choose a PC not made by Apple.
New products with new features may be Apple's salvation but they better come quickly. The flattening of markets for tablets suggests this trend has run its course and possibly consumers have all the tablets they want or need and may even upgrade their old laptop now that Intel has introduced processors with longer battery lives. The long battery life of the tablet in my view was one of the major contributors to its success despite its limitations as a computing device.
Ultrabooks are now thinner, lighter and have battery lives (thanks to Haswell and Silvermont) that compare favourably to tablets and offer a full range of computing power that is more compelling than a trip to YouTube or Facebook with a stop at Instagram and a few tweets on Twitter. I am seeing a lot more people at the coffee shop sporting a new laptop than a new iPad.
Fortunately for Apple, many of those new laptops are MacBooks which remain a compelling choice for many and with crisper display and Haswell processors are likely to remain a favourite for many users. iPads, not so much.
In my view, despite its recent torrid pace of growth, the smartphone market is rapidly maturing. With over 1 billion smartphones sold each year it is a refresh cycle rather than initial demand that will determine future growth, and Android assemblers are taking full advantage by offering a relentless array of new phones with new features. A once every year or so refresh by Apple of its iPhone is just not going to cut it in my view.
What does it mean for Apple? Without new products that capture the imagination of consumers - a real possibility given its history, but by no means a certainty - Apple will do well to hold on to the share it has today. If that is the case, you can expect it to become a less profitable and less interesting investment.
The September quarter is likely to be reasonably profitable for Apple if it meets its guidance but is not going to make anyone rich. In my view, it may well be the last decent quarter Apple puts up for a while. That suggests that Apple investors take advantage of the Apple harvesting season not only to fill their baskets with Royal Gala or Granny Smith's to make preserves but also to preserve the value of their investment portfolio by cashing out or hedging with options.
With its current strength, I believe Apple is a better short than long today.
Disclosure: I have no positions in any stocks mentioned, but may initiate a short position in AAPL over the next 72 hours. I wrote this article myself, and it expresses my own opinions. I am not receiving compensation for it (other than from Seeking Alpha). I have no business relationship with any company whose stock is mentioned in this article.