Apple (AAPL) may release a lower priced iPhone. No doubt it will be a popular product in Asian markets in particular. It is in many ways an essential offering if Apple is to slow or stem market share erosion it is suffering at the hands of Android and Windows devices.
The existing iPhone series has an estimated manufacturing cost of between $207 and $238 per unit, according to iSuppli.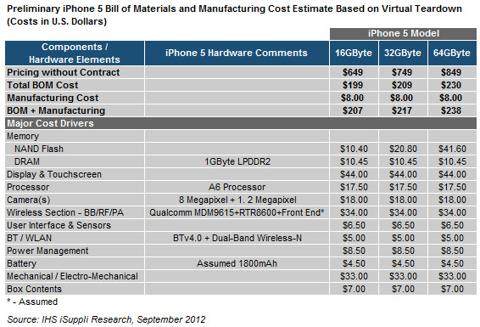 I presume Apple can shrink that cost by a few dollars by omitting the camera and using a plastic shell, but it seems unlikely they can get the manufacturing cost below $150 per unit and $160 is a better guess, as reported by Apple insider
Apple currently realizes something close to $583 for each iPhone sold and is selling about 30 million devices a quarter, more or less. Total revenue from the 31.2million iPhones sold for its last quarter was $18.2 billion. iPhone margins are reportedly between 49 and 58%. For the purposes of this analysis I am going to use 53%, the approximate mid-point.
Assume that Apple's lower cost iPhone is a runaway success and sells 20 million units a quarter. Some of these will come at the expense of the more fully featured devices and I am going to assume 40% for convenience. Profit margins on the lower cost device have been estimated in the 40% range suggesting a wholesale price of about $340.
The low priced iPhone would thus spur growth in unit sales. Applying the model to the recent June quarter, the results may surprise some.
Unit volume would have been 38.7 million, a sharp increase from the 31.2 million actually recorded. Of those, 20 million would be iPhone Lite and 18.7 million the fully featured version. Applying the 53% margin rate to the higher priced version and a healthy 40% margin rate to the lower priced version, revenue actually declines marginally and margin comes up short by over $1 billion. There lies the rub!
| | | |
| --- | --- | --- |
|   | iPhone June 2013 quarter | iPhone June quarter pro forma |
| Units sold | 31.2 | 38.7 |
| Fully featured | 31.2 | 18.7 |
| Lower priced | Nil | 20.0 |
| Price realized per unit |   |   |
| Fully featured models | $583 | $583 |
| Lower priced models | $340 | $340 |
| iPhone revenue | $18.2 billion | $17.7 billion |
| iPhone margins |   |   |
| Fully featured models | $9.6 billion | $5.8 billion |
| Lower priced models | Nil | $2.7 billion |
| Total iPhone margin $ | $9.6 billion | $8.5 billion |
All is not lost, since the increased unit volumes suggest higher sales of software, music and applications which have been averaging about $35 per phone in use, adding over $200 million in revenue from that source per quarter. Not all of the higher volume would result in increased iPhones in use, however, since there would likely be some existing users shifting to competing devices.
The point of this article is simple. Apple investors are looking to a lower priced iPhone to save the day for the stock price. A lower priced iPhone is a competitive necessity in my view, but rather than forming a panacea for Apple investors it simply becomes a defensive move which is more likely to permit Apple to hold on to levels of profit currently enjoyed than to cause any dramatic rise. In the end, higher profits will require new products in new areas and not just more entries into the increasingly crowded smart phone space.
I have been an Apple bear for a while now. I don't think September 10th will cause me to move to the long side of the street. I will short stock into any price spike.
Disclosure: I am short AAPL. I wrote this article myself, and it expresses my own opinions. I am not receiving compensation for it (other than from Seeking Alpha). I have no business relationship with any company whose stock is mentioned in this article.
Additional disclosure: I have a short position in Apple calls at $500 strike.