Apple (AAPL) has net tangible assets of about $117 billion. It has embarked on a program to return $100 billion to shareholders through stock buybacks and dividends.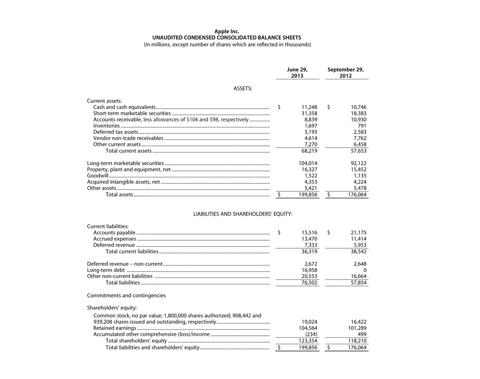 It is a neat trick. Prompted by pressure from activists like David Einhorn and more recently Carl Icahn the Apple board apparently believes this will "unlock shareholder value". I wonder why anyone thinks this value was "locked up" in the first place. The cash was no secret and investors can count, at least most of them.
The vast majority of Apple's "cash" is tied up in "long term marketable securities" invested outside of the United States. While Apple has provided for taxes on the offshore income giving rise to the cash hoard, it has not paid those taxes but "deferred" them indefinitely by keeping the money outside of the United States. There are moves afoot to tax the offshore income since the ability to avoid being taxed was an unintended consequence of international tax treaties and unique tax codes in certain jurisdictions, and has become a sore point among G20 finance officials who are struggling with high sovereign debt. Apple very likely will find itself paying tax on its offshore cash before too long, and the cash pile will shrink.
Apple's results have come under pressure in recent quarters. Unit sales have risen less rapidly than the market for its devices as it sheds market share in the face of stiff competition from Android, Windows and BlackBerry devices; margins are declining; and, the product portfolio is getting a bit long in the tooth. If Apple ends up paying tax on its offshore income the company will do well to keep net income at $30 billion a year for the next few years, absent some major new product line that consumers line up over night to plunk down their cash and be the first to own. Hopefully it is not a TV since that could be heavy to lug home after a night with no sleep.
Let's take a 5 year look at the current plan. Cumulative net income of $150 billion (in my view a bit of a stretch all things considered) is added to the $123 billion of shareholder equity at June 30, 2013. $100 billion reduced for dividends and buybacks through 2015 and another $100 for the following similar period, assuming investors get used to the tonic and the board finds the program habit forming. Shareholder equity at the end of 5 years would be $73 billion, about 40% less than today.
The theory of the case is that even so investors would value Apple at a higher price per share since there would be fewer shares outstanding and earnings per share would rise. In a mature market the best companies tend to earn about 20% return on capital employed. With Apple's capital employed about equal to its shareholder equity (it has very little debt) a 20% return yields $15 billion in round numbers, a far cry from the $30 billion I have used as a benchmark. Maybe Apple will do better but the fact mature markets tend to enter into equilibrium where the largest and most profitable player earns something like a 20% ROI and even a 30% ROI on $75 billion is considerably less than $30 billion a year.
In my view, the result is more likely a market value about half of that today. Samsung and Microsoft are not going away and Google's growth in content downloads has already surpassed Apple's based on recent reports. Other competitors like HP, Lenovo, Dell, Fujitsu, Toshiba, Sony, LG, ZTE and Huawei are moving ahead with their own innovation. The next "big thing" may not have an Apple logo on it.
A far better use of Apple's cash is investment in both organic plant and equipment and acquisition of complementary business lines where its unique distribution system (iTunes, iCloud, iStore, etc.) give it the ability to branch out beyond selling devices. In a world where content is becoming a key, Apple could develop and acquire unique offerings of music, video, movies, books, and so on and use its vast distribution system to carry these to customers. In many ways, its real competitor might be Amazon, not Samsung.
Instead, Apple's board has buckled under pressure from activists whose time horizon is driven by short term gains, possibly at the expense of the long term health of the company. I think that direction is rotten to the core. I am a bearish on Apple.
Disclosure: I am short AAPL. I wrote this article myself, and it expresses my own opinions. I am not receiving compensation for it (other than from Seeking Alpha). I have no business relationship with any company whose stock is mentioned in this article.
Additional disclosure: Short Apple calls at $500 strike