The world has changed a lot in a few short years. In 2008- just before the big market meltdown - Research in Motion (now BlackBerry (BBRY) ruled the smart phone space with double the market share of Apple (NASDAQ:AAPL).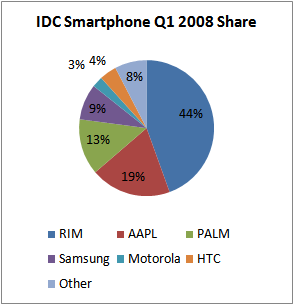 Even by the spring of 2010, BlackBerry users still made up almost 40% of smart phones in use but Apple was closing in with over 30% and Palm was virtually non-existent.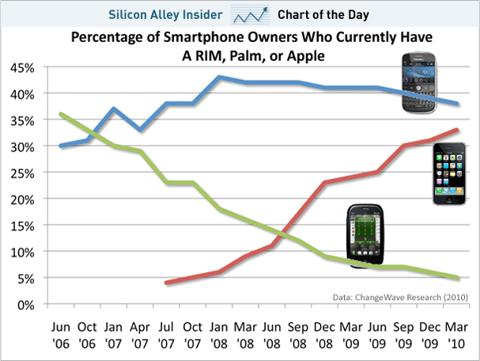 The charts are interesting for what they do not display. For example, you do not see much of Android and Windows phone does not get mentioned. Looking at market share in early 2010 (rather than the previous chart which shows installed base and not current sales) you see that Nokia and BlackBerry (then RIM) continue to outsell Apple but a growing list of Android assemblers are showing growth, particularly Samsung and HTC. Palm had virtually disappeared.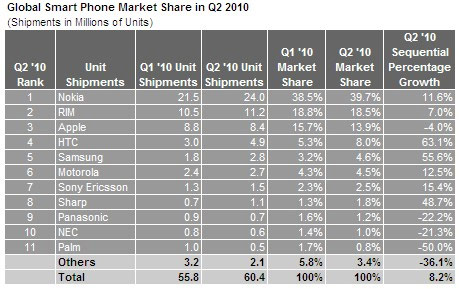 Fast forward to early 2012 and see a dramatic rise in both Apple and Samsung share of market, with Samsung taking an impressive lead.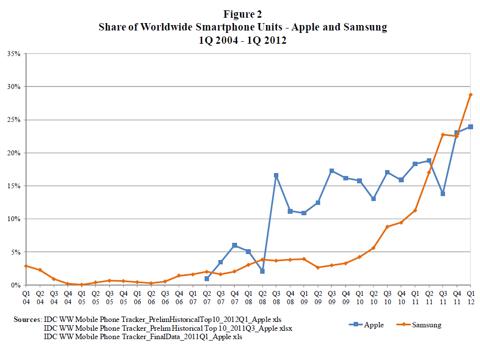 Apple investors disregarded the charge by Samsung, bidding Apple shares to over $700 by the fall of 2012.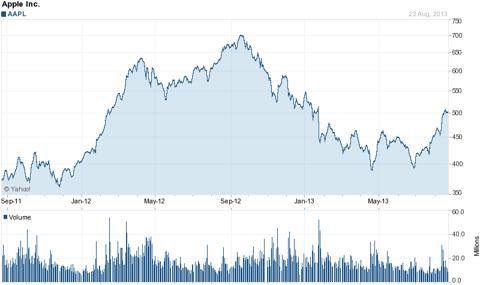 The enthusiasm for Apple shares ignored an ominous trend. In the year ended December 31, 2012, Apple market share was flat while Android phones surged ahead.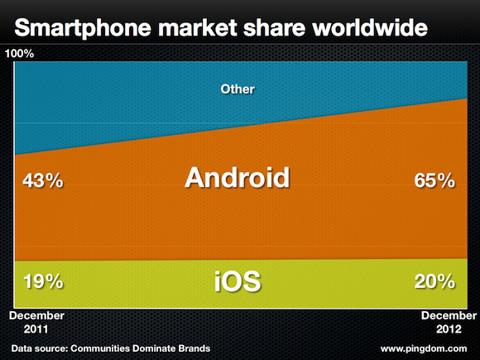 Things turned uglier for Apple in the quarter ended March 31, 2013 where the data showed Apple had lost almost 22% of its market share from a year previously with 80% of the share loss taken by growth in Samsung market share.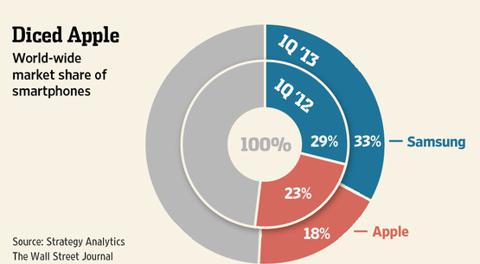 The share loss was punctuated by a parallel drop in Apple's share price.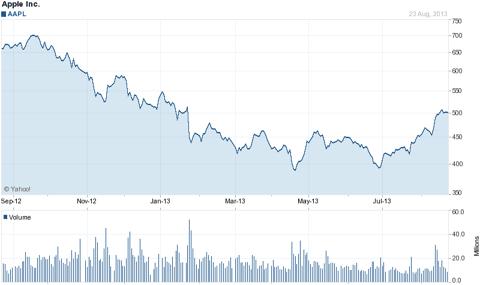 Apple continued to show sales growth into the June 30th quarter of 2013 but its 20% revenue growth was substantially less than the 50% growth in the market, signalling further share erosion.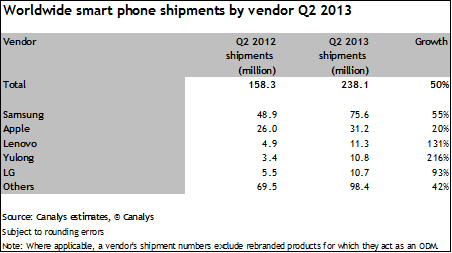 In line with the share erosion, Apple's revenue growth was sharply outpaced by Samsung, Lenovo, Yulong, LG and in fact all other smart phone suppliers taken as a group, including Windows phone.
A lot of chatter suggests that this should not concern Apple since it is continuing to grow and earns very high profits from its iPhone business. The theory is that investors should measure share of industry profits and not share of revenue or unit sales. It is an interesting theory but not a persuasive one. It is the kind of thinking that was prevalent in Palm, then Nokia, and more recently BlackBerry. It has the tone of the captain of the Titanic ignoring warnings of an impending iceberg on the basis that his ship was "unsinkable".
In my opinion, the trends for Apple are ominous and need to be dealt with. Apple is going to make some announcements September 10th. The rumor mill is in high gear about the possibility of the introduction of a lower priced iPhone for Asian markets and a new and improved iPhone for the rest of the world. Very likely this will take place. It is directionally correct and it will be an important step in trying to stem the decline. Will it be enough? I am skeptical. As a result, I continue to be bearish on Apple shares with a short position in Apple calls at a $500 strike and an offsetting hedge short position in Apple puts at the same strike. I expect Apple shares to rise on the September 10th announcements and I am likely to short into the strength.
Disclosure: I am short AAPL. I wrote this article myself, and it expresses my own opinions. I am not receiving compensation for it (other than from Seeking Alpha). I have no business relationship with any company whose stock is mentioned in this article.