BlackBerry (BBRY) introduced its new Z30 "Phablet" in some Malaysia yesterday with the United Kingdom and the Middle East markets to follow next week. The device sports a five inch screen, a larger battery giving it true all day capability and an upgraded Operating System. The features are rounded out with stereo speakers making it a portable boom box. Beautifully designed and every bit a BlackBerry the device appears to be built from the highest quality components and targeted at premium users.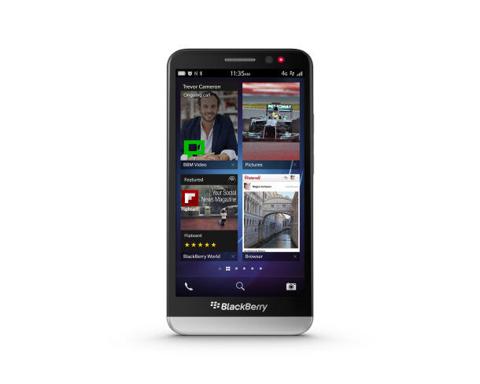 Does it matter? I think so.
The so called "Phablet" market is exploding in Asia. Sales of "Phablets" exceed those of both tablets and conventional PC's and are growing at a rate reminiscent of the early days of the iPhone.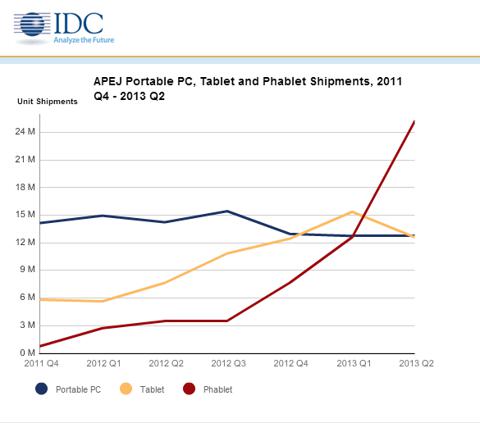 In Taiwan, for example, 81% of the 2.1 million phones shipped in the quarter ended June 30th, 2013 were smart phones and of those 37% were Phablets.
In India, Phablets already make up 30% of smart phone sales.
In Asia Pacific (excluding Japan) Phablet shipments hit over 25 million in the June quarter, double the number of tablets shipped in the period.
ABI research predicts Phablet sales will reach 385 million by 2017, a growth rate surpassing all other segments of the smart device market by a wide margin. At an average selling price of about $600, the BlackBerry Z30 is worth $2.3 billion in sales for every 1 percentage point of market share the device can capture.
BlackBerry has a chance in this space, since it is competing solely against Android and a smattering of Windows 8 devices including a soon-to-be-released Nokia Phablet, reportedly to be release in October, delayed somewhat by the Microsoft purchase of Nokia's device business. Apple lacks an offering in the Phablet world, perhaps out of fear that such a device would cannibalize sales of iPhones and iPads. An Apple Phablet would very likely cause serious erosion of demand for the iPad mini while simultaneously eliminating a possible iPhone sale.
BlackBerry is launching the Z30 in the United Kingdom and the Middle East first, markets where it enjoys continued popularity with double digit market shares. Success in these markets may prompt investors to take another look at BlackBerry as the device rolls out to other markets, particularly in Asia.
The numbers hold out promise. Annual sales of 4 million Z30's is within the realm of possibility for 2014, adding $2.4 billion to sales and likely contributing over $1 billion to margin. With a market capitalization of less than $6 billion, the Z30 would be a major value driver for the company if it catches on.
I am long BlackBerry calls.
Disclosure: I am long BBRY. I wrote this article myself, and it expresses my own opinions. I am not receiving compensation for it (other than from Seeking Alpha). I have no business relationship with any company whose stock is mentioned in this article.
Additional disclosure: I hold calls on 137,800 BlackBerry shares at various strikes and expiry dates