The first quarter is over and it is time to review the bidding. Of my eleven bearish calls three did not work out all that well but in total the short names returned 3.9% for the quarter. In a bull market I normally expect to take a bath on my shorts.
The bullish calls also missed on four of thirteen names but even with those misses the long names were up 14.1% for the quarter.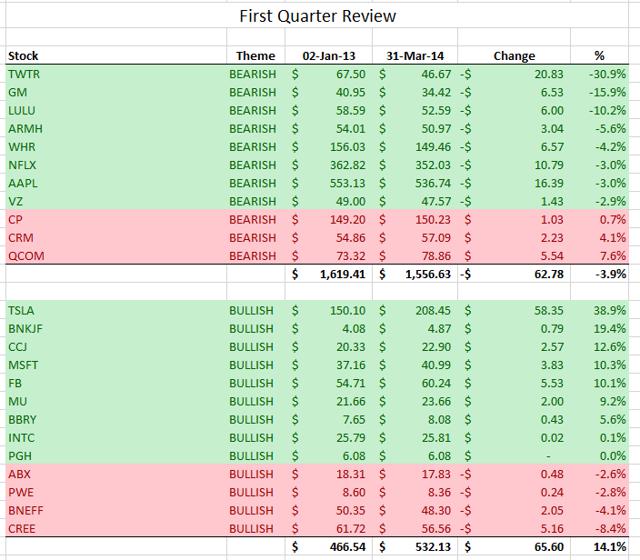 My view is that the market is near a top and will roll over some time in the next several quarters with a fair degree of volatility in the meantime. In that environment I stay liquid, keep a reasonably large short book and concentrate my long holdings in companies where my confidence level is high and their valuations appear low in relation to the market.
Today, I am short CP (NYSE:CP), Salesforce.com (NYSE:CRM), Whirlpool (NYSE:WHR), Qualcomm (NASDAQ:QCOM), and Apple (NASDAQ:AAPL) while I am long Micron (NASDAQ:MU), Intel (NASDAQ:INTC), Pengrowth (PGH), Penn West (PWE) and Bonterra (OTCPK:BNEFF) from the list above. I do have other investments not mentioned in this article both public and private.
I urge readers to stay conservative, stay diversified and seek professional advice when putting their money at risk. Stock markets do not always provide pleasant outcomes.
Disclosure: I am long INTC, MU, PGH, PWE, BNEFF. I wrote this article myself, and it expresses my own opinions. I am not receiving compensation for it (other than from Seeking Alpha). I have no business relationship with any company whose stock is mentioned in this article.
Additional disclosure: I am short CRM, WHR, AAPL, QCOM and CP