Apple (NASDAQ:AAPL) will report its Q1 results January 27, 2015. They are expected to beat last year's December quarter by a wide margin. Last year, Apple turned in sales of $58 billion.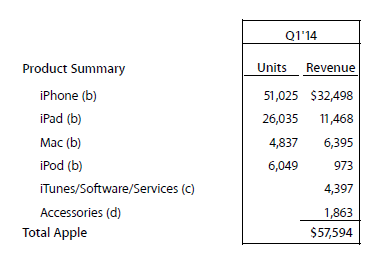 Source: Apple.com
Sales of the popular iPhone 6 are where the action is this year, with estimates as high as 70 million units or more despite the higher prices Apple is charging for the larger screened devices. Sales of 70 million units at $650 could increase iPhone revenue from $32.5 billion last year to $45.5 billion this year. I think that likely.
iPads are another story. While I see many observers calling for iPad sales in the 20 million range, I believe they will have trouble getting past 15 or 16 million with many buyers opting for an iPhone 6 Plus instead of an iPad and an iPhone. Fifteen million units at $400 average selling price would generate $6 billion revenue rather than the $11.5 billion turned in Q1 2014.
Macs are selling well by all accounts and sales of 5.5 million units are within reach with ASP's somewhere around $1,300. That is a tidy $7.1 billion in revenue and a nice jump from $6.4 billion in the fiscal 2014 period.
iTunes, software, service and accessories have been growing and I think a reasonable guess is for $6.8 billion of revenue from these sources, nicely above $6.2 billion in 2014.
Add it up and you get sales of $65.8 billion for Q1 2015. Margins should improve with a richer mix of larger iPhones and could easily reach 39% (Apple guided to 38.5% at the high end). Higher margins are possible, but the headwind arising from the strong U.S. dollar may mute any gain that is not offset by Apple's hedge program.
I would think the U.S. - Yen shift in the quarter significant and not likely fully hedged. If Apple's treasurer could call that degree of a foreign exchange shift accurately, Apple could make a lot more money on foreign exchange than by selling devices.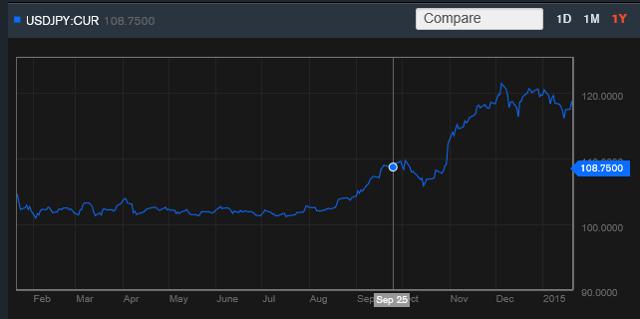 Source: Bloomberg.com
Corporate expenses of $5.5 billion and a tax rate of 26.5% would bring net income to $14.8 billion or $2.51 per share assuming 5.9 billion shares outstanding.
It is a week to go and as most readers know, I am bearish on the stock. The $2.51 earnings will be the high water mark for the next three quarters if history is any guide, and net income for the year as a whole likely to fall in the $7 to $9 range. If so, it is hard to see a compelling case for the stock staying much above $100 unless growth is sustained. That seems unlikely to me.
I am short the stock through puts.
Disclosure: The author is short AAPL.
The author wrote this article themselves, and it expresses their own opinions. The author is not receiving compensation for it (other than from Seeking Alpha). The author has no business relationship with any company whose stock is mentioned in this article.