On September 16, 2015 Apple (NASDAQ:AAPL) put its "Switch to iOS from Android" app on Google Play.
The app is a must for users leaving Android for the venerable iPhone and was developed by Apple to make that switch easy and transparent. The app is available for a switch from an Android device to an iPhone, iPad or iPod Touch.
I am sure those disenchanted Android users who have abandoned the Android OS to join the cult of Cupertino welcomed an Apple-developed method to ease the pain of switching. Tim Cook ebulliently declared that 30% of new iPhone buyers last quarter came from Android users.
As one might expect, Mr. Cook chose his words carefully and in particular was careful to associate the 30% figure with "new iPhone users" and not with replacement demand. Cook did not give any figures on how many "new users" Apple added to its installed base of iPhones for the quarter so we don't know what 30% is a fraction of.
A look at Google Play data helps. Google Play records that downloads of "Switch to iOS from Android" since September 16, 2015 total between 1 million and 5 million. A screen shot of the data on this app labelled "Move to iOS" on Google Play, is reproduced below.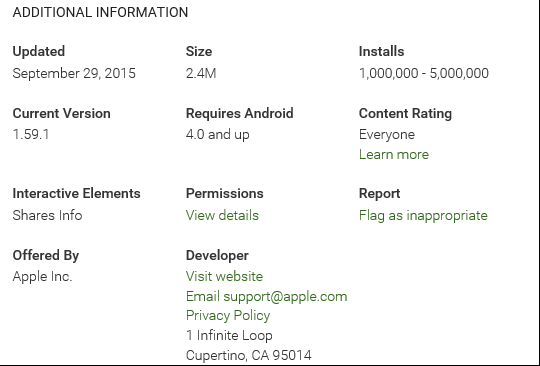 Source: Google Play
With an installed base of 1.8 billion smartphones based on Android OS, a switch of 1 million to 5 million in a three-month period seems a long way from a stampede. An 18 million annual rate of switching would be about 1% of Android users "seeing the light" and joining the throng of Apple fans lined up outside Apple stores to be among the first to buy a new iPhone. It seems on balance Android users are pretty satisfied with their operating system.
Apple has yet to develop an app to assist iPhone users who wish to switch to an Android device. Fortunately, others have. Samsung's "Smart Switch" app has between 10 to 50 million downloads according to Google Play.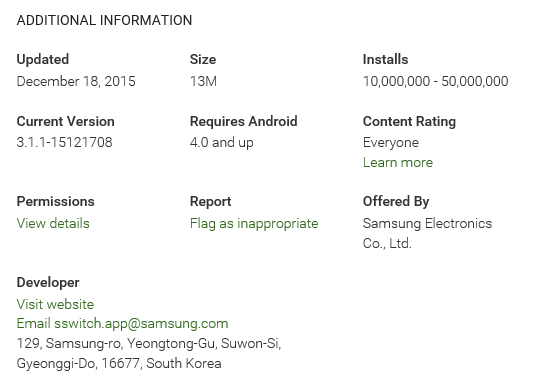 Source: Google Play
It would seem that users are ten times more likely to switch to a Samsung than an iPhone.
The 2016 outlook for Apple seems soft with a real possibility of a decline in iPhone sales.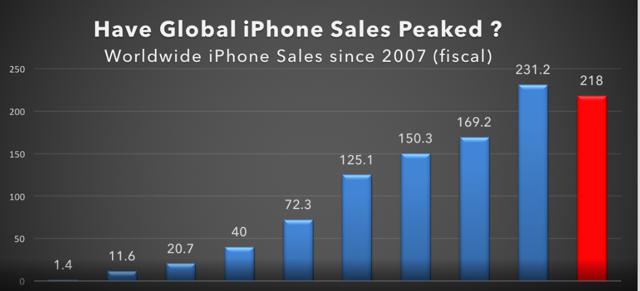 Source: Dazeinfo.com
One thing is certain and that is that the current penetration of the new iPhone 6S and 6S Plus has lagged earlier launches by wide margin, well-illustrated by the Fiksu.com data on iPhone Launch comparisons.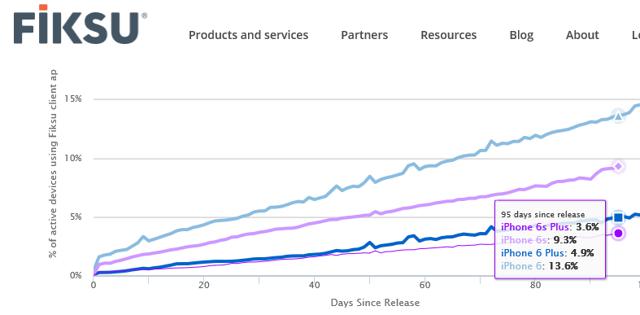 Source: Fiksu.com
There seems little doubt that Apple's Q1 iPhone sales will disappoint Apple's investors. Worse perhaps, Apple's attempts to diversify its sources of revenue have been modest and by and large added little to the company's dependence on the iPhone. The iPad is in decline and to a certain extent in disarray in my opinion as Apple's introduction of the iPad Pro recently displayed. The iPad Pro is a product trying to be both a tablet and a PC but achieving neither, limited by its A9 processor and iOS operating system to perform like a tablet and constrained by a lack of connectivity and lack of support for x86 software to be much of a PC. It is no real surprise that user interest in the iPad Pro has been all but absent.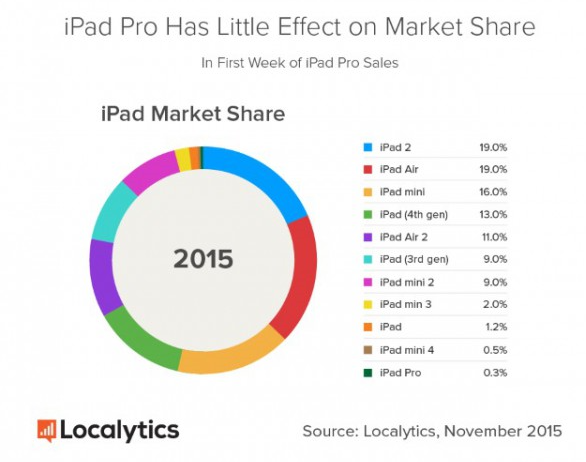 Source: betanews.com
The Apple Watch has been interesting and a commercial success by all accounts but the numbers are relatively small. Apple Pay is not much more than another payment alternative of which there seem to be many and there is little to distinguish Apple Pay beyond its incompatibility with other platforms. One has to wonder whether Apple seriously considers electronic payments as a business or just an inducement to support its flagging iPhone popularity. If there really is a payments opportunity and if Apple Pay is the best technology, limiting it to Apple devices is handcuffing it from the get go.
Of course, Apple may move into electric cars to propel future growth. I am always unimpressed by a company planning its future around an industry it knows little about based on the hubris that it can develop an earth shattering product simply because it has been successful in a completely different market. Apple does have a lot of money to risk on new ventures but I am reminded of the adage: "A fool and his money, soon parted."
I am short the name.
Disclosure: I am/we are short AAPL.
I wrote this article myself, and it expresses my own opinions. I am not receiving compensation for it (other than from Seeking Alpha). I have no business relationship with any company whose stock is mentioned in this article.