Suntech Power STP, one of the world's biggest solar panel manufacturers, was forced into bankruptcy court Wednesday, becoming yet another renewable power company to suffer that fate.
Suntech missed a $541 million bond payment last week.
Over the last year, solar power manufacturers have suffered large losses from rapidly growing over-capacity that has put pressure on prices. Another solar heavyweight, Germany's Q-Cells, filed for bankruptcy last April, as did America's Beacon power at the end of 2011. Recently German's Siemens pulled out of the Solar panel business because of losses.
The sharp rise in production capacity can be attributed in large part to the Chinese government's efforts to encourage the industry. Hundreds of small Chinese solar cell manufacturers sprang up after the government offered tax breaks and subsidies. The leaders of China see green energy as a way to develop higher quality jobs and reduce the demand for foreign energy.
"Prices of polysilicon wafers used to make solar cells plunged by 73 percent from 2010 to last year. The price of cells fell by 68 percent and that of modules by 57 percent." Source
News of Suntech reminds me of many green energy companies that have gone out of business or left the business while they still had the chance. As an investor, I'm mindful of the many investors that took a chance on these ventures and lost.
A great way to see how Renewable energy companies have performed over the years is the Renewable Energy Industrial Index (RENIXX). The index is market capitalization weighted, and tracks companies that make at least 50% of their sales from wind power, solar power, fuel cells, geothermal or hydropower.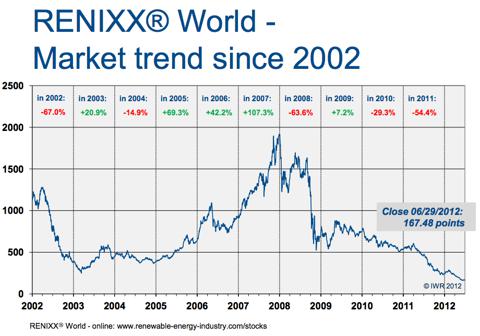 As we can see, the index has not done well.
"The index closed recently at 159.36 points. Compare that to its all-time high of 1918.71 in December of 2007." Rob Wile, Business Insider Source
That's down almost 92% from its peak.
With feel-good green companies performing so poorly, how is the other class of altruistic investing-SRIs (socially responsible investments) doing? To find out how SRIs are doing, we'll use iShares MSCI Socially responsible ETF (DSI) which has been designed to "measure the equity performance of U.S. companies that have positive Environmental, Social and Governance ("ESG") characteristics" Source
As we see from the graph below, its performed in-line with the S&P 500 over the last few years.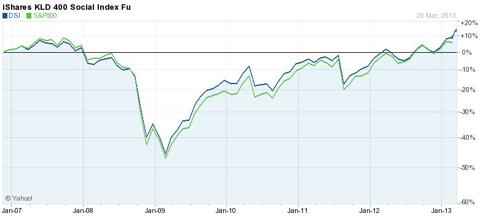 When we look closer to the YTD performance the SRIs have out preformed the S&P by 2.5%.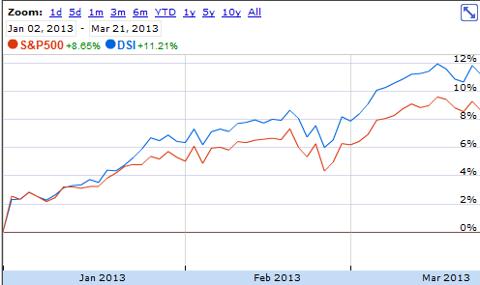 Source: www.google.ca/finance
So if your looking for Investments that better more then just your brokerage account, stay away from renewable energy and instead look at socially responsible investments.
Disclosure: I have no positions in any stocks mentioned, and no plans to initiate any positions within the next 72 hours. I wrote this article myself, and it expresses my own opinions. I am not receiving compensation for it (other than from Seeking Alpha). I have no business relationship with any company whose stock is mentioned in this article.