Chipotle is not the enemy.
Many internal challenges need to be solved.
Relatively low P/E, good CF, good ROE should limit future negative prices movements.
Company summary
McDonalds, a company that started out as one single barbecue joint in 1940 by Richard and Maurice McDonald has morphed info one of the largest food companies on the planet. Earning revenues from rents, royalties and fees paid for by franchise owners and store revenue McDonalds posted over $27 Billion US in 2014. Even with its size McDonalds recorded an impressive eight-year run from 2004 to 2011averaging annual worldwide comparable sales
growth of 5.6%. But for the fast food king the fundamentals have weakened in recent years amid
increased competition and lack of focus on direction-for as we all know, you cannot be all things to all people, you must chose your target audience. To deal with these issues, the new CEO Steve Easterbrook has introduced a four-part approach to improvement; emphasizing organizational accountability, customer centricity, progress over perfection, and process simplification.
While everything said so far sounds good, a recent 23-minute video of Easterbrook talking about his strategy lacks any real details. One former McDonald's chief marketing officer Larry Light spoke with Business Insider was quoted as saying the "plan failed to address the two biggest issues for McDonald's: hemorrhaging of the customer base and deterioration of the brand." Light was further quoted as saying "McDonald's has to find a way to stop the bleeding in the next three to six months if it wants to achieve a successful turnaround". Light is not just some passive observer, he was involved in a similar turnaround at the company in 2002.
Signs of trouble
The burger giant that put supersize, value meal, and "would you like fries with that" into American popular culture is losing some weight: For the first time in more than 4 decades, McDonald's plans to shrink the number of restaurants in the U.S.
McDonald's plans to close more restaurants in the U.S. than it opens this year, according to the world's biggest hamburger chain. That hasn't happened since at least 1970, according to an Associated Press review of McDonald's regulatory filings
The number of store that it plans to close is small compares to the total it has in America or globally, but this maybe more signs of trouble combined with falling sale.
The company enjoyed explosive growth for much of its history by offering predictable food at affordable prices, wherever you went globally. It even showed its strength in the recession of 2008, when its Value items attracted people trying to save-and save money they did.
Today, is another story, recently McDonalds did something that would give most investor an uneasy feeling. McDonald's has announced that they will no longer be providing monthly sales reports. Investors now will have to wait for quarterly reports. It would be prudent for the average investor to assume McDonalds would prefer to have to deal with bad news every 3 months, instead of month after month.
Investment thesis
Sell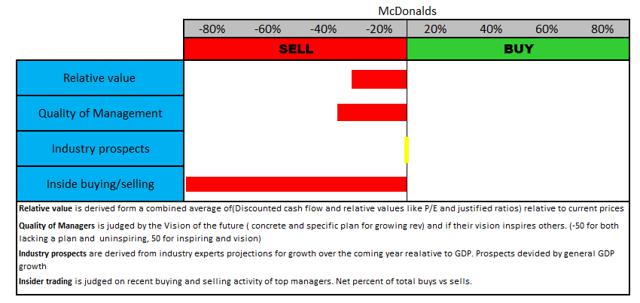 Relative Value was derived from a justified P/E calculation and will be discussed more below.
Quality of Managers is based on the current plan Easterbrook has laid out for the future of McDonalds. From what restaurant owners and analysts are saying it lacks any real strategy to get the younger millennials in the door. Also there are continuing questions about the direction of McDonalds; whether they are focusing on cheap and fast or customizable and slow. The real lack of concrete direction has forced me to give management a negative rating.
Industry Prospects are a neutral rating. Fast-food is only projected to grow at America's normal GDP growth.
Insider trading is very much skewed to the sell side. A quick glance at Yahoo Finance all you see exercising of options and sale of stock. There is no buying.
SWOT
There are many challenges facing a large company like McDonalds let's look at those challenges from the view point of SWOT to get the most balances picture of what they having going for themselves and against them.
Strengths
With a Global presence of McDonalds you end up with one of the most recognizable and at most times trusted brands in the world!
The chain's focus on customizable standardised menu and fast service has helped it to grow to more than 36,000 restaurants in almost every country in the world. It has been profitable for most of its + 60 year run; after a short struggle in the early 2000s, the firm's share price grew over 700% to $100 in 2013. The standardised menu and homogeneous operating procedures should make it easier to move in different directions, once a concrete turnaround plan has been initiated.
Weakness
As much as a fairly standard and simple burger menu has propelled McDonalds for most of its life. Some executives at MCD have conceded recently that an overly complicated menu led to inaccurate orders and longer wait times.
Poor perception of food qualify, high fat foods and unhealthy foods in general are turning some people away from McDonalds and fast food in general. But this maybe an over simplification of McDonalds situation because sales at its competitors like Burger King, Wendy's, Popeyes and Jack in the Box are all growing. The only major burger brand suffering is McDonald's.
This has led some to speculate that MCD's problems are ones of its own creations:
A menu that has morphed into something too large and too cluttered with too many new products.
Menu items may not be geared toward its core customer; bargain conscious customers that want the best value around.
Not focused on its core customers
It is not just perception but McDonald's core customer are concentrated toward lower income families that. By choosing McDonald's they get fast and cheap not healthy food options or superior taste, but rather something that fits into their budgets.
Instead of directing their attention and new products towards their core base, McDonald's prefers to obsess on young millennial consumers, offering them McWraps, lattes, and salads. Offering millennials these new products may not be the right strategy, according to RBC Capital Markets and the NPD Group. Restaurant traffic from millennials with high incomes was down 16% at burger chains over the last seven years, this should suggest MCD is chasing a customer that is becoming less important
Menu changes out of wack
At the same time McDonald's says it's committed to streamlining a packed menu; it has created the Create Your Taste initiative which is all about customization. Giving customers even more choice over what kind toppings and buns to have is in direct conflict with streamlining.
McDonald's maybe transfixed on the wrong target. Chasing after Chipotle's younger hipper customers may not be the right course of action when the numbers show McDonalds is mostly losing customers to other burger chains.
As was mentioned in a recent Business Insider article, "On one hand, McDonald's is talking about menu simplification, while on the other hand they are talking about customization, expanding the line of Quarter Pounders and adding breakfast all day," says Richard Adams, a franchisee consultant who worked in McDonald's corporate offices for close to two decades. "They are going in a bunch of different directions and trying to be all things to all people. That's been their problem for the last five or six years."
Another weakness that McDonalds has in America-which it lacks almost anywhere else-is its sheer size. In Australia, McDonald's food orders are prepared fresh, right in front of customers to see. Numerous fresh items like pineapple are offered in the Australian locations. This would be hard to imagine in America.
McDonald's has tried some of the same innovations in North America unfortunately its sheer store size has prevented it from scaling new ideas as easily.
A recent example of it trying to innovate in the face of sheer size, when MCD tried to develop a customizable order format it was bogged down with numerous challenges to the franchisees like higher costs and longer wait times; this is not what you want in fast food.
Mcdonald's faces greater competition in America then it does globally, where fast food chains have been a staple of the American landscape for decades now we start to throw in healthier alternatives like Panera bread and Chipotles, the American competitive landscape is only intensifying.
Not understanding why something is happening is a huge weakness
McDonald's is going after the wrong customers!
"The burger chain is trying to steal market share from fast-casual chains like Chipotle by adding more upscale burgers and allowing people to customize their orders, instead of focusing on retaining its core customers, who are increasingly frequenting rivals like Wendy's and Burger King, according to former McDonald's executives.": Businessinsider.com
Lack of direction is a huge weakness
Some franchise owners are unsure about the direction of the chain. One franchisee owner came from a recent summit and was "completely confused" about the chain's direction. Does McDonalds want to be expensive and slow or cheap and fast. You cannot be selling customizable burgers alongside a Dollar Menu.
I feel that MCD should focus on what it has traditionally excelled at-low prices and quick service.
Trying to compete with a company that, from what the numbers well us, is not directly competing with you will be financially costly.
McDonalds's new customisable format can take up to 8 minutes to prepare, which is unacceptable for most people looking for fast food. It is unclear if these 8 minutes is at optimal operational capacity; I would like to see waits during peak times.
A recent study by QSR mentions that the burger chain is already challenged from a service slow down; this is without the new customizable format. The drive through time is the slowest it has had in over 15 years. The chain's average drive-thru time is 3 min. and 9 seconds.
Opportunities
Recently management under the guild of new CEO Easterbrook has laid out a strategy to:
improve growth,
localizing strategy towards regional needs
cutting costs and decision time
trimming menus
The bulleted points should be relatively easy to implement. Getting more of a young crowd in the doors has not been touched upon yet. Of the 36,000 restaurants globally McDonald's has, 90% should be franchised over the next four years. That's a 9% increase from current levels and will mean the company will rely more on franchising fees and less from the day-to-day work of running restaurants. At the end of the day, the restaurant should be a flatter organization that is able to move faster and tackle opportunities quicker.
Currently MCD does plan on a net decrease in stores, this may look like a sign of more bad things to come, but it poses an opportunity for the fast food giant. In a recent Globe and Mail article it was quoted: "Closing weak stores isn't unusual for companies trying to turn around their fortunes. Starbucks CEO Howard Schultz shuttered hundreds of U.S. cafes after returning to head the company in 2008. Since then, the coffee chain has enjoyed healthy sales growth and expanded its footprint. And McDonald's is still growing globally". Howard Schultz had a clear vision of where the company was going and we executed well.
Mike Donahue, who served as McDonald's chief communications officer before leaving in 2006, said McDonald's McDonalds still has room to grow.
Management plans to hit a total of 36,000 restaurants this year by adding another 300 globally. There have been naysayers for decades saying that McDonald's had reached its full capacity in America. But year after year, McDonalds has always found a way to grow.
With revenues of over 27 billion and a stock that sells at 3.3 x revenues compared to its closest competitor Restaurant Brands International Inc, the parent company of Burger King and Tim Hortons, sells at 6.4 x revenue. Getting a similar price to sales ratio for MCD would mean an almost doubling of stock price. Is a price increase possible when sales are falling slightly for MCD? The answer to the question is most likely not. Currently, Restaurant brands international is priced at 6.4 x Rev. while having a negative ROE of -23%, MCD's is 32%.

Source data: Google Finance
As McDonald's continues to struggle in the US, it should be looking globally as much as possible.
The company plans to open hundreds of restaurants in Europe and Asia.
One bright spot for MCD is in France. The company has a small foot print of 1,200 locations there and is investing 200 million Euros to grow.
General consensus is that the McDonalds in France are miles apart from their American cousins. Customers have the ability to place orders on touch screens offering different languages and menu options are highly localized.
Another opportunity, if executed well-with focus, can be the added customization launched by MCD with their Create Your Taste program. If all goes well, the program should be rolled out to 2,000 restaurants this year. This program is an initiative to give customers greater flexibility, which top management feels is increasingly valued by their customer. The only problem is what has already been talked about in the Weakness's section. There are many that feel McDonalds need to focus on speed and standardization, which is in direct competition to customization. If enough thought and effort are expanded I feel they have a good shot at achieving their goals. But the most important thing still needs to be speed of service for McDonalds.
When ingredients are concerned, McDonalds has been seen to be making a half hearted effort to appeal to the health conscious consumer. Recently McDonalds announced that it would limit the use of antibiotics in its chicken within 2 years. Executives have also suggested they might be willing to remove some preservatives in some items. I truly I don't believe this will be enough, they need to be leaders in their efforts, not just followers. And to what extent do they plan on limiting? Even thou this is an opportunity for the company to grow, I feel it's a half hearted effort at best.
Threats
The fast food segment is under threat from consumers that are becoming more savvy about food quality and food health. Consumers are becoming more attracted to new segments like fast casual, which have been symbolized by one company in particular-Chipotle Mexican Grill and a hand full of other concepts. With same store sales down 2.2% in the U.S. in May, the domestic sorrows have only continued. While McDonald's has been around since the 40's, and is a global force, the newer, healthier and fresher concepts are the ones prospering today. This leads to a good question when you have a company that has over 36,000 restaurants worldwide-could MCD be too-big to turn around quickly enough?
The new breed of fast casual restaurants like Chipotle, that market themselves as serving better food and ingredients have been luring young customers away from McDonalds. There are not just new concept restaurants in other segments that are taking away customer from the Golden Arches. MCD is in direct competition from "better burger" chains such as Five Guys Burgers and Fries.
Many have speculated that McDonald's past success led to "a natural overconfidence," said John Gordon, an analyst with Pacific Management Consulting Group.
Today's young consumers want more than just a place to eat; they want to know the places they eat are doing some good in the world. All the most trusted companies are selling good food.
Recently Reputation Institute wrote that a Corporate Social Responsibility (NYSE:CSR) drives Chipotle success. Initiatives like the Chipotle Cultivate Foundation, Food with Integrity, helping local farmers, and getting rid of GMO's are all helping to differentiate Chipotle from McDonalds.
Some of McDonalds's problems lie in operational missteps globally. More specifically, in Asian, where it makes 1/4 of its revenue, has seen several health scares. Revenue fell sharply after it was revealed that one of its suppliers in China was using expired meet. More surprisingly, some Japanese customers have claimed to have found bits of plastic and one claimed to have found even a tooth in the food.
Geopolitics has also had an impact on sales. Russian food inspectors temporarily closed down some outlets in what some are describing as retaliation for Americas sanctions on Russia over the Ukraine crisis. Some Russian politicians have even called for McDonalds to be shut down nationally.
If only geopolitics and bad publicity where the crux of McDonalds problems. McDonalds faces some of its biggest problems at home. It's facing competition from other fast-food restaurants such as Burger King, which have been gaining market share as of late. Many are describing Burger Kings menu as a simpler and cheaper version of McDonalds. From a different direction McDonalds is experiencing pressure applied from the fast-casual segment of the market, which has been attracting more health and socially conscious customers.

Source: Google Finance
Seismic shift in food perceptions among young people (people want healthy, organic, pesticide free)
"There are major changes going on in the food industry," said Susan Schwallie of NPD Group. As evidence of the current shift, Schwallie cited heightened interest in organic food, concerns about preservatives, the drop in processed food sales and the rise of yogurt and nut sales which have a healthier perception.
According to Schwallie, the revolution is largely being led by the young. NPD's research shows millennials consistently prefer Chipotle and Panera Bread to Burger King and McDonalds, although they increasingly prefer to eat at home. Restaurant visits are down almost 10 percent from 2000 levels.
Schwallie goes on to says "chicken has been growing like crazy." Organic produce sales are experiencing a rebound after falling off during the recession, as more consumers have more disposable income available to avoid food treated with pesticides
A little more insight: Why other companies have performed well
When talking about trust in the restaurant business Brad Hecht, Reputation Institute's Vice President told USA Today, "The key takeaway is that it's really not about the products or services the company provides. The company has to have a core purpose and stand behind it. The best companies do an excellent job at both". The article further goes on to say brands like Chipotle (CMG), Subway and Panera Bread (PNRA) have captured consumers' hearts.
While many casual observers believe McDonald's disappointing sales are a sign of how deeply the health focused dining trend is cutting into McDonald's business that may not be the whole story. If it were the whole story, other fast food providers would be in the same boat, Restaurant Brands International Inc. (QSR)-parent company of Burger king and Tim Hortons-and Wendy's (WEN) would also have falling sales, but they do not! The graph below clearly shows that McDonalds is the laggard of the bunch when it comes to sales growth.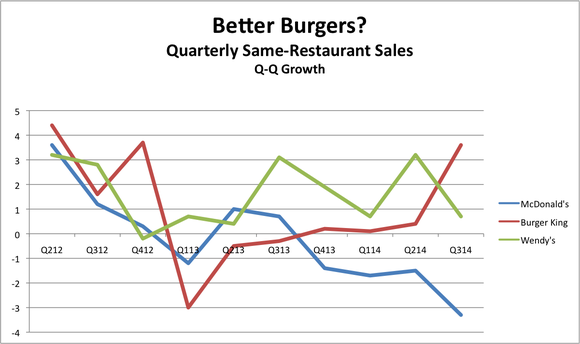 I have my concerns when I look at the short term and long term prospects of MCD. Consumers are increasingly turning to other restaurants as time goes on. As of late McDonalds has brought forward a rough road map for improving sales, but that road map is lacking specifics, and lacks any targeted plans on getting young people in.
SWOT summary
Strengths
One of the world's most recognizable brands
Standardized operations
Global reach
Weakness
Menu is starting to be unmanageable, wait times are increasing both in store and drive through
Not focusing on its core customers. MCD is trying to be all things to all people
Does not have a clear strategy to get millennials in the door
Focused on Chipotle while its losing customers to Burger King.
Opportunities
A plan to improve operations has been laid out. But this is just operations; strategy to get millennials in the door is missing.
International operations are growing and have been able to incorporate localized food successfully.
Threats
Customers are becoming savvier about health, food quality and the conditions farm animals are raised in.
New restaurant chains are focusing on healthy quick serve foods
Places like Burger King are focused on a cheap simple menu, which is a direct attack on McDonald's core customers.
McDonalds has unhealthy food in general. Not only are younger adults turning away from the golden arches, but some of their current older customers-that maybe told by their doctors to start eating better-may start to turn away as well.
Recently they have been rocked by a few food scandals in Asia.
When you add up the Strengths and Opportunities we get 5 bullet points compared to 9 bullet points for Weakness's and Threats. There may not be any weighing scheme for the different points, but when you start getting a difference of 9 vs. 5 bullets a general theme starts to emerge.
Valuation
With revenues of $25 billion and a market cap of $91 billion, the stock sells at 3.3 x revenues. Competitor Restaurant Brands International Inc, the parent company of Burger King and Tim Hortons, sells at 6 x revenues. Relatively speaking compared to its major competitor MCD seems undervalued or at best fairly valued. But what if other companies in the industry are overvalued, seeing as some of them trade with P/E's between 20-41. Let us take a more fundamental approach to valuation.
Overvalued based on a Justified P/E.
Most mature businesses that are growing (definitely not shrinking) at the rate of GDP will have P/E's around the 15-20. With a 21 P/E my only concern is that MCD has had falling revenue in the last few quarters and a turnaround plan that is unimpressive. Dividend yield is respectable at 3.5% and a D/E ratio that is well within industry standards. Let's turn to the valuation with Justified P/E. The required rate of return is based on CAPM model while the growth rate is based on the most likely long term growth prospects for MCD. The 3.3% is based on the last 4 years (2010-14) growth rate in revenue-which is similar to America's GDP growth rate. National GDP growth is reasonable for a large mature company like McDonalds.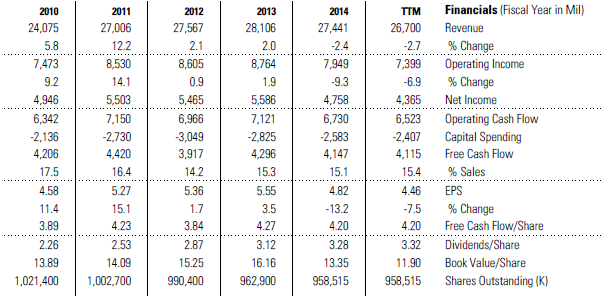 Source: Morningstar Equity Analyst Report, June 1 2015

The dividend current payout ratio = 65%
R= 8.17 %
G= 3.3%
NOTE: Dividend payout ratio has risen from roughly 50% in 2010 to 65% in 2014 this continuous rise is unsustainable. If they start to cut dividends in the future this will have negative effects on the stock.
Based on the above formula MCD's current P/E should be 14.7.


Bottom line
In my opinion the road to a turnaround will be long. Management has laid out a blue print for improving growth by focusing on regional needs, reducing costs and reducing the bureaucracy. While reorganizing the management and trimming the menu is relatively easy compared to the task of enticing millennials. Doing the required work to changed peoples perception of McDonalds will not be easy and management will need to be 100% committed to one course of action. They must finally decide in what direction they want to go, fast and cheap or slower and pricier. With all the challenges facing them, a relatively low P/E, good cash flow and reasonable dividend yield should limit negative price movement.
Until there is a clear, focused and inspiring plan, I would not even look at McDonalds today.
Disclosure: I/we have no positions in any stocks mentioned, and no plans to initiate any positions within the next 72 hours.