Virgin Galactic-Cautionary Buy
Please Note: Blog posts are not selected, edited or screened by Seeking Alpha editors.
Long Only, Value, Special Situations, Long-Term Horizon
Seeking Alpha Analyst Since 2013
In the pursuit of alpha. I'm a CFA level 3 candidate, looking for career opportunities.

Summary
Virgin Galactic is a good space bet.
Virgin is run by a visionary.
What I like about Virgin.
Safe to say there are many risks involved.
Virgin Galactic has been on the move for the last few years. Recently, as of Dec 2019 their SpaceShipTwo has completed more then 50 test flights. Of those flights eight have been rocket powered. Just a few months back Virgin has entered into a partnership with NASA to eventually help train astronauts. Virgin and NASA will collaborate to develop supersonic travel around the globe as has been outlined in the Space Act Agreement. This agreement is designed to advance the USA in technically feasible high speed (multiple Mach) civil applications.
As of the end of 2019, Virgin is still losing money, as should be expected for a company that is still techinally a start up. At the end of 2019 they lost $211 million with a revenue of $3.8 million. Their revenue comes from engineering services it sells and research payloads.
Currently they have one mothership-WhiteKnightTwo(Eve) and one spaceship-SpaceShipTwo(Unity). They have two additional space ships under construction and one more mothership in development. They would like to have a total of 5 SpaceShipTwo vechicles by the end of 2023.
From their financial statements they have about 2 years worth of cash on hand if they keep on losing money at their current rate.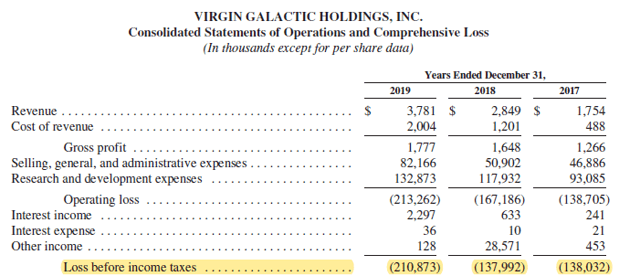 POSITIVES/OPPORTUNITIES
The Leadership team
Richard Branson has been an entrepreneur his whole life. He has had a few big successes like Virgin Records and Virgin Atlantic airline. Now he has had some failed ventures as well, such as Virgin cars, Virgin Cola, Virgin Publishing, and Virgin Clothing. Overall he has built a strong brand with a global reach which people would generally trust. With space flight you need someone that can dream big.
Michael Moses is Virgin Galactic current President. He is overseeing the commercial spaceflight program. He joins Virgin after a successful career with NASA. Between 2008 to 2011, he he was the Lanuch Integratin Manager at the Kennedy Space Center, where he oversaw all space shuttle activities from landing to takeoff.
TOM PUGH the Vice President, Programs.
"Tom is responsible for leading the engineering and flight test teams at TSC, including the development and qualification of SpaceShipTwo and WhiteKnightTwo. Tom was at Lockheed Martin Advance Development Programs for 32 years. During his time at Lockheed Martin, he worked a variety of flight test, engineering, and program management positions"Source: Virgin Galactic
STEVE ERICSON Director of Advanced Design .
"Steve is responsible for leading and incubating new development programs at TSC.Steve has over 40 years' experience in the fields of engineering, integrated product design, equipment development, and management including high altitude aircraft, lighter than air vehicles, spacecraft, missile systems and watercraft. Prior to TSC, Steve was a Senior Manager at Lockheed Martin Skunk Works where he developed the Advanced Prototyping Center and Advanced Manufacturing Systems and Prototyping Organizations within the company. He worked on various aircraft during his 23 years at Skunkworks, including SR-71 updates, U2 mods, F-117 updates, P-3, YF-22, F-22, JSF (X-35), ARTB, F-35, Dark Star, JASSM, Polecat, ACCA (X-55), P791 Hybrid airship and numerous classified efforts." Source: Virgin Galactic
I take the time to highlight and almost reproduce their bios word for word to give you a clear understanding of their skill and experience. There are many more good senior managers that will help propel Virgin forward which you can find on their website. I'm impressed with the qualification with the above mentioned people the most because they have been pushing what is possible for many years in demanding roles.
Focus on safety
When you read the annual statements of Virgin and look over their leadership team, you will see where the focus on safty is mentioned multiple times, over and over again. Focus on satfy and getting it right the first time (methodically) is vital to avoid another flight failure as we saw a few years back with the loss of one pilot and the delay of the program for a few years. Currently Virgin has test pilots with over 200 years of experience working for NASA, the Royal Air Force, US Air Force, Italian Air Force and finally the US marine Corps.
The focus on safty is applied to the rocket motor which has been designed with simplicity and reliability from the start. The motor design has limited the number of moving parts.
Virgin says in the 2019 Annual report that the major safety advantage of the horizontal take off and landing system is launch "generally requires less fuel, oxidizer and pressurant on board". On top of that "the horizontal launch method allows increased time for polots and crew to response to any potential problems that may arise".
Two pilots in each ship-WhiteKnightTwo and SpaceShipTwo, spreads workload and provides redundancies.
Pre-Flight Training
For $250,000+ I would hope to get a little more then just 90 minutes of flight and a few minutes of weightlessness, and you do! The pre-flight training that includes classroom eduction, mock-up training is a great way to not only to let people brag that they have been to space but to actually make them feel that they are astronauts.
Other things I like are the projected numbers that can be seen with graphics provided by Virgin in their recent filings.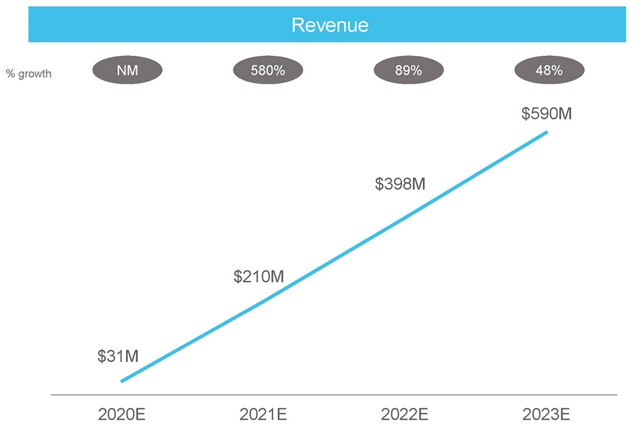 The potential revenue growth is what I like in any new industry that is just starting. This would be like investing in Microsoft or Amazon before any one has really used it.
Per-Flight revenue projections are something else I like the numbers on. You have a projected profit margin of each flight at 66% with current ticket prices. The other great thing about the projections provided by Virgin is it lets you understand the profit breakdown when they do start to raise ticket prices as has been mentioned multiple times.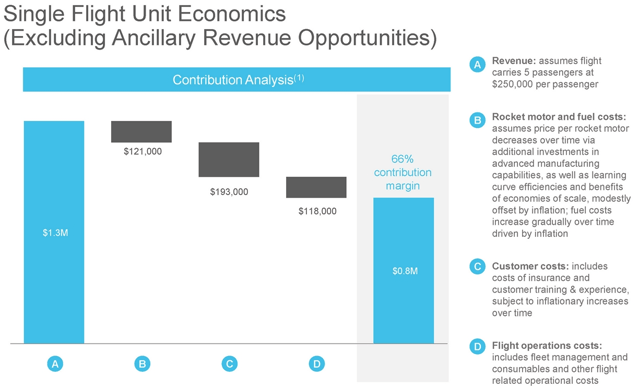 The other projection I am a very big fan of illustrates after their 2023 projected operating year that only 0.1% of their target market for space tourism has flow with them. That gives you a visual illustration of the potential in their model. No doubt that more people will want to fly after prices start to come down and it becomes fashionable to do so.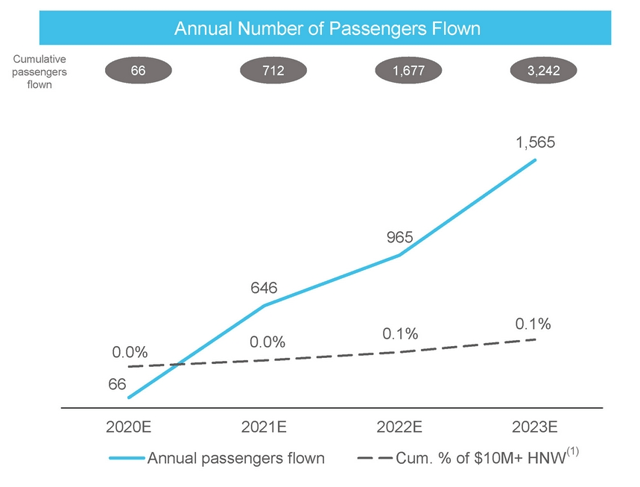 Apart from the tourist aspects of Virgin Galactic. Analyst Darryl Genovesi from Vertical Reasaerch Partners has estimated that "NASA and other space agencies could send 100-200 people up annually on Virgin". Those government passengers could produce a revenue of $50-100 million per year.
NEGATIVES/RISKS
Just as there are significant opportunities with this emerging industry, there are also significant risks.
There are risks both from internal failures and from external threats. Many of the potential operating risks can be gleaned from their annual reports. The risks are extensive, but this maybe your best best to invest into space right now.
Analyst's Disclosure: I/we have no positions in any stocks mentioned, and no plans to initiate any positions within the next 72 hours.
Seeking Alpha's Disclosure: Past performance is no guarantee of future results. No recommendation or advice is being given as to whether any investment is suitable for a particular investor. Any views or opinions expressed above may not reflect those of Seeking Alpha as a whole. Seeking Alpha is not a licensed securities dealer, broker or US investment adviser or investment bank. Our analysts are third party authors that include both professional investors and individual investors who may not be licensed or certified by any institute or regulatory body.