Last week Gulf Keystone (OTCQX:GUKYF) announced an agreement with its bondholders to swap almost the entire amount of debt to 85,5% of equity capital.
Plan details
| | | | |
| --- | --- | --- | --- |
| Unsecured 04/18/17 13% | $250m notes | => | 65.5% of equity and $100 of notes |
| Unsecured Convertible 10/18/17 6.25% | $325m notes | => | 20% of equity |
| Existing Shareholders | 100% equity | => | 5% of equity with a chance to buy 9.5%more for $25m |
(source: Bloomberg, My estimations)
The company was obviously too much indebted. Other Kurdish producers are in much better financial situation. After cleaning its balance, Gulf Keystone is possibly the more attractive target than some of its rivals.
It is safe to say, that Gulf Keystone is greatly undervalued comparing to Canada-based Shamaran Petroleum (OTCPK:SHASF) after the debt-to-equity swap.
Shamaran has 20% working interest in Atrush oil field, only 13km from Gulf's Shaikan field. Both fields contain mostly heavy crude oil resources, characterized by large sale discounts and more expensive transport by trucks (or planned separate pipeline in the future).
Shamaran has not yet got any production on its field and an export permit from the KRG. Still, Shamaran's resources are valued more than 10 times higher given Gulf's debt swap.

(source: Company data, Bloomberg)
Gulf Keystone's current production is also substantially undervalued, comparing to two other leading Kurdish producers, DNO (OTCPK:DTNOF) and Genel Energy (OTCPK:GEGYF).
Company's undervaluation could be the reason for 100-150% surge in the price in last two days, following 40% drop on the deal news. It has a potential to rise further comparing to Shamaran's recent outperformance.

(source: Bloomberg)
The deal is surely the win for distressed debt funds, invested in $250m guaranteed notes with 13% coupon due to April next year. The funds will end up with control in the company (65.5% of equity) and $100m of notes, which have a good chance to be redeemed.
The bonds are trading at 88 cents to the dollar.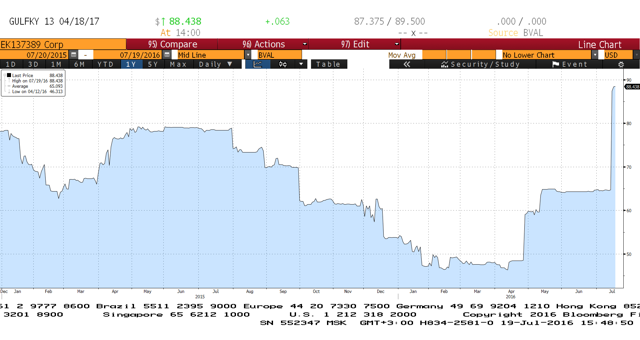 The next logical step for the funds would be an acceleration of Gulf Keystone assets marketing.
Gulf Keystone said it had received as many as 18 M&A deal proposals, ranging from farm-ins to full sales, but that political problems in Iraq and uncertainty about oil prices had blocked progress.
In that situation, Gulf Keystone is the most probable M&A deal target after cleaning its balance sheet. However, playing it through equity looks inappropriate now because of anticipated massive dilution.
Existing shareholders will be diluted to a 5% stake. They will be offered with a chance to buy 9,5% more for $25m. Any stock not bought by shareholders will be purchased by Capital Research, up to a limit of $20m. This offering has an implied value about $0.135 per share. It could be another reason for recent surge in share price above $0.1 level. As it seems today, the price appreciation has been slowed down.

The progress for M&A deals could be delayed further. There are still high political risks in the region. Additionally to ISIS threat and Iraq political situation, there is a tension between two clans in Iraqi Kurdistan: Barzani and Talabani. Probably, because of that tension the date for Independence Referendum has not been announced yet, in spite of President's intention to arrange it before November.
Disclosure: I am/we are long WZGRF.