ZAGG went from $10.56 to $6.23, wiping 40% of it's market value, in just 3 months. This suspicious move happened despite the release (once again) of fantastic results. 

In fact, ZAGG has been consistently beating estimates and company guidance for a while, their products keep receiving top reviews in every channel, sales are skyrocketing and the company's visibility is rapidly increasing. 
Few years ago, ZAGG was just an unknown project, but right now it's products have featured in The Oprah Show and are starting to be sold in association with global Tech Giants like Logitech (NASDAQ:LOGI). ZAGG is just starting and is already going mainstream...

Sometimes reality is stranger than fiction, and believe it or not ZAGG is now number #11 on the Nasdaq most shorted stocks: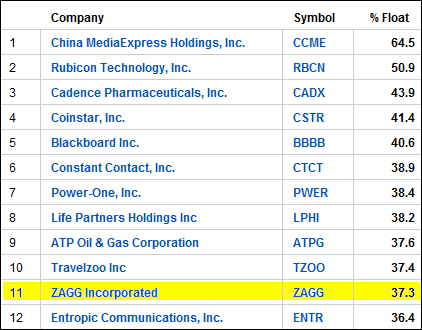 Source: WSJ Online.

The bears may have had their way with them for a while, but nothing lasts forever.... especially when it comes to a stock with the fundamentals and prospects of ZAGG. 

It's hard to imagine that a profitable company like ZAGG could inspire short interest as high as 37.3%, but it has. It's odd though, given that the FY10 P/E is 19x, and that both the forward-looking FY11 (14x) and FY12 (11x) are pretty plausible. Taking into consideration an average annual growth (OTCPK:CAGR) 2008-12E of +59%, the PEG ratio is ridiculously low. In fact, it would not be surprising to see a company like ZAGG trading with double or triple the current multiples, which means trading at 2 or 3 times the current market levels at around $8.00.

Even so, the market is recognizing ZAGG's growth value. Just one year ago, the stock was trading near $2.00 and with or without this short attack, the stock is indisputably moving up: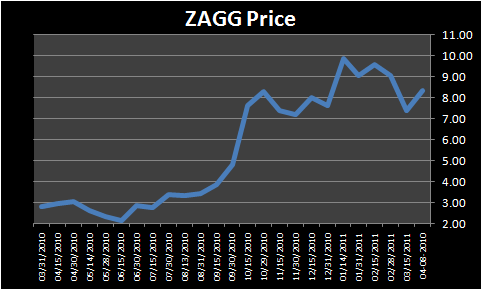 Strangely, the same happened with the Short % of Float, which was less than 3% a year ago, and is now above 37%: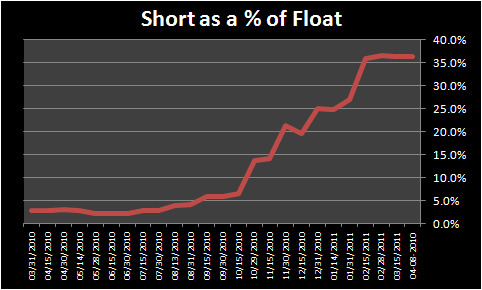 The Big Short: When did it start?
In Oct-10 2010 the short interest was around 1M shares, about 6.4% of float, which is quite normal and it doubled up in two weeks to 13.6%. It ended 2010 near 25%, and that is when most of this huge short position was built. 

The Big Short: How did it start?
I didn't want to speculate about this, but since ZAGG itself already gave us a hint on a SEC and CBOE formal complaint, it's not difficult to get the idea. The Big Short Mania started here, inside a Seekingalpha's Instablog called Worthless Pennies. If you look at the dates, this blogger started actively writing about ZAGG in mid October, and that is exactly when the Short Interest started to boost.

The Big Short: What's it estimated PPS?
It's difficult to calculate the exact average PPS for the total Short Pool, but with the help of Nasdaq Historical Data starting on Mar-2010 we can at least estimate it. From my calculations, the average PPS for the entire Short Pool stands around $7.53 right now. 

The following chart includes the estimated Average Short Price along with ZAGG price for a comparison: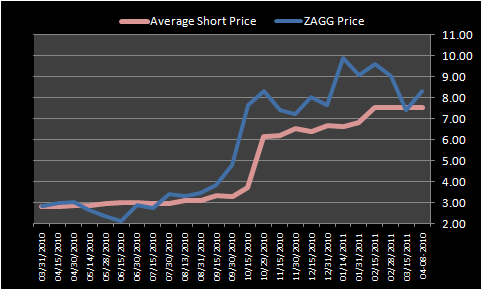 The Big Short: How much is it winning?
In fact it's been loosing most of the time. Besides, it's been averaging down (I mean up, since it's a short position) and increasing it's position every time ZAGG goes significantly to the upside. With approximately 6M shares shorted at an average price of $7.53, the Big Short ended this week with a loss of about $4.7M. Here is a chart with it's Historical Gain/Loss Performance: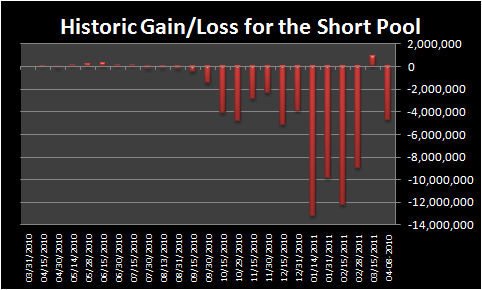 The Big Short: What is it's strategy?
I don't have the slightest idea.
Think about it, this position is being built against a powerful technical uptrend, a trend backed up by strong fundamentals (actual results) and prospects (sector growth, estimates and new deals).
Besides being a counter-trend operation, this position is being leveraged big time and probably in the Options Market as well. With already 37% of float, there is not much room for them to increase this position, so the Big Short is now quite vulnerable for a squeeze.

The Big Short: How will it end?
It's not difficult to imagine a Big Short Squeeze in a stock like ZAGG. 

The only reason for this stock to be at such low prices in the present, is precisely the construction of this huge short interest. The thing about building a Short Operation like this, is that it only affects prices when being built (at 37% short interest the construction is done all the way). After that, they need a true bearish catalyst, and that's why, for every positive development, there is a new bearish misinterpretation posted in blogs and message boards.

The Big Short: When will it end?
The day ZAGG trades above $10.50 will probably be the trigger for the Big Short Squeeze. My mid-term (technical) projection puts ZAGG at $14 after a breakout but my long term fundamental thesis suggests something like $18 to $24 as a possible target... no short will survive that... I guess.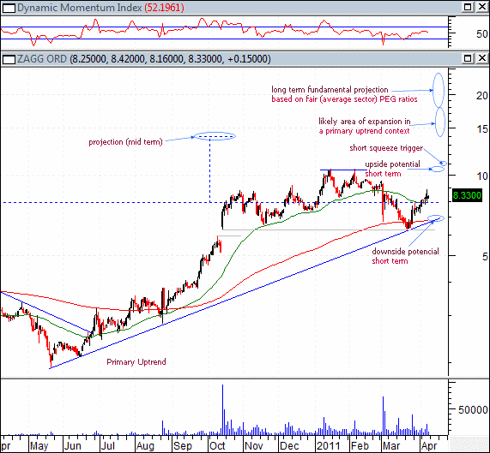 PS: I'm sorry for my English but it's not my native language ;)
Disclosure:
I am long
ZAGG
.