In the wake of Coke's (NYSE:KO) notable endorsement of Green Mountain (NASDAQ:GMCR) as the in-home vending machine of the future, SodaStream's stock has jumped by 20% from its after hour lows Tuesday night. As is typically the case, investors/traders have shot first with the prudent questions and facts to follow later. This actually includes other short sellers whom we have a great level of respect for that are simply off the mark believing it is a fait accompli that Pepsi will partner with SODA. The linear assumption Pepsi must partner with somebody or risk falling behind in the home soft drink market is somewhat correct. While we certainly cannot rule out that Pepsi will partner with SodaStream, we believe anybody that has bought, or promoted, SODA stock in the last 48 hours has missed a critical fact that we have not seen in any sellside reports thus far. PEPSICO ALREADY HAS A PARTNER IN THE HOME BEVERAGE MARKET.
It has come to our attention that Pepsi has quietly partnered with the European multi-drink in-home company Bevyz.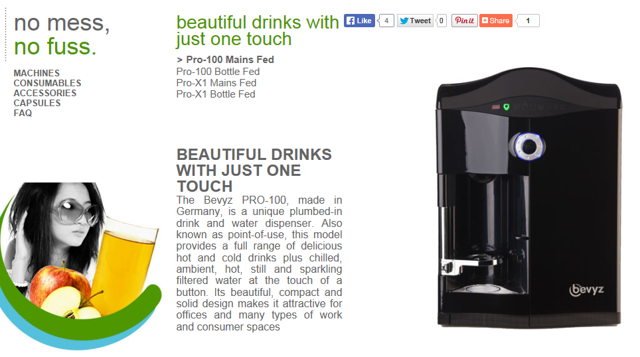 It is somewhat understandable how investors have missed Pepsi's choice of partners, Bevyz is after all private and European, a combo that can often fall off the radar of most stock market speculators. And if you are buying SODA, you are speculating. The Bevyz dispensers (4 different models in total) provide cold drinks, hot drinks, as well as still and SPARKLING filtered water. Like the future Green Mountain Cold system, Bevyz uses a patented packaging technology that creates a consistent consumer experience. How committed is Pepsi to Bevyz? They have already made several of their most important brands available on the Bevyz system, including Pepsi, 7 UP, and Lipton Ice Tea. We would expect much more visibility into this partnership as Bevyz begins to commercialize their machines domestically.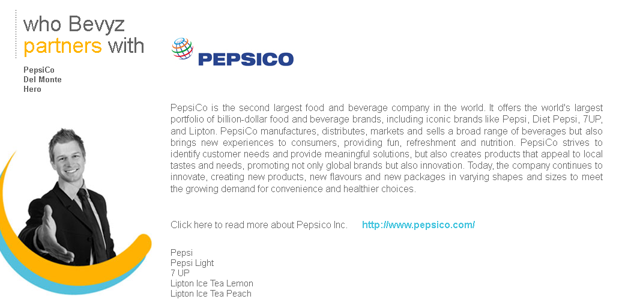 We cannot rule out the possibility that Pepsi will partner with more than one machine manufacturer. It would not seem logical that Pepsi and Coke will ultimately view in-home dispensers agnostically, the same way they view vending machines. They would still compete viciously for consumer mindshare, but the likelihood of consumers having separate dispensers for separate brands seems completely unreasonable. Green Mountain's CEO, Brian Kelley, seemed to understand this obvious dilemma and his remarks suggest there is a high probability Pepsi partners with Green Mountain as well. On its earnings call from February 5th, Brian Kelley was asked about Coke exclusivity, "So to me that tells me that they're [Coke] being exclusive to you, but you can sign on other brands. Is that the right way to think about it?" To this question Kelley seemed to unequivocally state Pepsi is in the works as well, "It is [exclusive]. Although, we're going to bring on the best brands. There are many, many cold brands in North America and in the system. And obviously, we can't bring on every brand at once. We want to bring on the biggest and the best brands, and that'll take a little bit of time as we cycle through it. But what you stated is accurate. And that's the way the platform has worked in hot. And that's the way the platform will work in cold. And it's because that's what the consumer wants." As a reminder in hot, Starbucks, Peets, as well as Dunkin Donuts sell K-Cups for Keurig, despite vicious competition among brands.
While it appears to us that Green Mountain is aiming to serve all beverage brands with the vending machine analogy, it would also seem SodaStream has further removed any possibility of relevance with Coke and Pepsi. SodaStream has proudly taken every opportunity to incessantly insult and alienate the two beverage giants. Its own website explicitly antagonizes Coke and Pepsi with the slogan "Sorry, Coke and Pepsi." This was also a jab that was used in their unedited Super Bowl add which can be found on YouTube. Really, Scarlet Johanssen and a Super Bowl commercial? Levying insults and attacking Pepsi's business model would clearly be an odd way to treat a potential partner. Finally, as the Wall Street Journal pointed out yesterday in an article titled, "Secret to homemade Coke: Instant Cold, No Canisters", Coke is adamant that the key to the home market will be a system that is easy - meaning no dangerous and clumsy CO2 canisters.
It seems the assumption Pepsi must rush to buy SodaStream is completely irresponsible given the facts in the market place. It was indeed Pepsi's CEO herself, Indra Nooyi who called rumors that Pepsi was interested in buying SodaStream, "completely untrue" the last time this rumor surfaced.
If there is in fact no white knight, not only do SodaStream investors own a business with aggressive accounting, horrific forensic attributes, waning machine usage, a depressing Q4 preannouncement, but also now looming competition from Green Mountain and Coke. As we highlighted on two separate occasions when SODA was in the mid-50's and mid-60's, we think the model is in grave danger. With A&P up 41% in Q3 ahead of the Holidays, a big Q4 disappointment speaks volumes about the ROI on that spend. We believe SODA is in the unvirtuous cycle of slackening demand that can only be stimulated by more and more spending, which will have deleterious effects on profitability. America's growth, once the key to the bull story, has declined from 88% in 2012 to 65% in 1H'13, and likely under 20% in 2H'13.
Based on the implied Q4'13 guidance and awful sell-through data, investors must hope any white knight shows up quickly before SodaStream is forced to share their Q4'13 results, discuss 2014, and file their 20F replete with details about their acquired distributors. With inventory out of control (43% inventory growth & DSO's at 86) in the last quarter, and negative cash flow from operations despite reporting adjusted profits, we believe SODA will be starting behind the 8-ball in 2014. Even if Pepsi had interest, given their shrewd reputation and existing bet on Bevyz, it would seem likely they let SODA bleed for a while - again if there was ever a scintilla of sincere interest in SodaStream. Whether SODA management actually confesses when discussing 2014 guidance remains to be seen, but there appears to be a two week window of hope before the proverbial rubber meets the road.
Disclosure: I am short SODA.