Today we shared our first report on Tucows (TCX). We believe management's disregard for the truth, and shareholders in general, will result in a spate of leal and regulatory risks. Below is an executive summary with the segments we cover in more detail in our full report, which can be found here: https://www.scribd.com/document/368674865/Tucows-Inc-TCX-Cashing-in-on-Neo-Nazis-Child-Porn-A-Hidden-Lawsuit-as-Insiders-Dump
This report exposes: Tucows three structurally broken business segments that have been masked by acquisitions, including a domains business that openly enables and supports Neo-Nazism, Pedophilia, and Bigotry; an undisclosed lawsuit that should imminently result in the loss of 11% of the Company's revenue producing domains; nine insiders who sold $21 million of stock while hiding the fact its eNom subsidiary was being sued by its largest partner for breach of contract; and a laundry list of accounting shenanigans and financial irregularities.
Fair Value: $20.00 per share, 70% downside
"If there wasn't such a demand for Lolita sites in the U.S., do you think the Russians would be producing so much child porn material?"1
Elliott Noss, CEO of Tucows
 ---------------------
IMPORTANT Disclaimer – Please read this Disclaimer in its entirety before continuing to read our research opinion. You should do your own research and due diligence before making any investment decision with respect to securities covered herein. We strive to present information accurately and cite the sources and analysis that help form our opinion. As of the date this opinion is posted, the author of this report has a short position in the company covered herein and stands to realize gains in the event that the price of the stock declines. The author does not provide any advanced warning of future reports to others. Following publication of this report, the author may transact in the securities of the company, and may be long, short, or neutral at any time hereafter regardless of our initial opinion. To the best of our ability and belief, all information contained herein is accurate and reliable, and has been obtained from public sources we believe to be accurate and reliable. However, such information is presented "as is," without warranty of any kind – whether express or implied. The author of this report makes no representations, express or implied, as to the timeliness or completeness of any such information or with regard to the results to be obtained from its use. All expressions of opinion are subject to change without notice and the author does not undertake to update or supplement this report or any of the information contained herein. This is not an offer to buy any security, nor shall any security be offered or sold to any person, in any jurisdiction in which such offer would be unlawful under the securities laws of such jurisdiction.
-----------------------
Executive Summary
We believe Tucows' business model and economics have been severely misrepresented by management and are grossly misunderstood by shareholders. The history of this former Canadian penny stock is littered with red flags, dubious accounting gimmicks that inflate EBITDA, financial reports that fail to reconcile from one quarter to the next, and a promotional management team who recently resorted to infomercials. Based on our deep dive forensic analysis, we believe Tucows intrinsic value is closer to $20.00 per share, at best, or nearly 70% below its current trading price. And this price target generously ignores material risks from Tucows' UNDISCLOSED litigation with its largest domain reseller.
In late December, a Washington State Court ordered Tucows to transfer 3.2 million ".com" and ".net" domain names to Namecheap, and an Appeals Court denied Tucows' motion for an emergency stay. 2
As such, Tucows stands to lose approximately 11% of its registered domains in a lawsuit that has not even been disclosed to shareholders. We believe Tucows' nondisclosure is a violation of SEC Regulation S-K Item 103, which requires disclosure of pending litigation if the possibility exists that the litigation will have a material effect on financial results. And make no mistake; the litigation Tucows' management is hiding is material – and THEY KNOW IT. In a Declaration Statement in support of a Bond Request, David Woroch, EVP of Domains at Tucows, stated, "These circumstances present Tucows with a risk of significant loss." 3
Worse than failing to disclose material litigation and business risk to investors, Tucows has been reporting revenue and EBITDA from domains that should have already been transferred. On that non-recurring revenue and EBITDA, and during a period when materially adverse events were hidden, nine separate insiders sold $21 million of stock, including both CFOs, and the Chairman of the Board who sold 100% of his stock during 2017.
[ If you only read two sections of our report, we would point you to "Namecheap – Undisclosed Material Liability" starts pg. 6 & 33, and "The Chairman Sells 100% of His Stock; Other Insiders Follow (With MNPI?)" pg. 11 & 58].
Due entirely to acquisitions, Tucows has reported 69% revenue growth year-to-date. This "accelerating revenue" has screened favorably with non-fundamental quant and momentum traders, who have driven the stock up nearly 250%. In addition to quant buying, Tucows was added to the Russell 2000 Index last summer around the same time a German investment manager became the largest shareholder. We wonder how the German investor, whose founder publicly advocates Christian values, will react when they realize Tucows' has advocated economic relationships with websites supporting Neo-Nazism, Fascism, Bigotry, and the SEXUAL ABUSE of CHILDREN (for example: www.Stormfront.org,https://www.boymoment.com/,www.noblepowbehindthewire.com, http://www.thornwalker.com/ditch/,www.nambla.org).  And yes, there are many more we share.
The business fundamentals are almost as scary as the "morality" considerations are repugnant.
A careful analysis of Tucows' public filings leads us to conclude the reported 69% revenue growth is really a 4% organic decline. And that 4% organic decline should sink further considering Tucows could lose 20% of eNom's registered domains in 2018.
How about good old fashioned accounting irregularities, misrepresentation of key performance metrics, two Named Executive Officers, including the CFO, spontaneously resigning one week apart, and Senior Compliance Officers who post inappropriate S&M-type pictures on social media or have second jobs as a disc jockey? And all of this while Tucows' three business segments are either (1) in structural decline, or (2) pet projects that most likely fail to cover their cost of capital.
And we will go on….
We believe Tucows may be using a recently acquired 50% stake in a subsidiary joint venture called NameJet to manipulate bidding on domain sales. Amid concerns about shill bidding.4
we believe it is odd that Tucows provides no information on NameJet in any of its SEC filings since acquiring eNom. Go ahead and Google "NameJet scam" and see how many hits come up. Based on public filings, we believe this undisclosed subsidiary may have contributed $5 million of high margin revenue to eNom's annual results. 5
This report exposes Tucows for what it is, highlighting the material business, perception, and trading risk for investors. Further, this report opens a can of material regulatory and/or legal worms considering management's relentless stock sales while failing to disclose litigation and negative business developments to shareholders.
Entering the tenth year of a bull market, goofiness is pervasive and many investors don't care about fundamentals as long as momentum is on their side. Tucows has had non-fundamental momentum on its side but we believe that is about to change. We believe Tucows stock is one of the more asymmetric set-ups we have seen in a long, long time. With Tucows' dirty laundry finally starting to get exposed, we believe a roundtrip is likely.
Below is a brief synopsis of the sections we cover in our first Tucows report, with the page numbers in parentheses:
I. A Brief Introduction of Tucows and the eNom acquisition (pg 13)
Tucows has been public for twenty-one years. For most of Tucows' first seventeen years of public life, the provider of freeware and shareware had a market capitalization below $100 million, while toiling in oblivion as a penny stock on the pink sheets and AMEX. After a 1:4 reverse stock split, three different ticker symbols, and a market up-listing to NASDAQ (along with the help of European sponsors), Tucows finally started a new narrative. Despite an enterprise value approaching $850 million, just two Canadian boutiques follow Tucows, Echelon Wealth Partners and Cormark Securities.
The algorithmic and momentum buying began when Tucows acquired eNom from the Rightside Group for $77.8 million. On the surface, this seemed like a shrewd financial transaction. Tucows stock ripped 33% higher in the two days following the announcement, and has increased by an additional 100% thanks to quant funds and momentum investors. Because of the acquisition, Tucows has "reported" revenue growth of 69%. But we believe Tucows' reported revenue growth, is a scam. According to SEC filings, organic growth of the combined businesses is NEGATIVE 4%, while its Domains business has collapsed by 9%, before considering the imminent, and undisclosed, loss of 11% of its domains. Despite 69% "reported" revenue growth, and a corresponding stock price that has increased by 250%, the 2017 earnings estimate of $1.70 is nine cents lower that the $1.79 analysts expected Tucows to earn back on 12/31/15, when the stock was $20 per share.
II. TGV – Who is the Largest Shareholder & Do They Know What They Own? (pg 16)
Tucows largest shareholder is an investment manager based in Bonn, Germany called Investmentaktiengesellschaft für langfristige Investoren TGV ("TGV"). TGV serves more than 200 families, including the firm's founding father, Norman Rentrop, who publicly advocates for Christian values and the Bible. 6 
His Family Foundation owns half of Bible TV, Europe's first 24/7 Bible TV channel. 7  We do not believe these families would approve of TGV's sub-advisors buying a Company with accounting irregularities, undisclosed litigation, questionable insider trading, and openly enabling Fascism, Neo-Nazism, and Pedophilia.
Two of TGV's sub-advisor, MSA Capital 2 and JMX Capital, appear to have violated Mr. Rentrop's and TGV's core principles, as well as their own marketing literature. An Investor Letter from TGV, dated July 2017, as well as a 2016 letter for Teilgesellschaftsvermögen "Partners Fund," highlights investment principles that are inconsistent with Tucows. 9 The two portfolio managers, who have less than seven years of individual experience, 10 have "coincidentally" been price insensitive buyers of Tucows stock for the last year. In the third quarter alone, TGV purchased 390,331 shares, which represented 12% of the volume that traded at the mid/offer for the ENTIRE quarter.
III. Tucows Three Businesses? More Like TwoDogs & One Structurally Broken Pig (pg 17)
Domains
Tucows' Domains Business is in structural decline (organically), with pressure on ASPs, retention, and profitability. "Tape reading" investment strategies have been misled by the 103.8% "reported" revenue growth in the Domains business year-to-date. Based on Tucows SEC filings, it appears pro-forma consolidated revenue actually declined by 9% year-to-date, which is a material degradation from flattish organic growth in 2015 and 2016. Tucows admits that two distinct structural developments will continue to erode margins, (1) customers moving domain management and transaction processing to their own accreditations and in-house systems, and (2) General Data Protection Regulation (GDPR) in Europe. With a hyper-competitive backdrop of at least 2100 competing registrars, Tucows' registered domains declined by 4.3% from 1Q'17 to 3Q'17.
Ting Mobile
Ting Mobile is one of 80 domestic, subscale MVNOs, offering low frills service plans. Ting has a structural pricing disadvantage compared to other carriers and MVNOs. For two lines or more, Ting plans are priced between a 15% to 173% premium to Sprint Unlimited plans. With severe pricing pressure from other MVNOs and national carriers, Ting was forced to cut prices and gross margins collapsed by 860 basis points in the most recent quarter. With sequential organic subscriber growth falling below 3% in the third quarter of 2017, Ting has resorted to the ill-conceived strategy of acquiring subscribers from failed MVNOs. Despite offering a $35 credit to defunct RingPlus' 85,000 subscribers, only 45,000 accounts chose to migrate to Ting in 1Q'17, with just 6,000 remaining through 3Q'17. Said differently, of the 45,000 RingPlus subscribers that migrated to Ting Mobile in 1Q'17, nearly 85% churned off within eight months.
Ting Internet
This pet project commenced in 2015 with the stated strategy of marrying Ting Mobile with fiber-to-the-home (FTTH). Tucows presents highly deceptive assumptions in its investor materials, such as $2,500 to connect a home, $1,000 of annual gross margin, and expected take-up of 20% of addresses passed in year one. A close read of the footnotes reveals Tucows' misleadingly excludes the $200 cost of the internet box from their assumptions, as well as the estimated $400 of installation costs and truck rolls. Priced at $89 per home, which is a premium to incumbents, revenue per year is expected to be $1,068 per residence. Tucows' public marketing material claims that each subscriber will generate $1,000 of gross profit per year, which implies an inconceivable 94% gross margin.
Analysis of the competitive environment and shortfall in penetration rates illustrates the absurdity of Ting Internet's forecasts. As of 3Q'17, Ting Internet had just 3,900 customers across three cities, with a total addressable population of just 92,000 citizens. Ting Internet competes with larger, well established incumbents in every market. At $89 per month, Ting Internet is the highest priced 1Gbps service offering in every market – higher than Comcast Xfinity, Centurylink and AT&T, which are priced between $70 and $80 per month for 1Gbps of service.
IV. Namecheap – An Undisclosed Lawsuit with Material Ramifications (pg 33)
On August 30 th and again on October 10 th, 2017, Tucows was sued in Seattle Federal District Court and King County Superior Court, respectively, for Breach of Contract by eNom's largest reseller. In question were 3.2 million domains, representing approximately 27% of eNom's registered domains and 11% of Tucows overall business. Tucows management has hidden this litigation from shareholders, which appears to be a blatant violation of SEC Regulation S-K Item 103 (requires disclosure of pending litigation if the possibility exists that the litigation will have a material effect on financial results). M ake no mistake; the litigation Tucows' management is hiding is material – and THEY KNOW IT. In a Declaration Statement in support of a Bond Request, David Woroch, EVP of Domains at Tucows, stated, "These circumstances present Tucows with a risk of significant loss."11
We believe Tucows nondisclosure of this lawsuit resulted in severe misrepresentation of its financial results, competitive positioning, and business prospects. While management was hiding and omitting material adverse information from shareholders, they were also reporting revenue and EBITDA from domains that would have already transferred back to Namecheap had Tucows not been in breach of contract. During this period of nondisclosure, seven different insiders, including the Co-Chairmen of the Board and BOTH CFOs, sold more than $21 million of stock.
Namecheap was eNom's largest reseller. Pursuant to the Master Agreement between eNom and Namecheap, Namecheap could request eNom transfer Namecheap-managed customer domain names back to Namecheap any time after December 31, 2016. In exchange for this transfer right, Namecheap had agreed to an exclusivity period where eNom was the only registrar it would use for domain name management. According to court records, Mr. Noss met with Namecheap's CEO in January 2017 and confirmed Tucows knew about Namecheap's transfer rights, as well as the process which had commenced to transfer Namecheap's domain customers away from Tucows. THIS MATERIAL RISK WAS OMITTED FROM PUBLIC DISCLOSURES.
Despite Namecheap receiving written confirmation from VeriSign that the transfer was permissible, Tucows has refused to transfer the domains. On August 2, 2017, Tucows' attorneys sent a letter to Namecheap confessing they "have always understood that Namecheap intended to transfer the .COM and .NET names to its own registrar credential," however they still refused to comply with the transfer because it "would wreak such havoc and confusion." 12
Namecheap sued Tucows, asking the Court for an injunction to force Tucows to comply with the transfer in a timely manner. 13 
The King County Superior Court (WA) agreed and demanded that Tucows comply with the transfer. 14 On December 7, 2017, Tucows filed an emergency motion to stay the preliminary injunction, two weeks after the same relief was denied by the trial court on November 22, 2017. Tucows' request for a stay was denied, as was its appeal to the Washington State Court of Appeals, after (1) expert testimony was presented from former ICANN staffer Tina Dam, who said the transfer was appropriate, and (2) the Court determined that Namecheap was likely to prevail in the lawsuit. 15
As such, it appears Tucows will imminently be forced to transfer 3.2 million domains to Namecheap. While this will be a material business loss of revenue and registered domains, the legal, regulatory, and reputational loss from withholding such material events from investors appears far greater.
We believe that by withholding disclosure of the Namecheap litigation from its SEC filings, earnings calls, and public commentary, Tucows management violated Securities laws. Further, assuming Tucows Board of Directors knew about the Namecheap litigation, we believe they would be complicit in withholding material information from investors (and trading on it as we discuss later).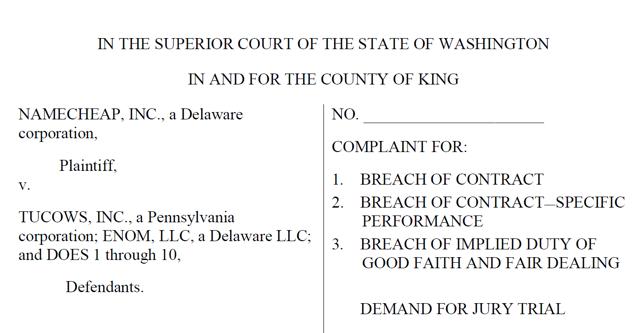 Source: King County Superior Court
V. Tucows' Enablement of Neo-Nazism, Fascism, Child Pornography & Pedophilia (38)
Tucows acts as the domain registrar for numerous websites that were established to enable and support racism, fascism, child pornography, and the abuse of children. Despite attracting media attention, Tucows has blatantly refused to suspend these economic relationships. An investigative reporter from the VTdigger discovered Tucows was hosting the website Stormfront, which was founded by a former Grand Wizard of the Ku Klux Klan. Peers such as Network Solutions had refused service to Stormfront for violating service terms, however, according to Mr. Noss, "To deny Stormfront access to Tucows' domain registration services would be the equivalent of a phone company cutting its service." 16 
Mr. Noss has unfortunately also downplayed Tucows' enablement of child pornography websites, stating to the Ottawa Citizen, "If there wasn't such a demand for Lolita sites in the U.S., do you think the Russians would be producing so much child porn material?" 17
And according to an investigative article from the Ottawa Citizen on the Lolita problem, Tucows registered the URLs All-CP.com and Underground-CP.com." 18 (Note: "CP" is pedophile parlance for child pornography)
A few examples of sites we believe Tucows knowingly19 hosts, include: North American Man/Boy Love Association ( NAMBLA), which is a pedophile and pederasty advocacy organization in the United States whose mission is to abolish age-of-consent laws criminalizing adult sexual involvement with minors and campaigns for the release of men who have been jailed for sexual contacts with minors; 20 Noble Power Behind the Wire, which is run by a group classified as Neo-Nazis by the Southern Poverty Law Center; 21 and BoyMoments.com, which is an online message board for "boylovers" to discuss sex with young boys.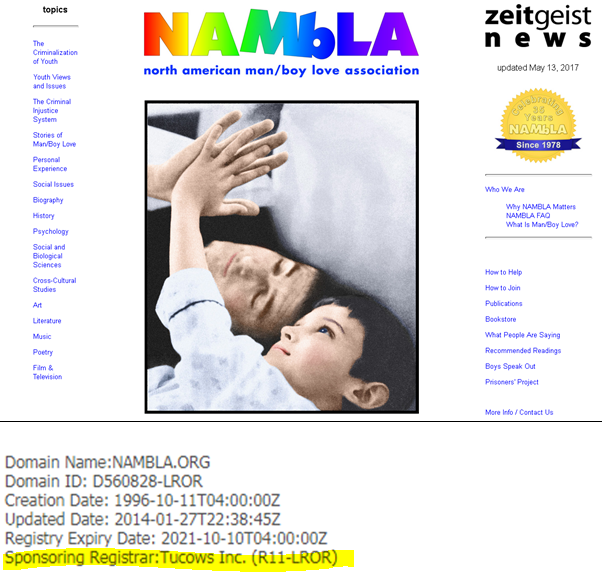 Source: https://www.nambla.org/

Source: https://www.boymoment.com/

Source: www.noblepowbehindthewire.com
VI. Tucows Compliance Appears Unqualified and Inexperienced (pg 46)
Tucows compliance team is responsible for complaint resolution. Paul Karkas is listed as the Compliance Manager at Tucows. There is little available on Mr. Karkas despite 17 years serving a seemingly prominent role at Tucows. He refers to himself as the "moral custodian of the internet" on his LinkedIn page. We do not believe a moral custodian would post social media pictures of people naked in bed wearing masks. 22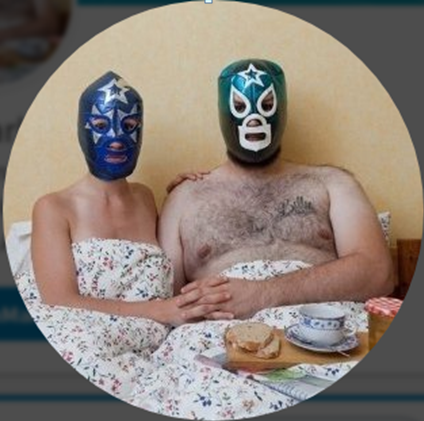 Source: Paul Karkas social media
Sara Scruton, who is also known as Nina Flowers, is listed as the Senior Compliance Officer of Domain Names (Tucows/eNom). Prior to Tucows, Ms. Scruton was an "Office Manager" in Toronto with responsibilities that included, "Booking Flights and Hotels for Executives [and] Maintaining phone systems and copiers." 23
According to public records, Ms. Scruton received a Recording Arts Management Diploma for Music from Harris Institute for the Arts, which is described as "an accelerated twelve month Diploma program featuring 62 courses that focus on the new music industry, from evolving technologies and business models to entrepreneurial opportunities." 24 Ms. Scruton also works as a Toronto-based DJ, who hosts an internet radio show on dogglounge.com, writes for kickmagazine.ca, along with DJ management, bookings and promotions; Kick, Emperor Norton Records, Chicks Dig it, Women and Techno, 7th City Recordings and Low Spirit and Converge Bookings." 25
VII. Organic Growth Is Negative & Margins Are Declining (pg 49)
Pro-forma disclosures indicate year-to-date 2017 revenue would have declined by 3.7% had Tucows owned eNom from the start of the year, which is starkly different optics than the +69.3% consolidated growth Tucows has reported.
Reported Adjusted EBITDA of $25.9 million has only grown 13.8% year-to-date. Tucows management claims $7 million of EBITDA has been lost due to fair value accounting on deferred revenue. However, Mr. Noss's reconciliation of this $7 million has been inconsistent and fails to reconcile with SEC filings. Further, management's calculation of the $7 million impact violates SEC guidelines by linking Adjusted EBITDA to net change in deferred revenue. Nonetheless, giving Tucows full credit for the $7 million of fictitious EBITDA add-backs produces pro forma EBITDA of $33.4 million year-to-date, which still represents an absolute dollar decline of $0.5 million when compared with apples-to-apples pro forma EBITDA in 2016.
For the first nine months of 2017, Tucows pre-tax income declined from $19.7 million to $13.9 million. After adding eNom's pro forma contribution in 2017, as well as 2016 (which management fails to do), operating and pre-tax income would have declined year-over-year by $4.2 million and $6.3 million, respectively. Despite adding over $100 million of revenue from the eNom acquisition, we calculate absolute pre-tax pro forma profit dollars have declined by 23% while pro forma pre-tax margins have declined by 240 basis points. 26 
VIII. Tucows Tactics to Artificially Inflate Revenue & EBITDA (pg 51)
Tucows repeatedly uses aggressive accounting tactics to inflate revenue and EBITDA. We document and analyze four of management's techniques.
Tucows overstated GAAP revenue by booking marketing credits as Sales and Marketing expenses instead of contra revenue. Management restated historical revenue for 2014, 2015 and 1H'16 to reallocate marketing credits. This "immaterial error" resulted in misstatements of 7% and 3% in Portfolio Domains and Mobile Services, respectively. Tucows inflated Adjusted EBITDA by adding back changes in deferred revenue & foreign exchange. In response to guidance provided by the SEC, Tucows changed its computation of Adjusted EBITDA, which revealed reported EBITDA in the two prior years had been overstated by 17% and 20%. Tucows appears to have used realized FX gains in its Adjusted EBITDA calculation, with a pattern of reporting different numbers in different venues. It appears Tucows had systematically inflated headline numbers when reporting quarterly earnings only to change those numbers (lower) in annual filings where quarterly discrepancies are difficult to assess. While Tucows no longer adds-back realized FX gains, the Company continues to add-back the impact of unrealized FX gains. We understand the rationale for this approach, but Tucows' inconsistent application resembles a cookie jar for overstating results. Twice in the last year, Tucows has retrospectively increased Adjusted EBITDA numbers, with FX add-backs representing the variable that is implicitly altered one quarter later.
IX. Management's Economic Motivation to Inflate EBITDA (pg 56)
Tucows Compensation Committee has tied 100% of target incentive compensation to Adjusted EBITDA for all but one Named Executive Officer (NEOS). We believe Tucows aggressive policies to inflate EBITDA are motivated not only by misaligned compensation objectives, but also by a definition of EBITDA that does not conform to SEC guidelines. According to note 2 of the Proxy's Incentive Bonus Program section, Tucows executive compensation is benchmarked against an EBITDA calculation that includes net change in deferred revenue. In its SEC filings, Tucows acknowledged this aggressive Adjusted EBITDA definition does not conform to SEC guidelines, "In response to the clarification guidance provided by the SEC Compliance & Disclosure Interpretations regarding Non-GAAP Measures, updated on May 17, 2016, we revised our definition of adjusted EBITDA to eliminate the adjustment for the effect of net deferred revenue." Unsurprisingly, all of Tucows NEO's achieved 100% of their EBITDA targets in the prior year.
X. Tucows Chairman Sells 100% of His Stock; Nine Other Insiders Follow (With MNPI?) (pg 58)
Based on litigation exhibits, the Tucows management team knew as early as January 20 th, 2017 that material business would be transferred to Namecheap. After this revelation, from February 10th through December 15th, 2017, nine different Section 16 insiders (including both Co-Chairmen of the Board and both CFOs) filed twenty-six different Form 4's disclosing sales with the SEC. In total, insiders sold 401,960 shares for at least $21,269,138 of proceeds while management hid the pending adverse loss of the Namecheap domains that would, in Tucows' own words, "wreak havoc and confusion." 27, 28
According to a Form 4 filed with the SEC on December 15, 2017, Tucows Co-Chairman of the Board Rawleigh Ralls IV sold 100% of his stock. In total, we calculate that Mr. Ralls' sold 318,719 shares during the period in which we believe the nondisclosures occurred, netting at least $16,910,956 of proceeds from 2017 stock sales. 29
Joining Mr. Ralls, all five NEOs listed in Tucows' proxy sold meaningful stock over the last few years. Specifically, Messrs. Cooperman (CFO), Woroch (EVP of Domains), and Goldstein (VP of Marketing & Sales) sold stock during the questionable nondisclosure period in 2017. Earlier in 2017, two of the NEOs resigned abruptly, within one week of each other.
XI. Valuation (pg 61)
We use two methods to value Tucows: sum-of-parts and as a combined holding company. With extremely generous assumptions, we believe Tucows' fair value is around $20.00 per share.
The closest comparisons for Tucows Domain Services segment are GoDaddy (GDDY) and Web.com Group (WEB). Both comps are substantially larger, with faster growth rates, and higher structural margins. Giving Tucows' Domains business an EV/EBITDA multiple of 9x, which is in-line with Web.com, is generous. We also generously assume (I) Domains can maintain the current revenue run-rate, despite organic pro forma revenue declining 9% year-to-date and the imminent loss of 3.2 million Namecheap domains, (ii) Minimal operating expenses, and (III) ZERO corporate allocations. Under these assumptions, the Domains business would be valued at $223 million. Ting Mobile and Ting Internet are subscale businesses that operate in highly commoditized, competitive markets with minimal barriers to entry, and are dominated by incumbent behemoths that underprice Tucows. We believe these businesses are write-offs, but nonetheless assign $50 million for the installed subscriber bases and asset salvage values.
These generous assumptions yield an $18.86 target value per share when accounting for net debt.
Tucows can also be valued assuming 2018 consolidated pro forma revenue and EBITDA somehow remain flat with 2017. Accounting for the plethora of accounting, business, and management issues discussed herein, as well as high legal/regulatory uncertainty, and cash burn associated with Ting initiatives, we believe a multiple of 8x EV/EBITDA is generous. This yields $23.17 per share.
(1) Based on 3Q17 annualized revenues
(2) Assuming flat organic growth from pro forma 2017 Revenues
XII. Appendix: Three Additional Misrepresentations of KPI's and Biz Metrics (pg 64)
Management systematically overstates new registered domains in its earnings reports and quarterly filings, only to lower those metrics in subsequent quarters in its 10Q filings. We believe a similar shenanigan was used with FX add-backs to overstate current period Adjusted EBITDA. We document how management has overstated the 2Q new registered domains since 2012 by an average of 9%. Tucows misrepresented Ting Mobile's business in 1Q'17 when it overstated organic subscriber growth by 10%. Management subsequently corrected its "mistake" on the 2Q'17 call, yet the corrected numbers fail to reconcile with the metrics Tucows provided in its 10Q. We believe Tucows' management created a strawman with a 3Q'16 one-time benefit, when discussing its 14% miss of 3Q'17 consensus EBITDA. Management cited a difficult year-over-year comparison due to $1 million of one-time benefits in 3Q'16 that did not recur in 3Q'17. However, these benefits were never discussed nor disclosed in the prior year.
**************************
The Ottawa Citizen January 20, 2002 Sunday Final EDITION; The Lolita problem: Child Pornography is booming, thanks to the Internet -- and the unwitting support of corporate America
https://domainnamewire.com/2017/12/21/court-orders-tucows-transfer-3-2-million-domains-namecheap/
Amended Declaration of David Woroch in Support of Defendant's Bond Request, Case No. 17-2-26522-5
Click-through hyperlink referenced in text
Rightside Group 2015 10K
Click-through hyperlink referenced in text
Click-through hyperlink referenced in text
http://msa-capital.de/?page_id=190&lang=en
http://msa-capital.de/
LinkedIn profiles
Amended Declaration of David Woroch in Support of Defendant's Bond Request, Case No. 17-2-26522-5
Source: King County Superior Court
Ibid
Ibid
The Ottawa Citizen January 20, 2002 Sunday Final EDITION; The Lolita problem: Child Pornography is booming, thanks to the Internet -- and the unwitting support of corporate America
Ibid
Sites were brought to the attention of Tucows in a blog post, to which they responded on December 15, 2017 with a blog post of their own
Holmes, Ronald M.; Stephen T. Holmes (2002). Current perspectives on sex crimes. SAGE. p. 165
https://www.splcenter.org/fighting-hate/intelligence-report/2017/active-hate-groups-2016
https://www.linkedin.com/in/sarascruton/
Click-through hyperlink referenced in text
Click-through hyperlink referenced in text

(1) eNom pre-acquisition add-back calculated based on eNom standalone revenues for the period implied by reported pro forma combined revenues and assuming 7% eNom operating margin, consistent with management commentary for $15 million eNom EBITDA in 2016 and $3.9 million reported D&A.
Letter from Tucows attorneys as disclosed in the Namecheap litigation arguing why Tucows refused to transfer the domains to Namecheap
Note that when there were multiple prices listed in Form 4's, we used the lowest reported price in our calculations that would show the lowest possible amount for insider sale proceeds. The actual proceeds were most likely in excess of what we state.
Form 4's filed with the SEC. Note that when there were multiple prices listed in Form 4's, we used the lowest reported price in our calculations that would show the lowest possible amount for insider sale proceeds. The actual proceeds were most likely in excess of what we state.
Disclosure: I am/we are short TCX.