Trading style: Long/intermediate term trend following system
Chart used: Weekly
All time high: 15.91
All time low 2.09
Bullish Patterns:
Rounded bottom with low 2.09 with a bullish divergence for momentum indicators suggesting ZNGA has bottomed (not shown).
Cup & handle formation suggesting a target of 6
Point and figure chart turned bullish on March with a target of 6.25(not shown)
Major Fibonacci retracement levels are (targets): 7.37(38.2%), 9.00(50%) and 10.93 (61.2%)
Based on the above projections, the 1st target of $6 is very reasonable and is likely to happen if the cup & handle pattern plays out. I will use this target to project risk/reward ratio (R ratio). The $9 target is the 50% retracement of the bearish trend and even if the next move were a bear market rally it has the potential to reached this target.
Volume Analysis:
The steep decline from the all time high (15.91) to $2.66 (phase 1) was accompanied by increased volume.
After a brief pause, the remaining sellers were unable to push the price down below the important psychological support of $ 2.0and the decline were mainly on low volume except the two capitulation days marked by the arrows (phase 2). These are days when the last few remaining bulls finally bailed out.
First sign of buyers have returned and started accumulation on good volume (phase 3)
More buyers have jumped in and the bull volume expanded significantly (phase 4) indicating the bulls are in control now. ZNGA made a higher high!
The shallow decline made a lower low with very light volume on down days. There were three up days during this correction with heavy up volume confirming that buyers are indeed outnumbered seller with a ratio of 3:1. The fact that bears could not breakthrough the $3 psychological barrier is also very encouraging. If this $3 support holds it will be a higher low for ZNGA.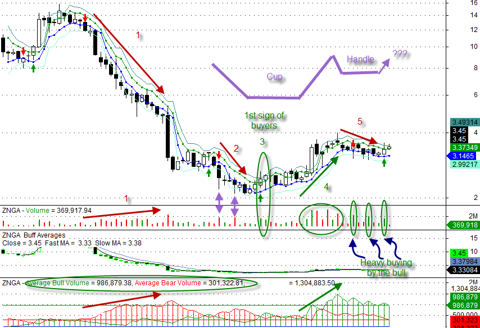 Buy signal:
A weekly buy signal flashed last week when ZNGA closed above 3.37. If this Friday ZNGA can close above 3.37 or even better above 3.49 the buy signal will be confirmed.
Risk/reward:
For a potential gain of 6-3.45 (yesterday's close) =2.55 with a$0.50 risk (stop at 2.95), the R ration will be:
R = 2.55/0.5 = 5.1 which is greater than 3. I LOVE IT!
This is why I am long ZNGA and plan to add more if the buy signal is confirmed this Friday.
Disclosure: I am long ZNGA.