Sandra Ward's weekend piece on International Paper is summarized a follows: "International Paper is ramping up payouts and stock buybacks. Shares could rise 40% and a 2.9% dividend." Here, we excerpt a few key parts of the Barron's article before providing our technical view on the stock (NYSE:IP) from the perspective of FusionIQ, the industry's leading quantitative stock and ETF ranking tool.
First, Barron's views ...International Paper (IP) expects to produce about $1.5 billion in free cash this year and $2 billion next year, after funding pension obligations. That's up from about $400 million a year before the company bought Weyerhaeuser's packaging operations in 2008; it then acquired rival Temple-Inland in 2012. With the debt from those acquisitions now paid down to a comfortable level, the company is turning its attentions to returning more capital to shareholders.
The company's shares have been under pressure from unusual factors, from a weak ruble to bad weather, but the company looks poised to regain momentum as it continues to improve operations, expand margins, and use its enormous free cash flow for dividend increases and share buybacks. The combination of improving fundamentals and the return of cash to shareholders should translate into a higher stock valuation and outstanding total return for shareholders.
Some on Wall Street see the shares rising as high as $66 to $70 a share-as much as 43% higher-in the next 12 months, as strong demand leads to tighter supplies in the containerboard market, eventually leading to rising prices and substantial earnings growth. "We're very positive on the stock," says Philip Ng, analyst at Jefferies Group. "It's a cheap stock; the fundamentals have bottomed; it's generating a ton of cash flow; and it's a play on the recovering U.S. economy."
International Paper will get $400 million from the Veritiv transaction, which, along with IP's estimated $1.5 billion in free cash from operations this year, can go to buy back shares and continue to increase the dividend payout. (The company has $8.9 billion in debt, which is manageable at three times Ebitda.) IP has bought back more than $1 billion of its shares since it authorized the $1.5 billion program last September, well ahead of what it thought would be a two- to three-year time frame. It hiked its dividend in September by 17%, to $1.40 a share annually. The stock has a dividend yield of 2.9%.
Here's how the shares look to us at FusionIQ .... As illustrated in the monthly chart below, IP shares are in the middle of a 15 month consolidation (orange lines). Given the trend prior to the consolidation was bullish, this current trading action appears to be a pause before a renewed up trend. That said a close this month, or next, above $50 would confirm the breakout. The upside target on the breakout would be the size of the move just prior to the consolidation (green arrows), giving us a potential upside target of $ 65.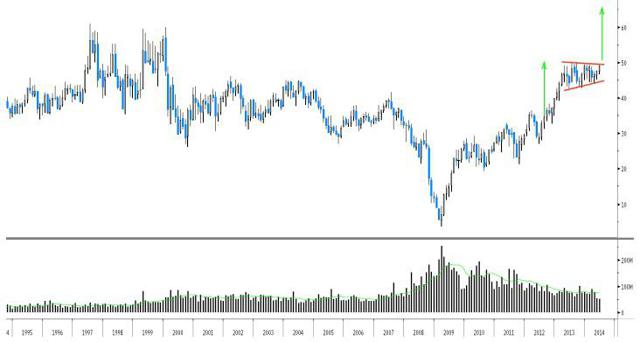 Disclosure: The author has no positions in any stocks mentioned, and no plans to initiate any positions within the next 72 hours.