In this week's installment of FusionIQ Screen Pass we take a look at companies that have a consistency of solid top line revenue growth coupled with strong FusionIQ technical readings.
It's a very select list with only 12 companies making the grade. Illustrated in the table below are those select companies. Created with FusionIQ's powerful custom screener, this screen scans for companies that have a high FusionIQ master technical score (ETech) of 70 or >, a high short-term trend score (ESTPMI) of 80 or >, a New FusionIQ BUY signal within the last 5 days (LSIG), a price between $5 - $100 (PRICE) and a 5 year average revenue growth rate (5YGR) of at least 20 %.
On the list are: Nuverra Environmental (OTC:NES), Emerald Oil (EQX), Arc Group Worldwide (NASDAQ:ARCW), Express-1 Expedited Solutions (NYSEMKT:XPO), Concord Medical Services (NYSE:CCM), Cognixant Technology Solutions (NASDAQ:CTSH), Kandi Technologies (NASDAQ:KNDI), Main Street Capital Corp (NYSE:MAIN), Grand Canyon Education (NASDAQ:LOPE), Depomed Inc. (DEPO), Patrick Industries (NASDAQ:PATK) and Canadian Solar (NASDAQ:CSIQ).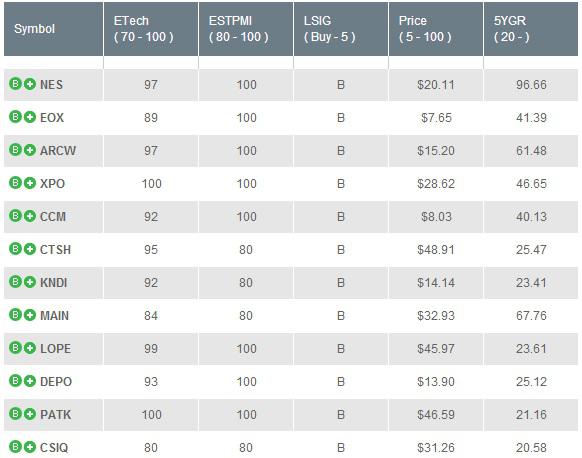 Disclosure: The author is long ARCW.