Canfor Pulp Income Fund units are down 8% on the Canadian TSX at $13.75 and 18% over the past three trading days to a low of $13.40 earlier this morning.
The volume has picked up with 755,000 traded by 1:30, versus a daily average of 175,000.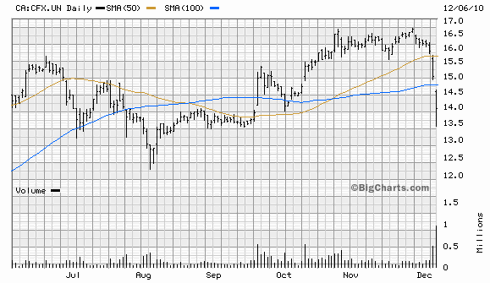 The reason for trading volatility in Canadian income trusts is highly relevant to US unit holders due to the change in taxation of distributions arriving on January 1st, 2011.
The culprit is probably Canadian Oil Sands Trust, which on December 2nd announced a larger than expected 60% cut to their annualized distribution rate as part of the conversion to a corporation.
Canadian Oil Sands units have fallen 14% since the announcement and are down 2% today on 5 million traded versus a daily average of 1.5 million.
Many income trusts are going to have their distributable cash negatively affected by the Canadian federal SIFT (Specified Investment Flow-Through) taxation rules coming into effect on January 1st.
Conversion to a corporation to avoid being taxed as a SIFT means paying income tax on earnings and cash flows which were previously flowed through to investors, similar to a master limited partnership in the United States.
Not all Canadian income trusts will be impacted the same way by the conversion – some will see cuts, others will be able to maintain their distribution level but change the payment frequency from monthly to a quarterly dividend eligible. The dividends will often be eligible for the Dividend Tax Credit for Canadian residents. 
 
In the case of the Canadian Oil Sands, future cash flow available for dividend payments will be impacted by their heavy estimated capital expenditures – reducing their estimated 2011 CFPS of $2.59 per unit to $0.68.
Hence the big cut in distribution to 20 cents for the first quarter of 2011 versus the prior 50 cent quarterly trust distribution.
The units are now trading at $24.52 for a 3.3% yield if one annualizes the quarterly dividend, which is subject to the usual proviso it can be cut further if business conditions deteriorate.
My feeling is analysts and traders looking at the loss on the oil sands trust have assumed Canfor Pulp Income Fund will cut their hefty $3.00 annualized distribution to a much lower quarterly dividend as well.
In the case of Canexus Income Fund, and another pulp products related trust converting to a corporation, the units are trading at $6.87, up 7 cents today and offer a current 8.0% yield.
The Canexus units haven't budged in price while the others are falling. Why not?
The reason is Canexus just got through some major capital expenditures on their new chlor-alkali plant in Vancouver. The company has sufficient UCC (Undepreciated Capital Cost) to offset taxes on income for several years.
Hence, it is unlikely Canexus will see a decrease in its CFPS and distribution in 2011, all things (commodity prices, currency rates, business conditions and gov't fiscal policy, etc), being equal.
Another source of potential tax shield for trusts converting to corps are accumulated NOL's (Net Operating Losses). Generally, if a trust has been losing money from operations, the losses can be carried forward to shelter taxable income.
What about Canfor Pulp Income Fund? Is this a case of the paper pulp baby being thrown out with the oil sands bathwater?
On October 26 we wrote the following about Canfor Pulp Income Fund, with a six month target price of $17.20-$18.00/unit:
"Canfor Pulp recorded 78 cents per unit in adjusted distributable cash, covering their 25 cent per month distribution, although the last payment will be December's declaration payable in January 2011. At that time, Canfor Pulp will pay a quarterly dividend and the actual amount will be decided after conversion to a Corporation, probably by January 2011.
 We expect full year 2010 Cash Flow for Canfor Pulp will be $3.01 but would decline based on the guided 25-30% tax rate as a corporation, to $2.15-2.25 in 2011, all things being equal and assuming no deferral of taxes payable. Our target is eight times 2011 CFPS".
Canfor Pulp Income Fund has no UCC or NOL's to carry forward, as the Fund has been highly profitable for the past year and a half.

In fact, Canfor Pulp's asset base has been depreciated for tax purposes by $135 million, so the corporation will have to begin paying off $34 million in tax liability at a rate of $2 million per year commencing in 2011.
The trust (owned by the Fund, which in turns owns the operating LP), announced a Plan of Arrangement to convert to a corporation as of January 1, 2011 and this was approved at a unit holder meeting on April 27, 2010. The Fund will declare and pay one more distribution for December, estimated to be 25 cents, but it could be slightly more if the Fund has more undistributed income.
In the aforementioned plan, Canfor Pulp stated the corporation (Newco) which the fund units will be rolled into on a 1:1 basis would not build up cash balances and therefore would pay out its after-tax income after paying maintenance CAPEX, debt repayments and funding working capital requirements.
 
The Fund recently had its federal Green Transformation Plan approved in the amount of $100 million, which will allow it to upgrade and make more efficient its operations.
Although they enjoyed a spirited rally this fall, the units never got to our target price and topped out at $16.70 on November 27.
We were looking for a possible decline in the units as the conversion became imminent and planned to put a sell recommendation out on Canfor Pulp Income Fund this month after the recent distribution on November 27, but the Canadian Oil Sands news preempted us and unfortunately this price decline has occurred.
Assuming the available cash flow for dividends could approximate $2.00 per share in 2011 (all things being equal), then the units are currently trading at $2.00/$13.75 or 14.5% yield and about six times cash flow per share on a post-conversion basis.
We think the Canfor Pulp units are good value here and we have purchased more units today at current prices. However, due to our cautionary stance on holding cyclical stocks over the next few months, we stress these units could be volatile.
In particular, US holders of Canfor Pulp Income Fund will have to be sold out of the Newco shares they would normally receive on conversion, as the shares will not be registered for distribution to US unit holders.

Major unit holders include a Canadian money manager Letko Brosseau, which owned 6.2 million (17.4%) of units, as well as Platinum Investment Management in Australia, with 2.15 million (6%) owned as of March 31. The latter could have since sold its units.

Dispositions by US and foreign unit holders could add to volatility in the shares in early 2011.
We believe there is an outside chance that Canfor Corporation (CFP.TO) could decide to "take out" the 50% of the Canfor Pulp LP that they currently do not own, because Canfor probably DOES have NOL's that could be used in sheltering the cash flow they would receive from owning 100% of Canfor Pulp Holding Inc, which they will share with the public shareholders post conversion.
What the price of a takeout by Canfor would be at, is anyone's guess and of course, subject to Canfor raising the $500 million in debt or equity it would take to buy out the public at current prices.
Alternatively, they might offer Canfor shares for Canfor Pulp Income Fund.
Disclosure:
I am Long
OTC:CFPUF
,
OTCPK:CXUSF
.