It's a pleasant day when you see commercial courts on their game, enforcing the rules of business law, even if it's some members of the current Government of Canada that needed a rap on their knuckles.

So it was with pleasure I read a Canadian federal judge ruled Minister of Industry Tony Clement had illegally overstepped his bounds when he ignored a CRTC decision disallowing WIND Mobile to open for business due to foreign control and ownership disqualifications.
 
Clement overturned the CRTC (the Canadian version of the FCC), even though WIND had obtained the majority of its capital from an Egyptian mobile phone capitalist, Nuguib Sawiris, founder of Orascom Telecom.
What is unbelievable to me is in spite of the heavy media coverage of this latest twist in foreign ownership and (lack of) government control over Canadian telecommunications, narry a TV mention has been made of an interesting fact:

Sawiris has been quietly (at least in Canada) but busily monetizing his telecom stakes, including the Canadian assets subject of this recent court ruling. 

That is, until a little popular revolt of his own got started at home and froze his company shares. Aka The Egyptian Revolution.
Sawiris' holding company WIND Telecom had signed a deal with Vimpelcom (VIP), a large Russian mobile operator, to sell its 51.7% stake in OrascomTelecom (OTC:ORSTF) and take back 305 million Vimpelcom shares and $1.5 billion US in cash.
This, the backer of WIND Mobile, the largest of a trio of startups in the Canadian mobile communications space, and tacitly backed by the Harper Tories as the Great White Hope of more competition and lower cell phone prices for the little guy.
Sawiris is the same person who was recently quoted in the Globe and Mail (October 29, 2010) as saying about the three big incumbents Bell (NYSE:BCE), TELUS (NYSE:TU) and Rogers Communications (OTC:RCM)  "We will make Pain, and they will Suffer".
I guess Sawiris really meant to say "We will make haste, and dump our Canadian mobile venture along with our other telecom assets as soon as it becomes expedient for me".
I was always concerned that we were opening the front gates to a company that prided itself on operating mobile networks in a host of repressive, 3rd world regimes and political hot spots.
Orascom's geography of operations reads like a "Who's Who" of where either controlling dictators rule the minions with propaganda or where the next political unrest and revolt could be kindled:
Let's see….Algeria, Central African Republic, Egypt, Lebanon, North Korea, Pakistan, Tunisia, and Zimbabwe.
Oh, and of course, Canada (with their 65% interest in Globalive Investment Holdings, the owner of WIND).
Vimpelcom is no slouch either, in finding ways to equip countries on the human rights sanction list with mobile services, as it counts Cambodia, Georgia and Tajikistan as good customers. 
 
If it weren't for Telenor (OTCPK:TELNY), the Norwegian telecom operator and one of Vimpelcom's major shareholders,  this deal would have been consummated and WIND Mobile in Canada would have had Russian owners during today's kerfuffle over Tories being sent into the corner over there penchant for contradicting the CRTC.
The Orascom/Telecom deal was scheduled to close on January 16, 2011, just nine days before the Tahrir Square protest began, and eleven days before the Egyptian stock market suspended trading of equities, including that of Orascom Telecom.
Sawiris' stock last traded in Cairo at 3.62 Egyptian pounds, on January 27, 2011. It had jumped to 5.48 on October 5, 2010, when the Vimpelcom deal was announced touching off a wave of enthusiasm. The stock continues to trade on the LSE, and has declined further.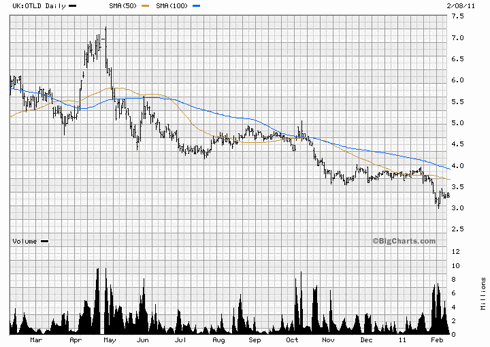 It has been reported often in Canada that owning the mobile phone network isn't particularly important to our national security and therefore we should not get too fussed about who owns the "Pipes" in this country.
Last time I looked, the RCMP, the provincial police and even local law enforcement used mobile phones to communicate between each other, in addition to their captive radio networks.
And clearly, the fact Mubarak's government could throw a switch and take Egypt's entire mobile communications service away from the public, might indicate that perhaps its important for us to choose, not just regulate and have report to us, the new owners of our vital telecom services.
Vimpelcom may be nice folk, and I see they listed on the NYSE in 1996, one of the first Russian companies to do so.
The Vimpel Communications SEC 20-F filing lists no less than 21 pages of Risk Factors associated with their operations  (assassinations, political tumult, corruption, human rights violations etc)
You know, the usual risks of operating in marginal 3rd world countries with less than rigorous political systems. Canadian telecom operations would have been a bold step for these people.
So let me reiterate: We allow new entrants to gather capital from foreign owners, but when they decide to sell the asset to an even less.....

News flash - this Canadian mobile communication has been interrupted by a decree from Russian President Vladimir Putin in response to incursions by the Canadian navy into Russian sovereign Arctic waters. 

See what I mean? 
Disclosure:
I have no positions in any stocks mentioned, and no plans to initiate any positions within the next 72 hours.