Potash Corp: 18% Laid Off But One Missing
Please Note: Blog posts are not selected, edited or screened by Seeking Alpha editors.
Contrarian, Commodities, Industrials
Seeking Alpha Analyst Since 2007
Chris Damas' contrarian equity research is broad based and covers energy production and infrastructure, metals, agriculture, chemicals, forestry, industrials, telecoms, retail, technology, financials, transports, renewables and special situations as well as US MLP's. Chris managed the second largest preferred share portfolio on Bay Street during the 80's and also follows currency and fixed income markets closely. His investment universe is broad and he spends most of his time hunting for actionable trade ideas and long term investment opportunities. His investment thinking and trading activity are now only available by subscribing to the US and Canadian versions of
The BCMI Report
(trademark) and The BCMI Flash (trademark) which are issued at least weekly and more frequently when opportunities and market conditions demand it.
The bad news hit the rank and file at Potash Corp of Saskatchwan (POT) hard yesterday - the company was terminating 1,045 workers, or 18% of its total work force.
440 potash employees of its Saskatchewan mines and mills and their families, won't be enjoying the Holiday season much this year.
The mayor of Lanigan, SK was in tears.
Lanigan is where Potash Corp has its biggest 3.8 million ton mine and mill, but the town is small, and 250 getting their pink slips would hit the local economy.
165 at the Cory, SK potash mine were also getting the "shaft".
Cory is in the middle of a "proving run" to boost its name plate capacity from 1.36 million to 2.6 million tons per year.
The Rocanville and Allan mines weren't touched so we might assume they are "lower cost" - whatever that means these days for Potash Corp which sunk billions into mine expansions in Saskatchewan.
10 employees got laid off at the improbably-named Patience Lake mine.
Other PCS employees getting the boot were 350 in White Springs, Florida (phosphate), 130 in New Brunswick (potash), 85 in Aurora, North Carolina (phosphate) and 40 in the USA and Trinidad (nitrogen).
But Potash Corp CEO Bill Doyle isn't getting laid off - no, he's probably planning his winter trip to play golf at the exclusive Naples, Florida club he frequents.
I'm starting to envision Ebenezer Scrooge telling Bob Cratchit not to work late into Christmas night, but rather, here's your walking papers.
Along with the press release, the company put out a 5 and a half minute video-taped message of Doyle explaining the layoffs and the reasons for them:
"A significant portion of fertilizer demand comes from developing markets where growth has been less robust than expected" and "this sluggish environment has been most visible in potash and phosphate, so the impact was most pronounced in those two businesses".
"The changes we must make today, while difficult, help ensure the company continues to be well-positioned for the future".
But exactly whose expectations were they and were they justified? Who is feeling the pain of the decisions that led up to this situation?
Employees and their families sure are. They will get severance packages and continue to get paid for two months as well.
The province of Saskatchewan Premier Brad Wall, who famously defended Potash Corp against the announced takeover by BHP Billiton (BHP), is sending in "rapid response units" to help the soon to be unemployed.
Geez, I am getting teary-eyed just thinking about how self-employment really needs more tending and feeding by the government.
But whose pocket is all that coming out of? Is CEO Doyle paying them off personally? Not a chance.
Potash Corp shareholders investors have been facing a losing hand for over three years now. Federal and provincial taxpayers make up the lost revenues.
On August 7, Doyle taped a "virtual Q&A session" where his head of IR, Denita Stann, posing as a journalist to give an air of objectivity, interviewed Doyle about the crash in his stock price on July 30, caused by the split up of the Belarusian Potash Company sales organization on July 29.
Doyle talked a lot about how they at Potash Corp had seen "spats" between the Russians and the Belarusians before and it would "last for a little while and then it would be over". That was four months ago. There hasn't been any "kiss and make up" as of yet, nor does the prospect of one look likely.
Doyle went on to talk about how they at Potash Corp "protect" the customer" and how "we talk about our customers as customers" whereas BPC calls them "buyers", as if that is so impersonal and hey, if you don't sit down and schmooze your customers, what kind of salesperson are you, anyways?
Reminds me of the old brokerage executive showing the "customer" the brokers' yachts, but when the customer asks to see the customer yachts, there aren't any. Hmmm.
Doyle finished the "interview" by urging people to "take a deep breath, relax, and everything is going to be just fine".
I took a deep breath, and decided Uralkali, the company Doyle criticized for dumping potash producing partner Belaruskali JSC and freeing themselves to sell more potash from their newly expanded capacity, was on to a winning strategy, to the detriment of Potash Corp.
I wrote several articles about the logic of the Uralkali move such as this one here, and figured Doyle should be fired. That would be fine by me too.
Anyway, do in fact Doyle and Potash Corp always "protect the customer"?
Why are international potash prices back to the low $300's/mt level they were at in the spring of 2009?
In an early 2010 conference call, Doyle was reported to have called BPC's late 2009 decision to sell potash at (a new post 2007 low price of $350/mt) "inexperienced" and way too low, and blamed them for panicking, and also potash selling too high in 2008, when potash hit over $1000 per ton, at which point a buyer revolt ensued.
On the same call Doyle suggested that BHP Billiton's acquisition of Athabasca Potash and thus enter Saskatchewan to build a gigantic potash mine at Jansen Lake, was motivated as a deceptive move to knock down Potash Corp's stock price.
Doyle had basically blamed the Belarusians/Russians for the potash price spike of 2008, although the evidence suggests it was his own doing.
On the most recent Q3 earnings conference call, Doyle called BPC senior partner OAO Uralkali's (OTC:URALL) decision to break up the partnership with the Belarusians and follow a "volume over price" potash strategy as "amateur" and "dumb".
"it's really sort of an amateur approach, that if you were experienced in this business, and it's not just the Russians, we have seen a lot of people over the years in charge of billions of dollars of assets in the fertilizer world, do some pretty silly things, but this is probably the single dumbest thing that I've ever seen". said Doyle.
Nothing much has changed in the Potash Corp name-calling department apparently, four years on.
Let's go back even earlier, over six years ago, just as the Ghost of Potash Markets Past might take him.
The time was 1:30 pm and the date was October 25, 2007. It was the Potash Corp Q3 2007 earnings conference call for (questions from a carefully selected group of analysts) and investors can listen in too.
Bill Doyle was recounting how (the day before) a representative of Russian potash producer Silvinit had blabbed to an industry consultant that they were having problems at their mine. And another official, this time a representative of IPC, the selling organization representing Silvinit (now part of Uralkali), got up in front of an industry conference in Vancouver and disclosed the same news.
News that Doyle was disclosing for the first time to the market, as Silvinit didn't disclose to the media the situation until the next day, Friday, October 26.
Fertilizer stocks, especially potash producer stocks, were already sizzling in the up direction due to the Doyle & Company bombshell by that time.
I was on that conference call and I watched my screen knowing what was happening and where the stock was going, but my fingers were frozen on my order entry keys. I didn't react because I was relatively new to fertilizers, having started my research on them two years prior (that's how long I usually took before I start trading a new sector).
POT's stock price steadily climbed as Doyle gave a colorful description of how one of his main competitor's mine railways was close to "sinking" into the mud.
Silvinit, accounting for 5 million tons or about 10% of the world market, was forced to suspend all potash sales. The sink hole opened up only 100 metres from the only railway line leading away from their Berezniki area mine. This is in the Perm area of the Ural Mountains of Russia for those with a map.
And according to Doyle, it would be unlikely that Silvinit would be able to sell any potash in an already tight market, as winter was approaching making construction of a railway bypass even more difficult.
Obviously Potash Corp was going to be in the catbird seat being the biggest producer of potash in the world.
So Doyle announced that Potash Corp was "suspending" sales of potash to "new customers". There's that word again. I guess they had become only "buyers" overnight.
He wasn't going to let an opportunity like this stand in the way of jacking up the potash price. Here is Doyle's exact quote in response to Don Carson who was at Merrill Lynch at the time and asked about the suspension, with his question first out of the gate:
"Obviously, we have plans for customers who are on allocation, as you know…..those tons will continue to be delivered to our loyal customers as we have planned. We are not taking any new export orders".
Doyle suspended potash sales to spike the potash price.
The potash price spike of 2007/2008, in addition to Potash Corp's reckless increase in capacity so as to earn bragging rights as "biggest kid on the block", sowed the seeds of competition and oversupply, which are directly responsible for the situation causing the layoffs today.
And here's the sympathy Doyle showed on the call to one of those "developing country" markets he held responsible for today's layoffs, and which he solemnly blamed his company's problems on in the video.
"I can tell you that the Indian representative who is the head of India potash limited, volunteered to send Indian workers to Berezniki to help them build the new rail bypass"…" So clearly the Indians know how serious this situation is and again, we felt the best, the most prudent course would be to suspend any new sales until we know where the dust is going to settle on this one".
There's Doyle, acting like a pious priest in the middle of a Toronto booze can with a drink in his hand.
At the beginning of the conference call POT stock was in the $90's (or $30's post a 3:1 split in early 2011).
POT broke $100 during the call or soon afterwards, and for the first time too, on the way to the $240 area a year later (or $80 post split).
When BHP Billiton plc started the bidding on Potash Corp by offering $130 per share in August 2010, Doyle crowed the stock was worth much much more than that. It's now half of what most analysts expected the BHP offer to end up at (target prices were $150-170 USD).
POT stock, six years later, closed at $31.79 US today, That's not something that should be cheered about so easily.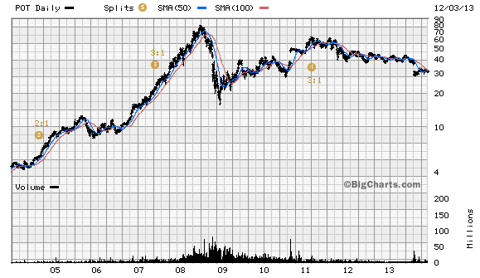 Silvinit had to make a 1 billion ruble contribution to a new 53 km railroad, and never recovered from the mishap.
Silvinit was merged with Uralkali in 2010 and the IPC was disbanded. Uralkali also experienced a mine accident and flood at Berezniki in 200and had to pay 7.8 billion rubles in restitution.
Let's look back at those poor Russians that faced the sinkhole blocking the Berezniki-1 mine, and how they have fared over the period from 2007-2012.
Let's look back at the gleeful Doyle's company. Potash Corp.
Uralkali had shareholder equity of 25 billion rubles at the end of 2007, or $1 billion USD (2007 exchange rate was 25 to 1).
They earned 3.5 billion rubles, $140 million USD. And had capacity for and were selling about 5 million tons potash per year.
At the end of 2012, five years later, Uralkali/Silvinit had accumulated shareholder equity of $8.76 billion USD, more than 8 times 2007.
The merge Uralkali/Silvinit would have had slightly over 10 million tons capacity. They declared capacity of 13 million tons of potash was operational when they broke ranks with Belaruskali in July, after expanding the Berezniki-4 mine (from 1.5 to 3.0 million tons of KCl) and the Solikamsk-3 mine expansion (another 300,000 tons).
Uralkali ultimately expects to have 19 million tons finished potash fertilizer capacity by 2021. The "volume over price" sales strategy has them selling more than Canpotex into key markets such as China due to the easy access to the interior, via rail car.
All this was known to Potash Corp while it poured billions of shareholder funds into expansions even as the Canadian dollar soared against the USD while the ruble weakened further to 35 to the USD.
Uralkali earned $1.6 billion in 2012, over 10 times what they made in 2007.
Potash Corp made $1.1 billion in 2007, and shareholder equity closed at $6 billion.
Potash Corp made $2.0 billion in 2012 or almost double 2007.
2012 shareholder equity closed at $9.9 billion, up 65%.
Granted, the share count has been reduced at Potash Corp from 315 million (or 945 post split), to 865 million (8.5%). which would have reduced equity.
Potash Corp sold 9.16 million tons in 2007 from 13.25 million in capacity, an operating rate of 69%. So they had plenty of extra potash to sell if they chose.
Potash Corp sold 7.7 million tons in 2012 versus 12.4 million in "operational capacity" a new term to reflect its sales quota at Canpotex, as fellow marketing partners The Mosaic Company (MOS) and Agrium (AGU) were also expanding.
Most of the Potash Corp expansions are just now being proved, and it was expected to have 17.1 million in operational capacity by 2015.
But now the company is being forced to laying off people at the newly minted expansions rather than running them and adding incremental cash flow to the bottom line.
But Uralkali also bought back shares. Unfortunately for corporate governance, they bought the shares back from insiders, nobody's perfect. The stock also fell after the company's CEO Vladislav Baumgertner, famously cancelled the cartel on July 29, but has rebounded, as Uralkali seems to be picking up market share as the price falls as he predicted it would, from $400 US, to $300 US per mt.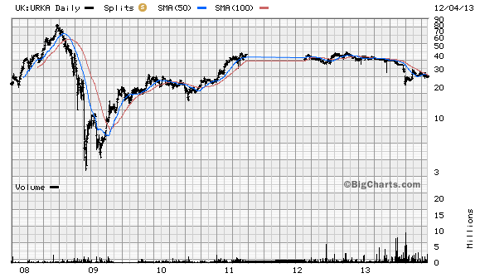 But who is laughing at whom?
According to a Globe and Mail interview reported yesterday, Doyle says the layoffs have nothing to do with the Uralkali/Berlaruskali breakup and its aftermath.
They're due to "unprecedented conditions". Unprecedented conditions or ignored conditions due to corporate hubris mixed with CEO arrogance and a good dose of sales schmooze thrown in (to appease "customers", investors and journalists)?
According to the Globe , Doyle says "Since the Great Recession, we have seen very little global growth, and that has impacted the demand for fertilizer".
Apparently it hasn't impacted all fertilizer companies equally. Uralkali and others seem to be doing rather well since the Great Recession.
I've lost track of the number of times Doyle has said that steady population growth and higher middle class incomes will drive demand for better food and therefore for fertilizers. The forecast of 60 million tons of global potash consumption still hasn't been met.
On the most recent Q3 earnings call, Doyle reduced the company's forecast for 2013 global potash consumption and FY 2013 earnings:
'Given these conditions, we have reduced our 2013 estimate for global potash demand to a range of 53 to 54 million tonnes, and revised our full-year sales volume forecast to 8 to 8.4 million tonnes. The impact of lower potash sales volumes and reduced price expectations for all three nutrients has resulted in a revision of our full-year earnings to $2.00 to $2.20 per share."
Even if were true, that potash consumption must eventual rise, it doesn't guarantee it would be Potash Corp's fertilizers being purchased. It's the lowest cost delivered price to market that should prevail, all things being equal.
Uralkali's 2012 cash cost of potash was $55/mt and its mines are closer to key markets of India and China, and even the Potash Corp fortress markets of Indonesia and the Malay Peninsula countries.
Population growth numbers, which I have tracked since 2009, show the main people growth is in those "developing markets" that have little money for high-priced, high analysis fertilizers.
Places such as sub-Sahara Africa, the Indian subcontinent nd parts of Latin America have high fertility rates for people, but lack the per capita income to pay up for fertilizers. The UN FAO numbers show over 1 billion people are certainly hungry, that is for sure. That has not changed.
I have tried to ask this question about population growth, ability to pay for fertilizers, and related issues on Potash Corp earnings calls. I was never allowed to penetrate the "investment banking analysts only" wall around the insulated management pushing this all too glib treatment of an important and critical issue governing global fertilizer demand? No.
Can Doyle really say the current lack of demand for potash from these developing markets was truly unexpected, and that the poor fertilizer market conditions are "unprecedented"?
In the Globe article, Doyle apparently says he sees encouraging signs in some markets, but does not expect any major catalyst in 2014 or 2015.
I surely see a catalyst at Potash Corp.
It's time for the Board of Potash Corp to do their duty (apparently ranked #2 in effectiveness and corporate governance by the Globe and Mail) and dismiss the CEO.
The new CEO should be the type that Andy Grove, ex-CEO of Intel famously described, when he said "only the paranoid survive".
It's not exactly as if Bill Doyle would be hurting if he left, anyways.
Disclosure: I have no positions in any stocks mentioned, and no plans to initiate any positions within the next 72 hours. I wrote this article myself, and it expresses my own opinions. I am not receiving compensation for it. I have no business relationship with any company whose stock is mentioned in this article.
Additional disclosure: I have made references and corrections as requested. How do I now submit this article for publishing?
Seeking Alpha's Disclosure: Past performance is no guarantee of future results. No recommendation or advice is being given as to whether any investment is suitable for a particular investor. Any views or opinions expressed above may not reflect those of Seeking Alpha as a whole. Seeking Alpha is not a licensed securities dealer, broker or US investment adviser or investment bank. Our analysts are third party authors that include both professional investors and individual investors who may not be licensed or certified by any institute or regulatory body.