I've been following Noranda Income Fund for several years (symbol NIF.UN on the Toronto Stock Exchange). It is an undervalued "busted" income trust in that it had to cut its monthly distribution payment to zero last year. We have been buyers in the $2.35 to $2.65 range over the past two weeks.

I do not have a target for Noranda Income Fund's units, but if you read the following, you should agree they continue to be undervalued as the company's operations revert back to normal production and profitability.

The Fund's operating company earns a toll from refining zinc concentrate into metal, and gets to keep by-product revenues from sulphuric acid and copper cake produced during the purification process. For six and a half more years (until 2017), the Fund has a supply agreement with controlling company, Xstrata Canada. The company refines zinc for several other mining companies in Eastern Canada and as from as far away as Peru.

I believe NIF.UN units have been slow to be revalued upwards by the market due to uncertainty the debt will be successfully refinanced, uncertainty due to the Supply and Processing Agreement (see below) expiring in 2017, and because the company has agreed with its lenders not to resume distribution payments for at least another six months.

Also, the Fund is a small-capitalization income trust with no distribution currently, and therefore is not eliglbe for purchase by many institutional buyers. The Fund  may be in a position to reinstate distributions to the publicly held Priority Units by the end of 2010 and I expect they will do so or be reorganized into a dividend paying corporation, or even have the public float be bought out by Xstrata.

The Fund's Priority units (37.5 million outstanding), were valued at $102 million Canadian as of the close today ($2.73), have a 75% interest in a Partnership that should produce operating income of approximately $100 million this year. 

The Fund reported Q1 2010 results of $23.9 million operating income this afternoon, on $171.7 million in revenues. Earnings per unit came in at $0.19 versus a loss of 7 cents in the year earlier quarter.

The Fund owns 75% of the operating company, Noranda Income Limited Partnership, the other 25% owned by Xstrata Canada which inherited the facility when it bought out the iconic Canadian metals and mining company, Noranda, in 2005. Xstrata Canada owns Ordinary Units subordinated to the publicly-held Priority Units, and cannot be paid distributions until they are paid to the Public.

The Fund is currently valued at only $137 million Canadian, but I expect the company to produce operating margin of approximately $100 million in 2010. I expect the unit price will steadily increase in value as it becomes eligible to reinstate monthly cash distributions under its renegotiated credit facility lending agreement towards the end of the year. 

Alternatively, the Fund could be bought out or sold to avoid the January 1, 2011 SIFT (Specified Investment Flow-Through Trust) income tax rules which are coming in. The Fund has organized an independent committee to review its strategic alternatives.

Originally commissioned in 1963 with an annual productive rate of 65,000 tons of refined zinc metal, and operated by manager Canadian Electroyltic Zinc, the Fund's sole Salaberry de-Valleyfield, Quebec facility has been expanded over the years and is expected to produce 265,000 tons of pure zinc metal in 2010. The facility produced 228,600 tons of zinc in 2009 and 264, 231 tons in 2008.

This was yet another cyclical industrial operation packaged, perhaps inappropriately, as an income trust to offer Canadian investors steady tax-free flow-through yield, and was eventually hit by the Great Recession of 2008/09.

Issued at $10 per unit in April 2002, the Fund paid out a monthly distribution of 8.5 cents per unit until they were reduced to 4 cents in February 2009 and then eliminated. Zinc and hence sulphuric acid byproduct production were reduced through much of 2009 to conserve cash and because the company had no storage space for the sulphuric acid it was producing. The bottom fell out of the North American industrial sulacid (sulphuric acid) market.

However, the curtailment was only 20% of productive capacity for seven months of 2009. Q1 2010 zinc production and sales were 66,466 and 66,544 metric tons respectively and therefore are on track with 2010 guidence of 265,000 tons.


The Fund has 50 million units outstanding so the company is being valued at $137 million at today's closing price. The company lost $3.3 million on $483 million in revenues in 2009 but made $27.6 million and paid out $38.2 million on $620 million in revenues in 2008.

The company is the largest zinc refiner in Eastern North America and supplies half of total Canadian zinc metal requirements. Zinc demand is mainly by galvanized steel producers. The rest of sales are in the Northeast US, again, to steel plants. The recovery in North American auto and truck production as indicated by today's sales numbers, underpins galvanized steel production and refined zinc metal demand.
Galvanized steel is also used in the non-residential construction sector  especially architecturally for high end roofs and the Infrastructure Canada spending and stimulus spending in the US, can only help demand here, which has been admittedly soft.

The Fund is guaranteed by the Supply and Processing Agreement originally made with Noranda, for another 6 1/2 years. Xstrata Canada is obliged to sell up to 550,000 tons of zinc concentrate (produced from its mines in Northern Ontario) to help fill the plant productive capacity and at a price based on the London Metal Exchange fixing less a fixed, escalating processing fee calculated in Canadian dollars. In 2009, the facility processed 447,000 tons of concentrate.

The facility refines raw zinc concentrate it receives from a number of other mines in Eastern Canada at its plant on the St. Lawrence River. Xstrata sells all the zinc and sulphuric produced as agent for a commission. Xstrata just announced the closure of its Kidd Creek zinc refinery so NIF could have even less competition for zinc refining going forward.

NIF's main revenue is a processing fee which was 38 cents/ton of zinc metal in 2009. The processing fee is increased approximately 1% per year to cover general inflation, as well as 10% of the increase in electricity costs. The processing fee for 2010 is expected to be 38.5 cents per ton on 265,000 tons or $102 million in revenues. The company also gets to sell by-products of the zinc refining: sulphuric acid ($27.5 million revenue in 2008) and copper cake ($17.6 million in 2008). Of course, NIF has to pay the energy and conversion costs to refine the zinc. But they also get a premium over the LME price of zinc (3.5 cents in 2009) another $9 million revenue.

The company uses a reseller to market its sulphuric acid and out of an $82 gross price per ton last quarter, it netted only $21. 80% of the sulphuric acid business is on annual contract renewed in the Fall and we expect the netback to increase on a large part of the business at that time. Sulacid priced at the Gulf is currently bid-ask $100-$120 US/ton (Fertilizer Week - April 29). 
The Fund historically paid a monthly distribution totaling $1.02 per year, and traded at in the $9 area during most of 2008, but they cut the distribution to 4 cents per month in February 2009, and then to zero in July of 2009 when the market for sulphuric acid (the by-product) dried up. The Priority Units must be paid any distribution up to the base level of 8.333 cents per month before the Ordinary units (12.5 million and 100% owned by Xstrata Canada), can be paid anything. The missed distributions from February 2009 are not cumulative.

Sulphuric acid is back in demand (used for all kinds of industrial processes) and the over a year long Vale Inco strike has knocked out a major competing source of sulphuric acid in the region. Industrial activity has slowly come back and both the company, and sulphuric acid producers such as Chemtrade Logistics and Marsulex, have indicated the sulphuric acid market has reverted to a relatively balanced state.  
 
The Fund's plant is in compliance with all material environmental regulations although it experienced  a minor accidental spill of Sulphur Trioxide six years ago and is being sued for this - the class action suit sounds spurious and thrown out of court, the appeal was thrown out, but in December another class action attempt was served. Not sure of all the details surrounding this spill but insurance usually covers this and many law suits are an attempt to get the insurance face value coverage.
The Fund has $153.5 million in notes coming due Dec 20, 2010. The Fund's subsidiary, Noranda Operating Trust, completed the private placement issue of these seven year secured notes in December of 2003. The Notes are comprised of $114.5 million in fixed rate notes with a coupon of 6.529%, and $39 million floating rate notes, at a rate of the three-month Canadian Dollar Offer Rate (NYSEMKT:CDOR). The floating rate portion of the notes had an effective interest rate of 2.4% on December 31, 2009. 

The Fund has stated they will be refinancing the Notes and their Revolving Credit Facility totalling $209 million, sometime this year and hopefully at the same time. The Fund expects the note refinancing will include mandatory principal repayments so that the debt is paid off when the Supply and Processing Agreement expires. Therefore, an estimated $23.6 million of note principal repayment can be expected to reduce annual distributable cash going forward and starting in 2011. The company also plans to spend approximately $24 million in maintenance CAPEX this year.

An alternative to dealing with the SIFT tax has been reorganization to a corporation. Or, the public float of the Fund could be bought out by Xstrata Canada before that time to avoid the SIFT tax, given it is returning to profitability and the units could be purchased for a price that would earn a very good return on investment, even with a substantial offering premium.

The higher Canadian dollar is a negative for the Fund. The Cdn dollar had a negative $2 million impact in Q1. As of December 31, 2009, the Fund had no US dollar hedges.

Noranda Income Fund held its annual meeting today and will hold its Q1 2010 earnings conference call tomorrow morning at 8:30am.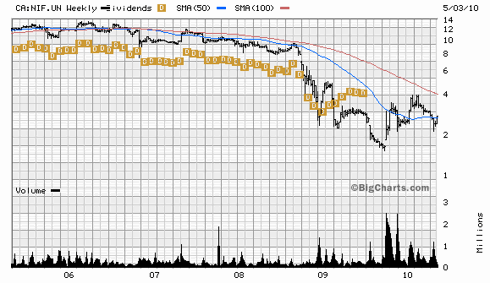 Disclosure: Long Noranda Income Fund