It's a truism the market Repeats just after the Generation that could remember it, Retires.
As Spanish-American philosopher George Santayana (1863-1952) wrote:
"Those who cannot remember the Past are condemned to repeat it".
Look at the markets in the late 70's...I wasn't there, but I was exposed to the late 70's economic and market issues during my MBA (82-84)...
 

Gold, lumber, crude oil, and agricultural commodities were hot (but didn't peak until 80-1). Gold futures peaked at $895 in January 1980 (see below).
Mining companies were criticized for "excessive profits". I particularly remember a video in which CEO's Al Powis of Noranda and Bill James of Falconbridge, vigorously defending their respective companies.
Sovereign credit issues (Mexico, Argentina, Brazil) led to their default in 1982, followed by the workout through the issue of "Brady Bonds".
US
Democratic president Jimmy Carter was unable to solve problems in Palestine and the Middle East, culminating in the Iranian revolution.
 
Annual consumer Inflation was up 50% over the period from a relatively benign level for the times (6% in 1975) to over 10% by 1979.


The Canadian TSE 300 market index resource heavy that it was, doubled from 1,000 in early 1977 to 2,000 in early 1980.
Popular investment books written in 1979 included:
"How to Invest your Money and Profit from Inflation" (Morton Shulman)
"How to Prosper during the Coming Bad Years" (Howard Ruff)

"Contrarian Investment Strategy" (David Dreman)

Newly installed Fed Chairman Paul Volcker's rate hike leads to the "Saturday Night Massacre" with the DJIA dropping 10.1% in 12 trading days from October 5 to October 23, 1979.

The inflationary party was crushed and the first two books mentioned above could be found in the discount bin by 1982 (I know, I bought them).

The third book on contrarianism and buying low P/E stocks by Dreman is still a useful source of inspiration.

In my view, we are somewhere in the middle of the 1975-79 period.

Here's a chart of the April COMEX Gold futures at the peak (Source Jack Schwanger).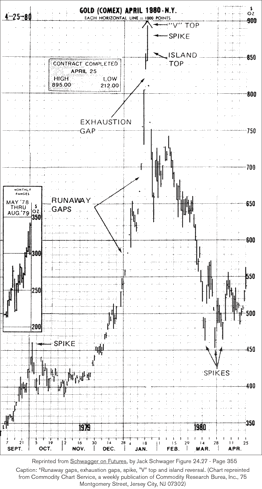 Are we in late 79? 

Is Gold ready to Crash?

I don't think so. I don't see a Volcker-type Fed Chairman around.

But then again, it's China that is currently cracking down on inflation. 

I know the 1980 meltdown in Gold and other commodities was traumatic, because in 1983, traders I approached to help me get "into the business" were still talking about it, traumatized by the event.

Please let me know what similarities and dissimilarities you see between this market and that of the late 70's, if you are old enough to remember, or have studied them.


Disclosure:
Positions in Canadian equities and US REIT's