Amazon(NASDAQ:AMZN) announced its first quarter results today. Investments in data centers, cloud computing and its distribution network affected its bottom line. The world's largest online retailer reported net income of $201 million, a drop of 33% when compared to the $299 million reported a year ago. 
Revenues was up by 38% at $9.86 billion, well above analyst estimates of $9.53 billion. The company had projected revenue estimates in the range of  $9.1 billion to $9.9 billion.  
The first quarter EPS for the period ending March 31 2011 was $0.44 a share as compared to $0.66 a share from the first quarter a year ago. Analysts had estimated a first quarter EPS of $0.61 and Amazon failed to meet analyst expectations. 
The company reported an operating income of $322 million and an operating margin of 3.3%. The company had  higher interest expenses and operating costs of over $9 billion which affected the bottom line. 
For the second quarter the company forecasted its revenue to be between $8.85 billion and $9.65 billion. This is a projected increase of 35% to 47%. This is higher than analyst expectations of $8.75 billion. 
Amazon holds the title of being a mega-retailer and is looking to expand further. Amazon is trying to advance its Kindle brand and investing in data centers that are eating into the company's short term profit margins but will reap benefits in the coming years. 
Amazon's web hosting service recently encountered a glitch that caused it to crash and this may impact business from future customers. Amazon also has a significant Japan exposure that accounts for up to 15%  of their business. The company took a 5% hit on international sales due to the disaster in Japan which will impact sales for the year as the Japanese economy continues to rebuild. But this is not specific to Amazon only. Even Apple has taken a hit due to the earthquake in Japan. 
The company has great growth prospects in spite of lower earnings. Amazon has previously invested in its future and has come out a winner and shown that they have sustainable growth. The company forecasted capital expenditures of up to $900 million this year as they build more data centers. This goes to show that internet businesses are expensive to run in spite of low overheads. 
In February, Amazon launched its online video streaming service to compete with that of Netflix. For Amazon prime members the video streaming is an added bonus at the same price. Amazon prime is a discount shipping service provided by Amazon on select items and now it also offers unlimited access to movies. Even though Amazon's 5,000 titles is no match to the 20,000 titles offered by Netflix, the price differential is a big selling point. For a price of $79 a year, Amazon subscribers get both free shipping and unlimited movies online. That's a savings of $16.88 each year compared to the $7.99 a month of Netflix. 
Even though Netflix has a bigger market share, it is going to face stiff competition from the e-commerce king as Amazon plans to increase it movie database. Amazon also owns a lot of the infrastructure needed for video streaming. With investments being made in cloud computing, it gives the giant online retailer a clear advantage over Netflix that is currently leasing its content delivery network(CDN). Amazon has the cash flow to license content at the right price which plays a pivotal role in the digital media world.  
Amazon shares fell more than 5% due to the EPS miss but closed the trading session at $182.30. I am optimistic about Amazon's future as it has the fastest growing unit growth rate among large cap companies. Also the online shopping industry continues to grow and expand and with continuing high sales of Kindle, its winning product, the company is poised for growth.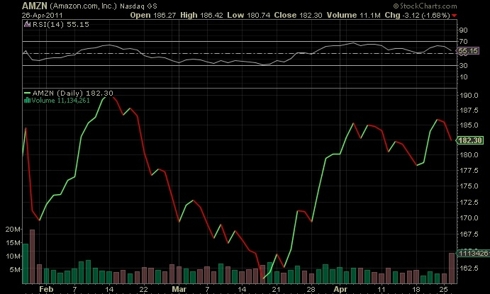 Chart courtesy StockCharts.com

Disclaimer: This article is for informational and educational purposes only and shall not be construed to constitute investment advice.