Update: 12/14/11 -- Well, the pattern as previously drawn has definitely failed -- foiled by a precipitous drop in the Euro sending Dollars artificially higher. But fundamentally speaking, this is a blip, and it only extends the buying opportunity on gold very shortly. So, the fact that we're in a bull market has not changed, only the technical indicators. Here's my updated expectations: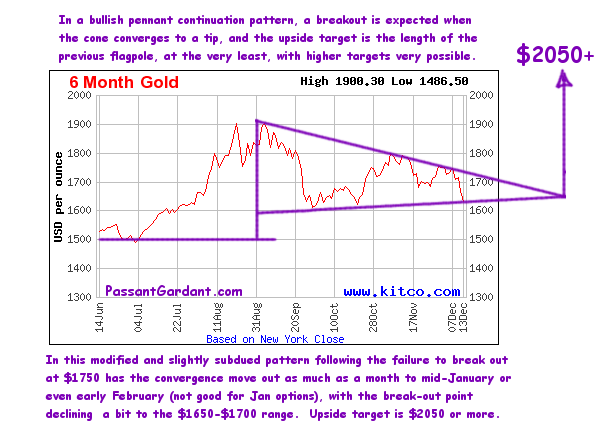 ---
Update: 12/12/11 -- Looking bad for this pattern this morning with an overnight selloff to $1670.  If it doesn't recover above $1700 by close, we'll probably have to consider this pattern to have failed.  It could possibly be redrawn with support at $1600, but I wouldn't bet on it.  I'd be looking to hedge this bet at the end of the day if we don't see a rally at least above $1700.
---
Ever since the explosive move to $1900 following the failure of the U.S. Congress to constrain government debt this summer, gold has been consolidating in a very large and well-defined pennant.  The gold chart is converging on $1750 as the terminus of the pennant and will have to break out of the formation within the next day or so -- early next week at the latest.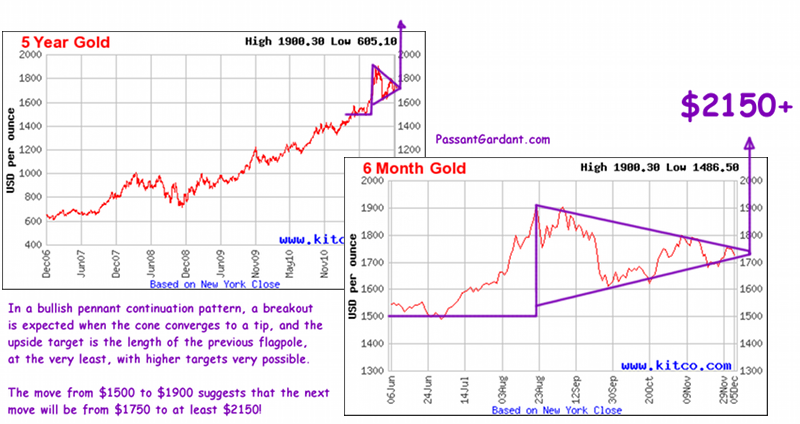 This is the largest bullish consolidation pattern since 2008.  The "flag pole" of the pennant is approximately $400, from the previous break-out point around $1500 to the top near $1900.  The expected upside target of the next break-out should be at least an equal move, or approximately $2150 from the current $1750.  
It could also be a proportional move -- i.e. $400 was 26.7% of $1500, so 26.7% of $1750 would send gold soaring to $2217.  This would be more consistent with the exponential nature of the gold chart over the past 10 years.
The prior break-out in July/August lasted approximately one month, so we could see the next high point in early January before the next consolidation sets in.
Disclosure:
I have no positions in any stocks mentioned, and no plans to initiate any positions within the next 72 hours.