Macro View, Economy, Financial
​The US Banks are starting to be squeezed out by slowing loans demand (on all side, either commercial and industrial loans and consumer loans) and skyrocketing amounts of deposits, a direct consequence of the great financial crisis. Combined with already lean and mean banks that have mostly done their clean up process in terms of cost cutting after the crisis, they will face tremendous pressure from continued net interest margin till the Federal Reserve start the process of hiking short term rates.
US Banks Balance Sheet: Unbalanced
The US banks balance sheet ​​has never been so unbalanced since the crisis as shown by the graph below. The growth of deposits has been enormous and loans has not being able to follow money wise. So the last numbers available (May 15), deposits were at $9.37 trillions $ and loans at $7.29 trillions $.
Total US Deposits at All Commercial Banks (Blue)
Total US Loans and leases at All Commercial Banks (Red)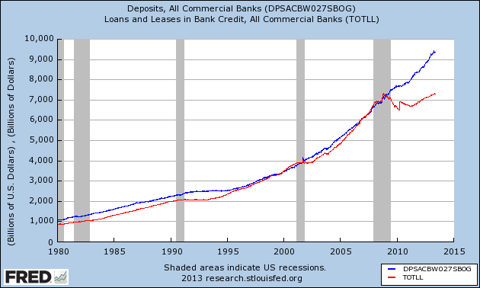 And a zoom on the past five years where we see the huge gap building between deposits and loans.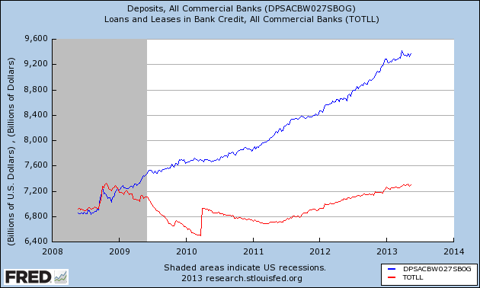 And in terms of growth year-over-year, the difference between deposits growth and loans are striking, as shown by the chart below...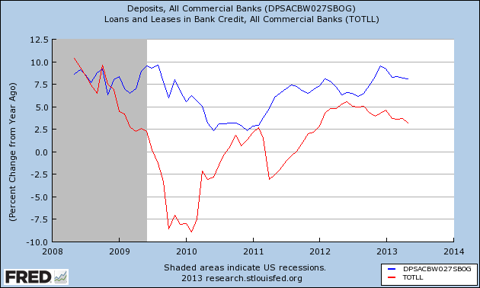 US companies are pulling back on borrowing, which could put a drag on the limping US. economy and make it even harder for banks to break out of their long slump.
​
Outstanding loans by the biggest banks to U.S. companies was 3.1% in the first two weeks of may compared to last year, according to Federal Reserve data.
The growth rate has been declining since the beginning of 2012, where it reached a maximum of 5.7% in June 2012.
Change in Total US Industrial Loans at All Commercial Banks $ vs year ago (Blue)
Change in Total US Gross Private Domestic Investments $ vs year ago (Red)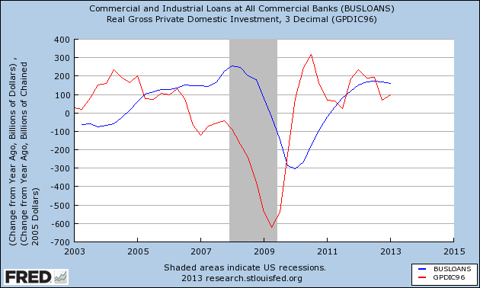 Consumer Loans
The recent slowdown is especially disconcerting because demand for other types of loans is cooling, too. Consumer lending is growing only around 2.5% since the beginning of 2013, according to Federal Reserve data.
And the growth of commercial and industrial loans has been slowing recently as consumer loans growth, already in low gear since mid-2012 will add to banks margins pressure as shown by the chart below (year-over-year growth).
Change in Total US Industrial Loans at All Commercial Banks yoy (Blue)
Change in Total US Consumer Loans at All Commercial Banks yoy (Red)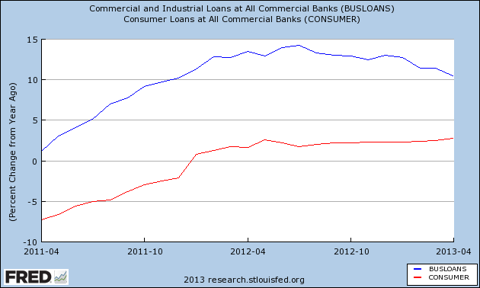 Conclusion
Even if most of the US banks deposits are bearing a 0% interest rate, the compression of spreads in the fixed income, the relatively flat curve and US Federal Reserve Quantitative easing did just accelerate the process. If we add into it the administrative costs to manage those deposits, net interest margins are under pressure.
So, booming deposits, a slowdown in commercial and industrial loans growth and US consumers borrowing less are contributing to a squeeze that began already in 2010 and will continue in 2013 unless banks charge some administrative fees to compensate.
To compensate that earnings slowdown, big banks has been cutting billions from reserve funds. The top five banks released $5 billion from reserve fund in Q1 2013, which equal to roughly 25% of their total profits.
Big banks won t be able to show growth in earnings going forward, as a slowdown in the economy and tapering reserve fund will be less of an option.
And net interest margin at US banks will continue their decline as shown by the chart below.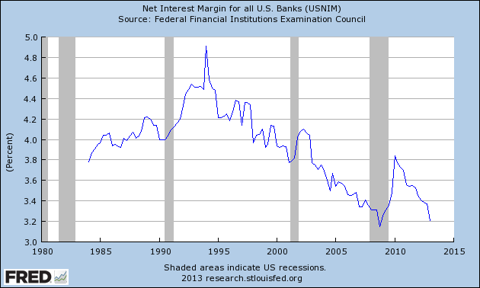 Disclosure: I have no positions in any stocks mentioned, and no plans to initiate any positions within the next 72 hours. I wrote this article myself, and it expresses my own opinions. I am not receiving compensation for it (other than from Seeking Alpha). I have no business relationship with any company whose stock is mentioned in this article.