"Are you free now?" N asked me in a pensive mood when our paths crossed in a chance encounter in the underground basement of the Singapore Management University (SMU).
"Sure, what's on your mind?"
"I have read your email on 'To what can I devote my life' last night and I have been thinking. I like to show you something. It's an app business that I am doing up with my friend Chris."
A SMU accounting student taking my course Detecting Accounting Fraud in Asia, N and his friend Chris have started a mobile app company which had developed an Uber-like mobile app to assist us to beat the long queues in healthcare clinics.
When I listened to N explaining his app, i immediately shared with him the Japanese innovator M3 Inc (2413 JP, MV $6.6bn). M3 is an overlooked wide-moat innovator I wrote about in 2012 and shared with the CEO and top management team of a listed tech company in a series of workshop "Uprising! Business Model Innovations and TMT Industry Trends" conducted in Singapore, HK and Beijing in 2012/13. M3 has since tripled to $6.6 billion. M3's popular iTicket (www.iticket.co.jp) internet and mobile service used by more than 500,000 members to make reservations at clinics and beat the long queues might have some relevance for N to articulate the business model to seek funding — and clarity in their own execution and scalability. Both Chris and N have never heard of M3.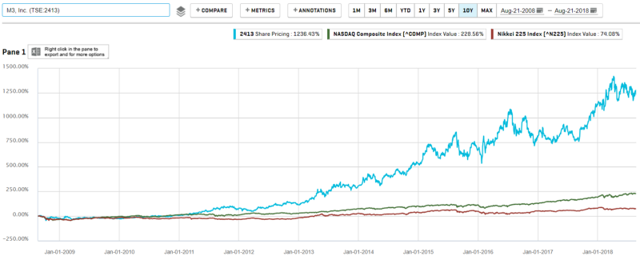 I explained briefly to them that M3 started out like a Google for medical professionals, with its core MR-kun service used as a marketing tool by pharmaceutical companies to provide consistent, repeated delivery of information on products and diseases. MR-kun also provides a channel for companies to receive questions and feedback from doctors, strengthening company/doctor relations.
With support by Sony Corp subsidiary So-Net which retains a 49.8% stake in M3, Itaru Tanimura established M3 in 2000 when he was 35. Essentially, M3 recognized that the demand for eDetails is quite high for busy physicians who require timely information at their convenience, without the limitations imposed by their off-line MRs. Doctors spend the most time collecting information via the Internet. Conversely, pharmaceutical firms spend the majority of their budget on MR related costs — and Japanese pharmaceutical firms' huge marketing cost of ¥1.2–1.5tr ($10–12.5bn) is not sustainable.
Pharmaceutical companies signed up for MR-kun pay a basic annual fee of ¥70 to ¥100 million ($0.58 to 0.83 million) per electronic "e-detailing message," which is the online equivalent of a sales visit by a MR (medical representative) to a physician's clinic. In the pharmaceutical industry a sales visit by an MR to a doctor's clinic is called a detail. M3 also charges fees for the production of promotional content and receives fees for other services such as facilitating the exchange of messages between pharma company MRs and their physician clients. The average of M3's top five clients pays ¥860m ($7.2m) every year.
A dominant platform used by 80% of Japan's physicians, MR-kun is rated by over 92% of its users who said its usage "deepened their knowledge of diseases". With this intangible trust built up amongst the community of users, M3 is able to leverage this relationship with its members to develop new online tools. These include online tools in clinical trials to determine the feasibility of trials and help with patient recruitment, market research and survey panels, and online job search and career information site for member doctors and pharmacists. In China, M3's membership for the healthcare professional portal site Medilive.cn topped one million members in August 2014 after just five years, covering roughly half of the physicians in China. M3 leveraged upon the media capacity of Medilive.cn to expand into "Messenger", the Chinese version of MR-kun.
M3 even expanded from B2B to B2C by providing a range of services for consumers including AskDoctors.jp, a subscription service that gives patients a chance to ask doctors questions about their ailments, and iTicket.
M3's Tanimura-san is what literary giant Saul Bellow would call a "first-class noticer". Two entrepreneurs or value investors can study the same business model, watch the same video, or even take the same advice from a mentor, but the intensively-attentive and committed first-class noticer pick up critical details, opportunities and talents among noise that the other misses.
Building on Bellow's term, Harvard's business psychology expert Max Bazerman studied why some people notice and act on threats and opportunities while others do not. Bazerman identified three core challenges to being a first-class noticer: (1) Ambiguity, (2) Motivated blindness due to ego or vested self-interest, and (3) Conflict of interest with our desires influencing the way we interpret information, even when we are trying to be objective, and others that include the slippery slope and efforts of others to mislead us.
We develop noticing skills by acknowledging responsibility when things go wrong rather than blaming external forces beyond your control. Some character moves we can make to become first-class noticers:
· Develop the introspection and capacity for observation to discover just how you learn and then to get out and do it.
· Build in a process and attract people around you to challenge ambiguity, motivated blindness, and any conflict of interest to change you might have. Do it with intention. Intentionally establish a system to test your biases and comfortable assumptions.
· Have a growth mindset that makes reinvention of yourself a regular way of life. Notice the signs. Find a way to embrace them rather than avoid them. Be self-accountable. Do it now.
Above all, the first-class noticer notices better because he or she cared more about their long-term journey than the shot-term paycheck. The intensive attentiveness is applied to a Purpose with an authentic Voice and the ability to engage others in shared meaning and to be truly aware of what's going on in the world from wide-ranging and diverse sources of information. In the immortal words of leadership guru Warren Bennis, "the first-class noticer integrates a purpose with noble aims". The first-class noticer devotes himself or herself to the Purpose and idea larger than themselves, being watchful and thankful. The word "watchful" is a legacy from the Old Testament — or a proactive sitting on a city wall and keeping watch. Watchmen were the first ones to see attacking armies or traveling traders. They saw things before others saw them.
One of the world's greatest and most inspiring first-class noticer is Kazuo Inamori. Born into poverty, Kazuo Inamori lost his family home at age 13 and almost died that same year after contracting tuberculosis. A religious neighbour handed him several Buddhist religious tracts, urging him to meditate on the meaning of life. As he meditated, his TB subsided. His reprieve left Inamori with the idea that he should strive for the betterment of humanity.
Carrying this value in his heart, Dr. Inamori built two world-class companies from scratch in the course of a generation — global advanced ceramics company Kyocera (6971 JP, MV $20.6bn)(founded in 1959) and Japan's second largest telecommunications firm KDDI(9433 JP, MV $62.8bn) (established in 1984), with a combined market capitalization of over $80 billion and employing over 80,000 kindred spirits. Through his commitment to society, which include the creation of the Nobel-class Kyoto Prize which honors contributors in technology, science, arts and philosophy by his Inamori Foundation, Inamori-san, 83, carries the voice of entrepreneurship on a global scale as the "Entrepreneur for the World", an award he was presented with during the World Entrepreneurship Forum in 2009.
As president of Seiwajyuku, a business leadership association dedicated to nurturing business owners and entrepreneurs,Inamori-san, ordained as a Buddhist monk at 65, offered this advice to entrepreneurs:
"If your goal is to be a rich and beautiful celebrity, or if you are not willing to sacrifice yourself for the world and other people, do not try to be an entrepreneur. Entrepreneurs have heavy responsibilities and must share the fruits of their labor with employees and shareholders. We must always have criteria in our hearts that can help us answer the question, 'What is the right thing to do as a human being?' and guide us to do what is good for society and humanity in our daily work."
After our chance encounter, N sent me an email that he aspires to build the "M3 of Southeast Asia": "Uber became the one of the largest transport service company with no taxis. Alibaba became the world's largest e-commerce company with no inventories. We hope our company can have a firm foothold in the medical industry without clinics".
The medical industry needs high reliability because of its mission to care for the life of human beings. This is the reason why M3 succeeded with the trusted platform, the "emptiness" of the trust and support from the community of pharmaceutical firms, physicians, and patients to generate stable and continued income with the option value and potential to expand their business based on the trusted platform.
We wish N all the best in the pursuit of his aspiration — and to become a first-class noticer of business model innovations beyond the mere technical aspects of what makes a wide-moat compounder.
---
Intrigued and want to read more? Inspired by Brandon Stanton's photo-journalistic project Humans of New York which collects and highlights the street portraits and moving stories of people on the streets around us who were doing things that changed lives and made a difference in the city but often went unnoticed, we have curated a collection of Hear the Heart of the H.E.R.O. stories on our website which we aim to update with refreshing and uplifting new stories weekly. Please check them out and give us your valuable feedback so that we can improve to make them better for you.
---
It started with rethinking a few questions. Question №1: Can the megacap tech elephants still dance? Or is this the better question: Is there an alternative and better way to capture long-term investment returns created by disruptive forces and innovation without chasing the highly popular megacap tech stocks, or falling for the "Next-Big-Thing" trap in overpaying for "growth", or investing in the fads, me-too imitators, or even in seemingly cutting-edge technologies without the ability to monetize and generate recurring revenue with a sustainable and scalable business model? How can we distinguish between the true innovators and the swarming imitators?
Question №2: What if the "non-disruptive" group of reasonably decent quality companies with seemingly "cheap" valuations, a fertile hunting ground of value investors, all need to have their longer-term profitability and balance sheet asset value to be "reset" by deducting a substantial amount of deferred innovation-related expenses and investments every year, given that they are persistently behind the innovation cycle against the disruptors, just to stay "relevant" to survive and compete? Let's say this invisible expense and deferred liability in the balance sheet that need to be charged amount to 20 to 30% of the revenue (or likely more), its inexactitude is hidden; its wildness lurks and lies in wait. Would you still think that they are still "cheap" in valuation?
Consider the déjà vu case of Kmart vs Walmart in 2000s and now Walmart vs Amazon. It is easy to forget that Kmart spent US$2 billion in 2000/01 in IT and uses the same supplier as Walmart — IBM. The tangible assets and investments are there in the balance sheet and valuations are "cheap". Yet Kmart failed to replicate to compound value the way it did for Walmart. Now Walmart is investing billions to "catch up" and stay relevant. Key word is "relevancy" to garner valuation.
We now live in an exponential world, and as the Baupost chief and super value investor Seth Klarman warns, disruption is accelerating "exponentially" and value investing has evolved. The paradigm shift to avoid the cheap-gets-cheaper "value traps", to keep staying curious & humble, and to keep learning & adapting, has never been more critical for value investors. We believe there is a structural break in data in the market's multi-year appraisal (as opposed to "mean reversion" in valuation over a time period of 2–5 years) on the type of business models, the "exponential innovators", that can survive, compete and thrive in this challenging exponential world we now live in. Tech-focused innovators with non-linear exponential growth potential are the most relevant multi-year investment trend and opportunity.
During our value investing journey in the Asian capital jungles over the decade plus, we have observed that many entrepreneurs were successful at the beginning in growing their companies to a certain size, then growth seems to suddenly stall or even reverse, and they become misguided or even corrupted along the way in what they want out of their business and life, which led to a deteriorating tailspin, defeating the buy-and-hold strategy and giving currency to the practice of trading-in-and-out of stocks. On the other hand, there exists an exclusive, under-the-radar, group of innovators who are exceptional market leaders in their respective fields with unique scalable business models run by high-integrity, honorable and far-sighted entrepreneurs with a higher purpose in solving high-value problems for their customers and society whom we call H.E.R.O. — "Honorable. Exponential. Resilient. Organization.", the inspiration behind the H.E.R.O Innovators Fund, (surprisingly) the only Asian SMID-cap tech-focused fund in the industry.
The H.E.R.O. are governed by a greater purpose in their pursuit to contribute to the welfare of people and guided by an inner compass in choosing and focusing on what they are willing to struggle for and what pains they are willing to endure, in continuing to do their quiet inner innovation work, persevering day in and day out. There's a tendency for us to think that to be a disruptive innovator or to do anything grand, you have to have a special gift, be someone called for. We think ultimately what really matters is the resolve — to want to do it, bring the future forward by throwing yourself into it, to give your life to that which you consider important. We aim to penetrate into the deeper order that whispers beneath the surface of tech innovations and to stand on the firmer ground of experience hard won through hearing and distilling the essence of the stories of our H.E.R.O. in overcoming their struggles and in understanding the origin of their quiet life of purpose, who opened their hearts to us that resilience and innovation is an art that can be learned, which can embolden all of us with more emotional courage and wisdom to go about our own value investing journey and daily life.
As the only Asian SMID-cap tech-focused listed equities fund in the industry, we believe we are uniquely positioned as a distinctive and alternative investment strategy for both institutional and individual investors who seek to capture long-term investment returns created by disruptive forces and innovation without herding or crowding to invest in the highly popular megacap tech stocks, and also provide capital allocation benefit to investors in building optionality in their overall investment portfolio.
The H.E.R.O. HeartWare Weekly highlights interesting tech news and listed Asian emerging tech innovators with unique and scalable wide-moat business models to keep yourself well-informed about disruptive forces and innovation, new technologies and new business models coming up, and the companies that ride on and benefit from them in some of the most promising areas of the economy in Asia as part of our thought leadership for our ARCHEA Asia HERO Innovators Fund to add value to our clients and the community. Hope you find the weekly report to be useful and insightful. Please give us your candid feedback and harshest criticisms so that we can improve further to serve you better. Besides the BATTSS (Baidu, Alibaba, Tencent, TSMC, Softbank, Samsung), do also tell us which Asian tech entrepreneurs & CEOs whom you admire and respect and why — we will endeavor to do up profiles of them for sharing with the community. Thank you very much and have a beautiful week ahead.
Warm regards,
KB | kb@heroinnovator.com | WhatsApp +65 9695 1860