Everyone is looking for an edge in the market. Traders will use financial ratios, leading indicators, technical indicators, statistical analysis and any other form of "analysis" that could be conjured up to explain why they should buy or sell a particular stock at a particular time. They reason is simple. 1, who wouldn't want to make easy money by finding a simple pattern to follow and 2, as humans we love to revel in our ability to outperform everyone else!

This all being said, there are many differing opinions in regards to these alternative types of analysis, however I am going to focus primarily on technical analysis.

If you were to search on Google for "Technical Analysis" the first things you see are advertisements for programs that send off buy and sell signals, free webinars, and countless advertisements encouraging potential users to become the next peron to turn $25,000 into $3 million. The truth is, there is money to be made in technical analysis because many people WANT to believe that it works. Now I am sure there are plenty of witnesses out there who will proclaim that they make a nice income from technical analysis, but if people were truly honest I'm sure we'd have just as many (if not more) people talking about their losses.

I personally feel technical analysis does play a special role in security analysis. Except it's my belief that technical analysis works well on an index basis rather then on the basis of an individual security and that it should be used more so to indentify overvalued and undervalued opportunities rather than specific entry points. My reasoning for this belief is simple, individual securities are subject to unsystemic risk. If company xyz is strongly affected by negative news, after a few drops in price the technical indicators may label stock xyz as a "buy" when in reality the news presented will cause continued losses. Technical analysis lacks in its ability to interpret unsystemic risk.

Unsystemic risk however can be removed through diversification. It is for this reason that the use of technical analysis on indices may provide more insight than its uses on individual securities. Below are two charts, the first demonstrating the use of a technical analysis buy/sell signal on an individual stock (Apple, AAPL) which the second chart uses the same signal on an index (DJIA).

Apple - AAPL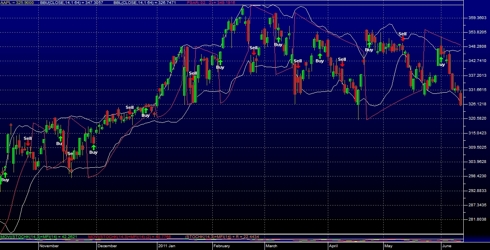 Using the buy/sell indicator for AAPL results in approximately 9 trades over the course of a 9 month span of time. 6 of those 9 trades resulted in either losses or flat trades.

In comparison, the same indicator used on the DJIA resulted in 7 trades over the same 9 month period. Of those 7 trades, only 1 would have resulted in a loss.


Holding my Masters degree in mathematics and being a statistics enthusiast, I know that this lone comparison is not enough to justify and validate my argument, however it should at least underscore the practicality of what I am saying. Technical analysis alone when being used to assess individual security is at its best, flawed, and should be used along side fundamental analysis. Now if you were looking to implement a strategy which involves trading the derivates for an idex, maybe then you could rely more soundly upon technical analysis. This however is something that would need to be looked into further.


 
Disclosure:
I have no positions in any stocks mentioned, and no plans to initiate any positions within the next 72 hours.