Cloud Computing is a massive wave we've been following for a while now. In fact, for the past couple of years we have looked high and low to find a company that offered a competitive advantage in this wave. Of course, How To Find Big Stocks Newsletter wanted to find one that was also extremely undervalued, offering us a Big Stock opportunity.
Well fast forward to the present and we think we've finally found one. This software has been called "revolutionary" and our tech experts have been scratching their heads at what this company is able to do, or maybe more importantly, just how they do it.
In one of our favorite investing books, The Gorilla Game, Geoffrey Moore discusses the fifth and most recent wave of computing. It's called the Internet architecture or zero install client computing wave. As the name suggests, in this wave of computing, end users do not have to install any software on their computers other than a browser. Armed with a PC and a browser, an end user can aim the browser at any Web address and "use" the software that is running on the server at that particular Web address.
The power of this type of computing is that when changes are made to software and/or content, they need only be implemented at the server, hence there is no need to send out any new software to install on the end user's computer.
The concept sounds easy if everyone is only using a desktop PC with Windows.
Moore, already a highly successful investor in his own right, identified this huge investing wave years ago. However, when we again fast forward to the present, we're sure he never imagined the numerous different devices that could connect to the Net. Not to mention the veritable plethora of different operating systems, browsers and chips that would also be involved.
This potential Big Stock seems to have it all: under $100M market cap, disruptive technology for a very Big wave, enterprise software, recurring revenue model, first licensing deal, funding partner, no toxic financing, management either is buying in the open market or holds a large stake, on the verge of profitability, highly credible association validating the technology and market size. With all those superlatives, the most important thing to us is a valuation that offers the potential for a VERY Big Stock.
We have discovered another cross-platform solution that could disrupt two markets that are much bigger than videos! What are they you ask?
The Cloud Computing space, valued at over $40B and the desktop virtualization industry, valued at $3.6B. In order for Cloud Computing to really take off, there can't be any limits on all devices and/or Operating Systems (OS) when retrieving, editing and saving data in real time once it's on the Cloud.
A cross-platform solution is truly the Holy Grail for this industry
More employees are accessing the corporate network from different mobile devices like smartphones and tablets. This access is increasingly coming from remote locations as well. Sally Sales Rep has to be able to see, edit and save the same document/data on her iPad, that Mark in Marketing works on using his Blackberry, while Patty in Purchasing needs to account for an order on her Droid. All this data processing is taking place on the Cloud, but each device needs its OWN version of EACH software program...and they all will need updates too.
The rapidly increasing number of Internet enabled devices (mobile phones, tablets, TVs), Operating Systems (Windows, iOS, Android, Fortran) and browsers (Explorer, Safari, Firefox, Chrome) is creating a very Big problem, thus preventing this wave from breaking. Up until now, software companies would have to make a separate version for EACH device and OS.
What companies need is a cross-platform solution (software) that enables ANY device and ANY OS to connect to the Cloud, along with using ANY software program without having to download that specific version. The updates to a software program are performed one time and use just one server, not on every device. Just like the term Cloud Computing says, the computing should take place on the Cloud…period! Furthermore, once connected, it should not matter what device/OS is connecting to the Cloud. With our newest discovery's proprietary solution, software companies WILL NOT need to make a new version of their software for every new device and OS. That is very disruptive.
That solution is Glassware from Sphere 3D (SPIHF) and (ANY.V)
We think this software platform has the potential to be VERY Big.
But don't take our word for it, the highly respected business consulting firm of Frost & Sullivan just placed Sphere 3D's technology at the forefront with VMWare (VMW market cap $37B) and Citrix (CTXS market cap $13B).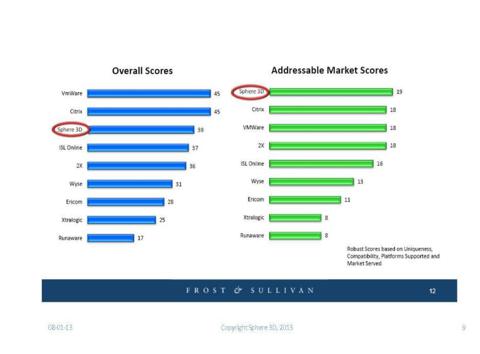 Sphere 3D technology delivers fully featured third party software and digital products, to ANY Cloud connected device independent of its operating system. Their enterprise software lets ANY device and any OS use ANY software program when connected to the Cloud. Sphere 3D's Glassware solves this very Big compatibility problem for a very Big wave... Cloud Computing. In addition, the Glassware solution maintains the local hardware capabilities. In other words, a user can utilize hardware features like Siri on iPad or pinch/zoom on touchscreens.
Let's do some "dumbing it down" here.
Sphere 3D's solution enables any device or OS, to use just about any software application over the Net, without having to download the original program (and updates). Using the Glassware solution (through your company's network or with an app), if your device can connect to the Net (Cloud), you can use ANY of the over 5,000 software titles and 100's of thousands of apps they offer, on your device. You will not need to update the versions of these programs. Your mobile device simply becomes an Internet enabled tool that accesses a computer, which keeps all of the programs and does all of the computing. You will still be able to use all the neat things your mobile device can do (speech recognition, pinch/zoom). Your company (corporate side) or Sphere 3D (consumer side) will make all the necessary updates to the programs you use, so no new plugins or updates will be required on the user's end.
Sphere 3D's proprietary solution makes it possible to shift all of the computing to the Cloud, and better yet, their valuation is almost exactly the same as DSNY's when we first highlighted them as well!
Sphere 3D is the only solution where the server side is compatible with ANY OS (e.g. Android, iOS, WIndows) due to its agnostic nature, while other solutions are compatible ONLY with Windows. (Source Frost & Sullivan 2012)
Glassware:
1. Allows you to move single-tenancy" desktop software to the cloud with no customization required; and it becomes as efficient as if it was built for multiple users.
2. Allows for legacy software, even if customized or proprietary, to be easily ported to the Cloud without any rewrites.
3. Provides the ability to deliver desktop software to ANY mobile device.
4. "Bring your own device" BYOD becomes very simple, secure and affordable.
5. It maintains local hardware capabilities (i.e. Siri on iPad or pinch/zoom on touchscreens)
6. Can virtualize many different platforms (Android, Linux, Windows, iOS, FORTRAN, etc)
Sphere 3D Has More Than Just A Funding Partner
On July 16, Overland Storage (OVRL) announced they and Sphere 3D would deliver revolutionary technology enabling secure access to native applications and data management on any device.finance.yahoo.com/news/overland-storage-sphere-3d-deliver-103000223.html
"This Sphere 3D partnership has been a part of Overland's strategy for over a year and is key to delivering on our vision of providing a global distributed enterprise architecture that would give us access to one of the fastest growing markets"
When utilizing the Overland Storage cloud or appliance coupled with Sphere 3D's Glassware 2.0™ technology, mobile business users will be able to access the applications they want, along with the corporate data they need, without any data ever leaving the security of the enterprise.
"We are excited to combine our virtualization technology solution with Overland's data storage expertise and to expand our offering beyond the consumer to address the substantial enterprise opportunity," said Peter Tassiopoulos, CEO of Sphere 3D.
Overland will assume an equity stake in Sphere 3D and Mr. Kelly (OVRL CEO) will join the Sphere 3D Board as its Chairman.
Overland gets enterprise exclusivity to the Glassware "engine" giving them a great opportunity to take on VMWare and Citrix. Sphere 3D gets a licensee, friendly funding and access to a list of Fortune 500 corporations.
Good News and Bad News
The good news: Sphere 3D is COMPLETELY hidden from Wall Street. Through our top-notch network, we've found them and done quite a bit of due diligence in a relatively short time period for us. Recent events like an equity stake (and future financing) from a key player in the space, a marquis partnership and the anticipated launch of the product this Fall make us feel that the timing is right. The company is just starting to come out of seclusion after a successful Alpha launch, and we anticipate that they file on the OTCQX in 3-5 weeks. We wanted to highlight it before the investing public-at-large discover it.
The Bad News: Sphere 3D is trading on the TSX Venture Exchange in Canada and just started trading in the U. S. It was a reverse merger into an old Canadian mining shell. Yeah we know what many of you are thinking and we thought the same thing too. But, you can read the initial filing here: Filing and you can also find all of the company's filings here Sphere 3D's Filings
Valuation?
The only competition we could find is a product called CloudOn http://site.cloudon.com/ . CloudOn has an app that puts Microsoft Office® on your favorite devices and provides access to the files you already store in the Cloud with Box, Dropbox, Google Drive and Microsoft SkyDrive. They've raised approximately $25M and currently have a little over 4M users. They are a private company but some VC's have estimated their value between $250M-$300M.
What's the difference between Sphere 3D and CloudOn?
Sphere 3D is enterprise software AND an app that delivers the entire, fully featured software with no restrictions. Sphere 3D can allow for the delivery of over 5,000 software titles and 100's of thousands of Apps in a SECURE environment. In our opinion, given the Frost & Sullivan study and the much larger opportunity/qualities of their Glassware software, Sphere 3D's current valuation (approximately $44M) seems extremely compelling.
To keep up to date with our coverage on Sphere 3D and other Big Stocks, please visit www.howtofindbigstocks.com/newsletter.html