Inovio Pharmaceuticals: Saving Lives, It's In Their DNA.
Please Note: Blog posts are not selected, edited or screened by Seeking Alpha editors.
Summary
Advaccine (SUZHOU, China) becoming a significant partner in the commercialization and manufacturing of INO-4800, available for the entire population of greater China.
HPV Update for Vulvar Dysplasia.
Black Rock files 13F declaring 8.4% ownership of Inovio.
Bank of America, Cantor Fitzgerald and Jefferies act as joint book-running managers for a new offering to raise $150M.
Inovio added to the list of restricted trading by Robinhood during a populist investor movement.
Recent Developments and News
What an interesting month for investors in Inovio (INO). It has been a long while since I published or blogged anything related to Inovio and with so much activity and distraction in the market, especially the final week, I thought I'd put something together in one place.
Let's close out the month by covering the notable press releases, touch on the most recent offering, offer some thoughts on the Game Stop phenomena and close with potential near term catalysts. 
A. Inovio Announces Key Chinese Commercialization and Plasmid Manufacturing Partner
The first PR for the month occurred on January 4, 2021: 
INOVIO and Advaccine Announce Exclusive Partnership To Commercialize COVID-19 DNA Vaccine Candidate, INO-4800, in Greater China
"Under the collaboration and license agreement, Advaccine will have the exclusive right to develop, manufacture and commercialize INO-4800 within Greater China, inclusive of Mainland China, Hong Kong, Macao, and Taiwan. Advaccine will license its plasmid manufacturing process for use with INO-4800 and other INOVIO pipeline product candidates to INOVIO with the right to sublicense to INOVIO's manufacturing partners."
What does it mean for Inovio? The most important takeaway from this announcement was not only the licensure by (INO) to allow Advaccine to develop, manufacture and commercialize INO-4800 throughout China, Advaccine has also agreed to  licensed it's plasmid manufacturing process for other Inovio pipeline product candidates as well as the right to sublicense to Inovio's manufacturing partners.  Additionally, under the agreement there will be an exchange of data to support the efforts each will need to eventually seek respective government approval, as well as commercialization and distribution of INO-4800: 
Additionally, Advaccine will provide its clinical data to INOVIO in support of INOVIO's global INO-4800 regulatory filings and INOVIO will provide its INO-4800 clinical data for Advaccine to incorporate into its marketing applications in Greater China.
What are the financial terms agreed upon?  According to the press release, "high single digits on sales based milestones in each region of Greater China". High single digits are left open for interpretation, but a number over 7% and up to 9% are all in play.  Additionally, regions of Greater China include the five autonomous regions, as well as Hong Kong, Macao and they add Taiwan.  
Advaccine will make to INOVIO an upfront payment of $3.0 million as well as pay an aggregate of $108.0 million upon the achievement of specified development and sales-based milestones for INO-4800 in Greater China. INOVIO will be entitled to receive a royalty equal to a high single-digit percentage of annual net sales in each region within Greater China.
Why Advaccine?  Because there is a direct connection to Inovio.  Dr. Bin Wang, Founder and Chairman of Advaccine previously conducted pioneering clinical work using Inovio's proprietary electroporation devices (EP) while at the University of South Florida (USF).  His work includes the investigation of Interleukin-21 ((IL-21)) as a T-cell-derived cytokine that modulates T-cell, B-cell, and natural killer cell responses in HIV.   One other important dot to connect in this Inovio relationship with Advaccine is the clinical work Dr. Bin Wang did with Dr. Weiner, considered the father of DNA Vaccines.  Dr. David Weiner's relationship to Inovio is well established.
Finally, this partnership with Advaccine seems to have been another stab at former plasmid manufacturer VGXI and here's why.  By adopting language in the new Advaccine plasmid manufacturing 'partnership and sharing agreement', Advaccine has contractually agreed to manufacture DNA plasmids for other products in the Inovio pipeline but, more importantly agreed to sublicense their plasmid manufacturing process to Inovio's other manufacturing partners.
Officially, Inovio has added Advaccine to their consortium of plasmid manufacturers alongside plasmid titans Thermo-Fisher (TMO), Richter-Helms Biologics, Kaneka Eurogentec and the DoD contract manufacturer, Ology Biosciences.  With plasmid manufacturing out of the way and trials in China running as planned, the picture surrounding (INO) vaccine progress around the Asian-Pacific region is beginning to come into better view.  Based on the aforementioned, near term catalysts include an announcement from China that they have begun a much larger PHIII trial.  This will require 1000's of participants across China, a large order of Cellectra devices and the revenue to manufacture and deliver them will be needed.  Investors who are still looking to take a starter position or those who may wish to add more to their holdings should consider adding to their positions while this remains under $30, implying a potential upside move of 150%.  The closing, as of Friday, January 29, 2021, was $12.75 a deep discount considering their pipeline and what news is pending in China.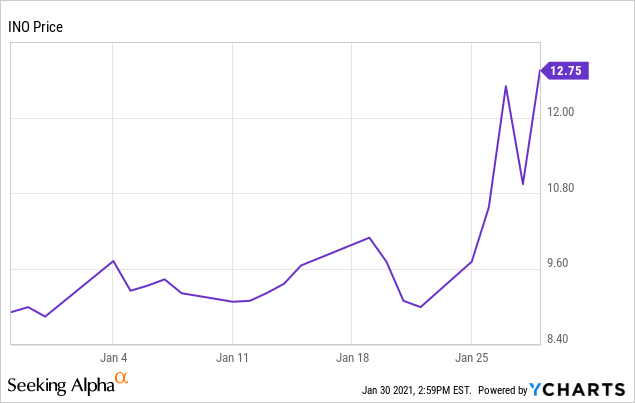 B. Inovio Announces results in  PHII VGX3100 Vulvar Dysplasia
The second PR for the month was issued on January 06, 2021, regarding VGX-3100:
INOVIO's VGX-3100 Demonstrates Positive Phase 2 Efficacy In Treatment of Precancerous Vulvar Dysplasia Caused by HPV-16/18
VGX-3100, who many consider to be Inovio's flagship product, has once again demonstrated it's effectiveness in treating patients with HPV related illnesses and pre-cancers.  In this particular announcement, the patients (N=24) enrolled for this PHII human clinical trial presented vulvar high grade squamous intraepithelial lesions (HSIL).  This was an open label trial to treat HPV-16 and HPV-18-associated vulvar dysplasia.  While more work is to be done, the path to PHIII has been identified for yet another Inovio VGX-3100 (HPV) candidate.
25% or more reduction in HPV-16/18-associated vulvar HSIL (high-grade squamous intraepithelial lesion) was observed for 63% of trial participants (12 of 19) treated with VGX-3100 at six months post-treatment.
Three out of the 20 participants with histology data (15%) resolved their vulvar HSIL and had no HPV-16/18 virus detectable in the healed area.
By comparison, the spontaneous resolution of vulvar HSIL caused by HPV-16/18 is estimated to be only 2%.
Efficacy endpoints were measured six months post-treatment.
Safety will continue to be assessed for 18 months following the last dose.
The most observed adverse event was injection site pain, the majority of which were mild-to-moderate.
No cases of vulvar cancer have been observed in the trial.
Dr. Robert Edwards, MD, Milton Lawrence McCall Professor and Chair, Department of Obstetrics, Gynecology & Reproductive Sciences, University of Pittsburgh and Principal Coordinating Investigator for the Phase 2 clinical trial said,
"These Phase 2 efficacy results are a very promising non-surgical advance for a recalcitrant disease that normally requires repetitive ablation and excision procedures to achieve disease and risk reduction, and may offer a more safe, tolerable and efficacious treatment option for patients."
Here's a look at the growing pipeline of Inovio drug candidates: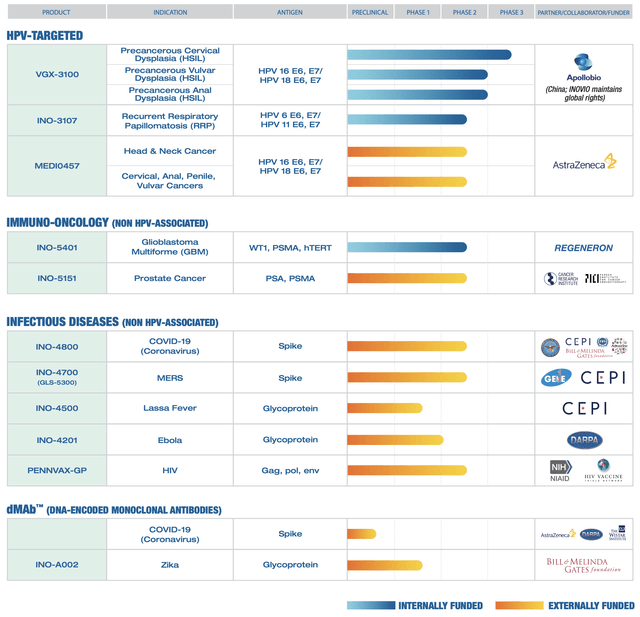 C. Inovio Announces a Proposed Public Offering of Common Stock.
The next press announcement for the month of January 2021 was related to raising additional proceeds by way of a public offering to sell more shares.  
INOVIO Announces Proposed Public Offering of Common Stock
Those who invest in the speculative world of biotechnology stocks are very familiar with non-revenue generating research and development companies who frequently need to raise cash to continue their research and development efforts. Inovio is no exception but, rather on the cusp of generating revenue with INO-4800 and VGX-3100.  Because of the pandemic, I would put INO-4800 in front of VGX-3100 as delays in clinical trials all around the world, due the pandemic, may push back the timeline.   From the press release
INOVIO intends to use the net proceeds from this offering for the development of its clinical pipeline, including clinical development expenses relating to INO-4800 and research and development expenses, and for general corporate purposes, including working capital and general and administrative expenses
As a follower of Inovio and other stock holdings, I participate in many of the social media platforms including Facebook, Reddit, Proboards, Twitter and more.  Following the announcement, I wrote the following in one of the aforementioned platforms: 
INO-4800 is in PHII in China and they have completed enrollment of over 600 people, in a partnership with Advaccine. China moves quickly and if they are running their studies concurrently, as US BP ran trials in the United States, they will be soon enrolling for PHIII. PHIII is going to be a much bigger trial with thousands of participants.

A new administration just took the Oval Office in January. There is nobody who can accurately predict where the economy will be in late 2021.  If you are a CEO and you are thinking through all of the possible external threats to a small industry player while trying to keep up with the likes of Pfizer (PFE), JnJ (JNJ), Astra-Zeneca (AZN), Moderna (MRNA) and others, keeping a good amount of cash available to continue with your research and trials is prudent and necessary.

Back to China and how this all ties in...the DoD is only funding the PHII and PHIII trials in the US. If China goes full steam ahead and approves INO-4800, INO will need to manufacture hundred, if not thousands of CELLECTRA devices.   AS I recall, the DoD paid north of $70M dollars to get 900 devices. I can see where the production of more devices, transcribed into the Chinese language, etc. will need something similar.

Next, FDA approval for the commercialization of the 3PSP CELLECTRA device could also come within the next quarter or two. Inovio will need additional money to fund the manufacturing and delivery of the new FDA approved devices in order to be prepared for commercialization.

This will all come quickly. INO cannot wait until the summer to raise more capital and burn through their existing money. They have several trials going on that need the working capital available. To me, this raise signifies that they are taking all the necessary steps to stay in the game. 

The gross proceeds to INOVIO from the offering, before deducting underwriting discounts and commissions and offering expenses, were approximately $173 million. 
Black Rock Files 13G - Increasing Stake to 8.4% in Inovio Pharmaceuticals
The SEC filing by Black Rock on Friday, January 29, 2021, indicates in EDGAR they have now acquired a healthy 14,242,941 shares of (INO).  The ongoing addition of shares at these price points convinces me that large institutions are willing to participate at these discounted prices.  Furthermore, the timing of the announcement with the most recent public offering, both announced within 10 days, is noteworthy.   
The "Gamestop Phenomena"
Short Selling has taken center stage in the 24 hour news cycle after a populist movement channeled their combined effort through Reddits in order to crush short positions in (GME).  This movement, led by a large contingent of highly sophisticated and educated traders using the Robinhood (RBNHD) trading platform, outsmarted, outperformed and outmaneuvered the Wall Street short cabal by using the same tactics that have undermined retail investors for decades. Manipulate the market, legally. 
In the middle of all of it are Redditt bloggers, in the subreddits group u/Wallstretbets and the trading platform favored by the new investors, Robinhood.  Caught without enough liquidity to cover the transactions, as it seems, Robinhood found themselves in a Catch-22. Either, limit transactions in order to meet regulations and requirements or break those regulations and face potential SEC litigation? Either way, they out did themselves by shutting down users ability to execute certain trades resulting in the loss of financial opportunities. The irony here is the very same crowd that Robinhood attracts are the very same crowd that has cannibalized their platform and have now filed class-action lawsuits. Regardless, the avalanche and mob mentality spilled over into other equities including (AMC), (AAL), (BB) and (KOSS). 
The message was resoundingly clear as I followed the comments in the u/wallstreetsbets group; There is discontent by retail investors who make up a significant portion of Main Street.  They're intent on sending a clear message to the elitist establishment or the 1%, ironically by using the very same data points and metrics specifically identifying short interest as a percent of outstanding shares, along with the use of social media to ignite a short squeeze. 
Inovio had been added to the list of stocks that are restricted as a result of the Gamestop Phenomena, however the restriction was lifted.  Investors need to carefully monitor the short interest as a percentage of shares outstanding.  These figures are reported twice each month.  Currently, Inovio has short interest at 27.15% according to this article in Seeking Alpha.  
See the complete list here. 
Looking Ahead To Potential Near Term Catalysts
China INO-4800 Phase III initiation is imminent. 
Will we learn more on South Korean trials?
More devices may be needed in China however, if they don't expand the geographic locations to meet the target population, as part of the trials, the current clinical sites with the CELLECTRA device should be adequate as CELLECTRA has been reported to be capable of producing 5,000 EP applications, per device.  
The DoD contact for 900 CELLECTRA devices was scheduled to be completed by the end of Q4/20.  Q4 Earnings is looming.  Will we see the revenue booked from the sale of these devices to the DoD?
Inovio is on track to announce the initiation of 3 drugs into phase III trials this year. RRP, AIN, VIN.  Could we see another "Orphan Drug Designation"?
GBM / Regeneron.  Glioblastoma continues to loom large as we wait for the median survival in the last cohort. Dr. Jeffrey Skolink's presentation on YouTube is eye popping.
FDA lift of their hold and approval of the 3PSP CELLECTRA device which INO plans to commercialize for use with INO-4800 is pending any time.
On January 30, 2021 we learned that INO is in play in the Philippines after they started talks with several US companies developing vaccines though the COVAX Facility Agreement.  You can read more on the Philippine article here.  
Personal Thoughts About This Month
Anyone catch Andrew Left acting smug during his beat down?  He had the gall and gumption to tell Reddit traders, "...to pay taxes on their recent profits" after he took that shellacking and beating.  This reaction exemplifies the classic response from the out-of-touch 1%.  
Inovio investors recall when Left wrote a terrible piece on Inovio during their run up in 2020, on the heels of early vaccine development for COVID.  When being interviewed for a followup story, Left remarked to a journalist how he felt afterwards and his impact on ordinary investors, in Inovio. Paraphrasing his reply to one of those ordinary investors who had contacted the journalist, Left's response (according to the journalist) was "She should go F*%k herself."  That's the purest representation of Andrew Left and his legacy.  Far different than that of those working at Inovio who contribute their life's work towards savings lives.  It's in their DNA.
With short interest in Inovio still above 25%, the stock will likely remain volatile with large share price swings. Holding your shares insures you make it through these turbulent periods until the Game Stop Phenomena is resolved.
I once asked my finical advisor why the SEC allows firms to publish misleading material that borders on libel. He told me that the SEC is slow to react and besides, these firms help "provide liquidity in the market" due to the overreaction of investors who get spooked out of their shares. If that is true, then investors should recognize that there is an inverse correlation during a short squeeze and take advantage of it.
In conclusion,
"Getting caught in a short squeeze provides liquidity to the market, too"
Best regards - Dave
Analyst's Disclosure: I am/we are long INO.
Seeking Alpha's Disclosure: Past performance is no guarantee of future results. No recommendation or advice is being given as to whether any investment is suitable for a particular investor. Any views or opinions expressed above may not reflect those of Seeking Alpha as a whole. Seeking Alpha is not a licensed securities dealer, broker or US investment adviser or investment bank. Our analysts are third party authors that include both professional investors and individual investors who may not be licensed or certified by any institute or regulatory body.