This blog is about what it says it is.
Authors are on Seeking Alpha specializing in these countries:
Irfan Chaudhry (Egypt, Middle East)
Here's a chart (albeit from the November presentation of a private equity fund in Iraq) with estimated GDP growth for 2013 around the world.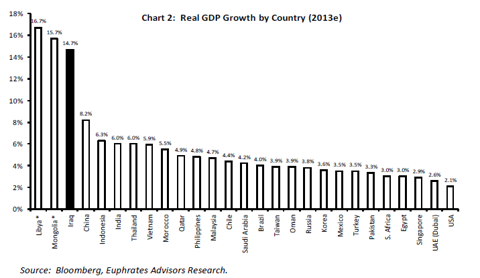 At the moment, I'm interested in Libya which has a lot of qualities of a frontier market at an inflection point. (Yeah, that doesn't sound good to me either, but from an investment stand point, that's where it is.)
Qatar and Kuwait have been all-star investments for a while and make up big chunks of many frontier market funds such as:
Frontier Markets - iShares MSCI Frontier 100 Index (NYSEARCA:FM)
Frontier Emerging Markets (NYSE:FFD) closed end fund
In the region, there are also these ETFs:
(Emerging) Middle East And Africa (NYSEARCA:GAF)
Middle East Dividend (NASDAQ:GULF) (62.3% in Qatar & Kuwait as of April 27, 2012)
Middle East North Africa (NASDAQ:PMNA) (39.88% in Qatar & Kuwait as of April 27, 2012)
Yes, I am interested in Egypt (NYSEARCA:EGPT) too. I have been there twice (1995 and 2010) and I consider our tour guide there from 2010 a family friend. He has been kind enough to have Skype calls with my wife's high school classrooms in the U.S. twice about current events in Egypt. We don't hear from him often, and I wish him and the rest of his country an ever improving future.
Disclosure: I am investing in Renaissance Offices, a private equity investment in Libya (managed by Kevin Virgil).
Last updated December 12, 2012