I believe investing in the Colombo Stock Exchange [CSE] will be a good long term investment going forward and will write about investing in Sri Lanka in separate articles. You can find links to all the brokerages that trade on the CSE on two lists, one of trading members and the other of members of the CSE. As an investor, there is no difference for you between brokerages on one list and the other.
Brokerage fees for trades less than 50 million Sri Lankan Rupees have standardized commission rates at all brokerages of 1.12%. Thus, the only way for brokerages to differentiate themselves is on service.
After some quick notes on how to open account on the CSE, I will provide some details about the six brokerages I met with during my two week visit to Sri Lanka in October 2012. The brokerages I met with were a function of scheduling and are listed alphabetically.
Notes On Opening An Account To Invest With A Brokerage
You will need to fill out some paperwork and open some accounts to start investing with a Sri Lanka brokerage. The brokerage you choose to open your account with should help guide you through this process and provide you with paper work. You will need:
A Securities Investment Account [SIA] with a bank in Sri Lanka. This is a specific type of account for foreigners that allows your investment dollars to flow freely in and out of Sri Lanka.
Central Depository System [CDS] paper work that will link your SIA account to your CDS account with your brokerage company.
A copy of your passport.
A copy of a bill that shows you are domiciled at your home address.
To send funds to your SIA at the bank; maintain a minimum amount in the bank account (5000 Sri Lankan rupees, or about $40 currently); and transfer funds from your bank account into your brokerage account(s).
Notes On Banking Risks
For a list of banks rated by Sri Lanka's local Fitch Ratings, please consult this list. On it, you will find all banks rated from AAA to B, so that you may feel comfortable with the bank you choose to use for your SIA.
Notes On Choosing A Broker, Or More Than One
My notes on some brokers are longer than others. Those I met with in a more social setting than in a formal business setting have less detailed notes (First Guardian and S C Securities). With fees regulated, readers should talk to different brokerages, ask them to send you sample research reports, and get a feel for which broker they are most comfortable with by having a dialogue with several brokers first, perhaps even a few off the CSE website which I did not meet with.
For those interested in investing a large amount of capital, there is also a type of brokerage account called a "custodial account" with which the account holder has access to trade with all brokerages (higher fees may apply).
Asia Securities
I met with Mr. Sabri Marikar [CEO], Mr. Niyaz Aboobucker [Director] and Mr. Balakrishnan Nirmalan [Manager Research] at Asia Securiites. Asia Securities is a wholly owned subsidiary of Asia Capital, a publicly traded company on the CSE. Mr. Marikar had to leave our meeting early for another engagement and most of my conversation was with Mr. Niyaz Aboobucker.
Asia Securities has been a brokerage since 1900. It has many experienced brokers with more than 15 years of experience. High net worth individuals and institutional accounts are handled by directors. Daily and weekly research is available on the company website. Additionally, if you would like to receive these reports via e-mail, you may simply ask for them with no account opening required.
Select notes from my first meeting with Asia Securities 18 October 2012
During the bull run of 2009 and 2010, lunch was typically after 4pm
During the bull run companies with negative book value were going up every day; hotel companies with no land or hotels went up; speculation was wild
Index peaked at 8,714, then to about 4,800, and as of our meeting in October had rebounded to about 5,600
Sri Lanka's SEC has gotten stock market manipulation under control
Regulated 25% free float for all companies is probably a few years away; currently there are many companies with much less than this, some of which Asia Securities deems to have too small a free float and is thus "not in our universe"
If an investor requests a special report on a company, Asia Securities will get the report done
Investment portfolios are tailored to clients; look at whether clients want value vs. growth; discuss with clients their appetite for risk
Communication with foreign investors is done by e-mail and phone
Mr. Nirmalan pointed out that the market usually slows down toward the end of the year; and that before the budget is passed in November (annually), investors become cautious
Infrastructure development currently occurring in Sri Lanka is net positive for markets
Price of oil impacts currency; Sri Lanka imports most of its oil which is also used for power generation
India and China dominate big projects in Sri Lanka
For more information, e-mail niyaz@asiacapital.lk or sabri@asiacapital.lk.
Capital Trust Securities
I met with Mr. Tushan Wickramasinghe [CEO] and Mr. Charitha Gunasekere [Manager Research] at Capital Trust Securities.
Of the brokerages I visited, Capital Trust had by far the busiest office. The entry level was crowded with customers. A visit to their website will let you know that Capital Trust Holdings is a large group with 14 subsidiaries relating to everything relevant about the capital markets (scroll to bottom of home page for list). If you have specific investing needs, Capital Trust's network has the skills and contacts to help meet your needs.
Select notes from my first meeting with Capital Trust Securities 17 October 2012
In Sri Lanka, most energy is hydro power and crude oil; plant biofuel and coal are new.
Exports mainly go to U.S., Europe, Middle East
No currency peg for Sri Lankan Rupee since 2011
Cairn Lanka thinks it will find oil, as well as gas (Cairn Lanka is part of Cairn India in which Cairn Energy has a 10% stake; Cairn Lanka is in exploration stages off the coast of Sri Lanka currently; other owners of maritime licenses off the coast of Sri Lanka are waiting to see what Cairn Lanka finds before exploring themselves)
14 February 2011 all time high for market's All Shares Index of 7,811
Market started reviving at end of July 2012
In 2011 government reduced corporate taxation from 35% to 28%
In 2011 government reduced VAT on financial services by banks from 20% to 12%
There used to be a mentality that the opposition UNP was the only business friendly party, but the ruling Freedom Party has changed and is now viewed as friendly to business as well
The Freedom Party is expected to win the next election as well (parliamentary elections by August 2015; presidential election in 2016)
Turnover, a term many brokers use, is the volume of daily trades
Rusi Captain, of the Captain family that owns Sri Lanka's largest stand-alone conglomerate, John Keells, has a 20% stake in Capital Trust
If you're interested in margin trading, according to company materials:
The company is the only Margin Provider to introduce Margin Trading facilities to small retail clients with portfolios ranging from Rs. 0.5 million to Rs 50 million. It offers a quick service by maximizing the turnaround time of offering a margin facility whilst delivering a consistently high standard of customer care. Currently Capital TRUST Credit serves more than 2,200 active clients. The company also co-ordinates with over ten Margin Trading Providers to provide margin trading facilities for clients with portfolios of Rs. 2 million to Rs. 1 billion.
For more information, e-mail charitha@capitaltrust.lk or tushan@capitaltrust.lk.
First Guardian Equities
I met with Mr. Rohan Goonewardene [CEO] at First Guardian Equities.
Mr. Gooewardene said FGE is a boutique brokerage in terms of number of clients, but not in terms of transaction volume. Clients of FGE want to know specific details on parts of companies. The research delivered is primarily provided by talking with clients.
Top 20 companies of CSE represents 60% of CSE market cap. These are the primary companies liquid enough to support large investments.
For more information, e-mail rohan@firstguardianequities.com.
Heraymila Securities
I met with Mr. Ravi Abeysuriya CFA, CEO and Director at Heraymila Securities. Heraymila Investments Limited is the holding company for the Al Mashal family's offshore investments. One of the larger family offices in Saudi Arabia," the parent company has investments in 33 countries.
Previously, Mr. Abeysuriya was the founding managing director of Fitch Ratings Sri Lanka, the first Sri Lanka based office of an international ratings agency; and AMBA research, a pioneer global investment research outsourcing company. He has also served two terms as a member of the Securities Exchange Commission of Sri Lanka.
Select notes from my first meeting with Heraymila Securities 19 October 2012
Brokerage is a boutique operation without a branch network
They have the largest research department in Sri Lanka (7 sales people, 5 research people on staff)
Heraymila differentiates itself with high quality research from a buy-side perspective
The family office that founded Heraymila came to Sri Lanka in 2005, averaged about a 33% return through their exit in the latter part of 2010, and have now established a growth fund for Sri Lanka
They bought the brokerage to bring in professionalism and high quality research to Sri Lanka
Heraymila is the first fully foreign owned brokerage house to set up an office in post-war Sri Lanka
Heraymila accurately predicted in November 2010 that the market was fully priced and poised for a major correction in published research reports
Investment advice is provided by qualified and experienced advisors who are bound by the CFA Institute Code of Ethics and Standards of Professional Conduct
Heraymila believes in being "wealth catalysts" to client by giving astute and honest advice to chart the course for their financial future
Places client's interests first, and will tell client both when to invest and when to sell
In 2010, the stock market in Sri Lanka was driven by speculative stocks largely by spreading false rumor to gullible retail investors
Now that investors have realized their folly, there is a huge opportunity for the stock market in Sri Lanka to perform with sustained close to double digit economic growth
Success in several spheres have made Sri Lanka a rising start of the Asian region
Sri Lanka will be a maritime, aviation, energy, knowledge, and commercial hub for the region and a gateway to India, an economy with a $1.3 trillion GDP and a marketplace of over 1 billion people
What drives GDP is diverse: US$6 billion per year come into Sri Lanka from remittances by Sri Lankans working abroad (and this number is growing at about 10% per year; the capital sector is another $4 - $5 billion; infrastructure is a growing sector; tourism is a growing sector
The country should be able to maintain GDP growth of 6% to 7%
Cairn Lanka drilling offshore shows clearly that there are gas deposits but does not show oil yet (although India has found oil in the same basin); gas findings are commercially viable and extraction should commence in 2 years
The government has given good concessions for solar, wind and hydropower
Sri Lanka has largest pool of British qualified accountants outside of the United Kingdom (CIMA & ACCA); and Sri Lanka is becoming a destination for Financial Accounting Outsourcing [FAO]
Developing road network will create more sustainable and stable rural life and will increase household income
Risks to Sri Lanka economy: price of oil going up (before the Iranian embargo, 60% - 70% of Sri Lanka's oil came from Iran); policy consistency; policy consistency with relations to western countries
Things the government needs to build upon: governance, maintaining a system of checks and balances in government; creating better checks on bribery and corruption (definitively a work in progress with SEC, Central Bank, and corporate magazines all showing signs of taking a more active role - parenthetical author opinion)
The stage is set for sustained progress toward a US$100 billion economy and a US$4,000+ per capita income by 2016
For more information, e-mail ravi.abeysuriya@heraymila.com.
S C Securities
I met with Mr. Harsha Fernando [CEO] at S C Securities. S C Securities is the exclusive executing broker for JP Morgan in Sri Lanka. If you have specific investing needs, Mr. Fernando has the skills and contacts to help meet your needs.
S C Securities provides daily research notes on market action, why market action unfolded the way it did, and what it means looking forward. Weekly reports provide research, chart, graphs, news, and in-depth analysis of select companies. Weekly close with the investing philosophy message:
'Never invest in a business you cannot understand.'
'Always invest for the long term.'
For more information, e-mail ceo@sampathsecurities.lk.
SoftLogic Stockbrokers
I met with Mr. Dihan Dedigama [CEO], Mr. Dimantha Mathew [Senior Analyst] and Ms. Akeela Imthinam Rasheed [Senior Analyst] at SoftLogic Stockbrokers. At Softlogic, I additionally met with Dilshan Wirasekara of SoftLogic Capital with whom you can invest in fixed income products. By chance, this was the only brokerage that also introduced me to someone from the fixed income side.
SoftLogic is a relatively new brokerage house. However its parent company has a good track record.
Commencing operations in 1991 as a software development company with only twelve employees and an annual turnover of over US $ 25,000, Softlogic is today a highly diversified group of companies with over 4,800 employees in Sri Lanka, Pakistan and Australia.
SoftLogic issues both daily and weekly reports that are thorough, informative, have plenty of charts and graphs, provide relevant news about Sri Lanka, and offer research insights. They additionally have screening reports available (for example on dividend paying stocks or value-priced stocks).
(For my readers who invest in Mongolia and subscribe to Mogi's news feed, SoftLogic Daily and Weekly reports are the closest thing I've found in Sri Lanka among brokers.)
Select notes from my first meeting with SoftLogic 16 October 2012
Fully automated electronic trading on CSE since 1993
After 2 changes at SEC in 7 months, there is building confidence in the SEC leadership and regulations
Market trading at 11x March 2013 earning or 10x FY2014 earnings
Region P/E is typically 13 to 15
Banking sector has been highest growth sector in country
Consumer demand in Sri Lanka is rising fast
Large construction phase in country through 2014 or 2015
Tourism companies are currently trading at reasonable levels
As results improve, premium hotels will improve the most
Per capita income has doubled in the last 5 years and should reach $4,000 by 2016; per capita consumption is increasing with per capita income
60% to 70% of port business is currently transshipments to/from India, Pakistan and Bangladesh
Sri Lanka has free trade agreements with India and Pakistan
Manufacturing and exports are increasing
Fixed income investing notes from SoftLogic
Bonds issued by the government have had a cap on foreign participation in the bonds since 2007 when foreigner were not allowed to own Sri Lanka's sovereign debt. Since then the cap was raised to 5% in 2008, 10% in 2009, and currently is at 12.5%.
Dilshan indicated incomes investments could be made via an SIA instead of SFIDA, in both sovereign and corporate debt.
There is no cap on foreign participation in corporate debt, but for SoftLogic purposes the corporate bond must have a duration of at least 2 years, be rated, and be traded on the stock exchange. AA rated corporate debt typically gives a 1% to 1.5% premium on current sovereign debt yields. To-date, no corporate debt open to foreigners has defaulted.
Sovereign debt yields as of October 2012 were:
3 month: 11%
6 month: 11.7%
1 year: 12.2%
Bonds of 2 to 20 years: 12.5% to 14%
For more on income investing, please see the separate articles on income investing and UITs.
For more information on SoftLogic's stock brokerage side, e-mail dihan.dedigama@equity.softlogic.lk.
For more information on SoftLogic's fixed income investing, e-mail dilshan@softlogicfinance.lk.
General Notes On Investing In Stocks
CSE investments went up about 100% in 2009 and 2010 on the heels of the end of Sri Lanka's Civil War. However, one should keep in mind the market was down about 50% in the year before, so the first year of this growth got the market back to where it had been two years earlier.
At the end of the two year run, Dulindra Fernando of Ceylon Asset Management thinks P/E ratios were in the mid 20s. As of October 2012, the CSE's P/E ratio was about 12.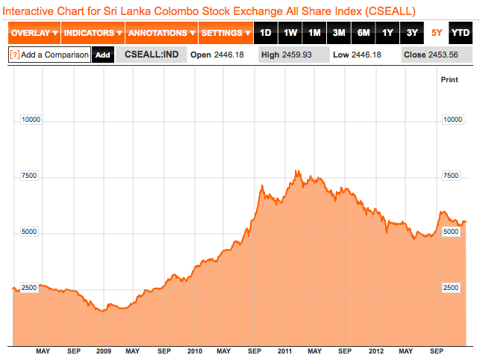 Source: Bloomberg, CSE All Shares Index 5 year chart as of December 25, 2012.
Taxation Notes
Deloitte has a tax guide, excerpts of which state:
Dividends - Dividends paid to a resident or nonresident are subject to a 10% withholding tax unless (in the latter case) the rate is reduced under a tax treaty.

Interest - Interest paid to a nonresident is subject to a 15% withholding tax unless the rate is reduced under a tax treaty. Interest paid to a resident by a banking or financial institution is subject to a 10% withholding tax.

Royalties - Royalties paid to a nonresident are subject to a 15% withholding tax unless the rate is reduced under a tax treaty.

Basis - Residents are taxed on worldwide income; nonresidents are taxed only on Sri Lanka-source income.

Taxable income - Taxable income is classified under various "heads": income from a trade, income from employment, income from rentals, dividends, interest and royalties and other income.

Capital gains - There is no capital gains tax in Sri Lanka.

Deductions and allowances - Individuals are granted an allowance of SRL 500,000.

Rates - Progressive up to 24%.

Tax year - Income tax is imposed based on an assessment year, which is a 12-month period from 1 April to 31 March.

Filing and payment - The annual tax return must be furnished before 30 November of the following year of assessment. Taxes are payable on a quarterly basis under a self- assessment regime...

Penalties - Penalties apply for failure to pay tax due in a timely manner or for failure to file a return.
Check if your home country has a tax treaty with Sri Lanka. Lovells, a law firm working with local law firm FJ&G Saram has a report that notes:
The counterparties to these double taxation agreements (the "Contracting States") are Australia, Bangladesh, Belgium, Canada, Czechoslovakia, Denmark, Finland, France, Germany, India, Italy, Japan, Korea, Kuwait, Malaysia, Norway, Pakistan, Philippines, Poland, Romania, Singapore, Sweden, Switzerland, Thailand, the Netherlands, the United Kingdom, the USA, and Yugoslavia.
Ernst & Young's report on Sri Lanka's 2013 Budget notes there is no income tax currently on corporate debt instruments:
The Hon. Minister proposed to exempt from income tax including WHT any interest arising on corporate debt instruments where such instrument is quoted in a licensed Exchange approved by the SEC. It is presumed that the exemption will apply to both individuals and corporate bodies investing in such debt. As a result of this proposal it would be beneficial from a tax point of view to invest in corporate debt instruments as opposed to government debt instruments as the latter investments would attract income tax at the rates of 8% for individuals and 28% for corporate bodies.

With regard to corporate debt instruments where interest will not be exempt interest shall be liable to WHT at the time of issue. Where the instrument is issued at a floating rate the WHT shall be deducted on interest at the beginning of each reviewing period. Where no such deduction has been made upfront deduction will be made at the time of payment of interest payable on or after 1.4.2011.

This proposal will come in to effect from 1st, January 2013

It has also been proposed to grant the same exemption to bonds issues by Municipal Councils.

The current exemption from income tax granted under section 9 (a) to interest arising on loans taken from persons outside Sri Lanka will be extended to cover bonds as well.
Calendar Notes
October through early November will typically see the stock market get tepid. The budget is annually approved in early November and people typically become cautious about the stock market prior to the announcement of the new year's budget.
Be advised that every day with full moon is a national holiday. Furthermore, if the full moon falls on a Tuesday or Thursday, expect the nearest Monday or Friday to have a smaller staff at your brokerage. A list of other holidays may be found here.
A Note On Risks
Any investment in the local currency of a country comes with currency risk (that the value of the local currency you are investing in will go down against your home currency). Dulindra Fernando of Ceylon Asset Management feels that the Sri Lankan Rupee is bottoming out after a 20% depreciation in about a year's time. If correct, this would be the other side of currency risk, that one can make compounded gains through an appreciating currency (assuming one also makes gains on one's investment).
Dilshan Wirasekara from SoftLogic Capital said of the Sri Lanka Rupee in October 2012:
he thought the rupee had more room to appreciate as of October 2012
he noted the government had tried to stabilize the rupee at 109 rupees to the U.S. dollar
the government used reserves to try to stop the rupee's depreciation, then reversed policy and let the rupee float
the rupee dropped to 136 rupees to the U.S. dollar
there is a belief among many people that the unofficial government targets is 125 rupees to the U.S. dollar
for the last 30 years, the average annual depreciation of the Sri Lankan Rupee is 3%, and 2011's depreciation was an anomaly
he also noted that for the safety conscious, Sri Lanka has U.S. dollar denominated bonds that pay about 5.8% to 6%.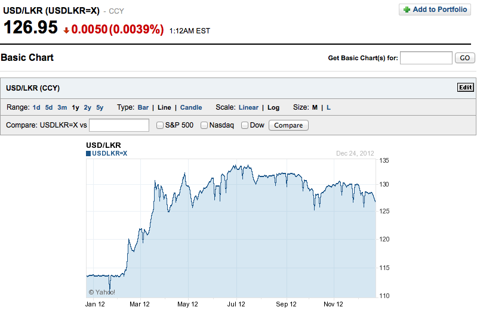 Source: Yahoo Finance, U.S. Dollar Sri Lanka Rupee exchange 1 year chart, as of 25 December 2012.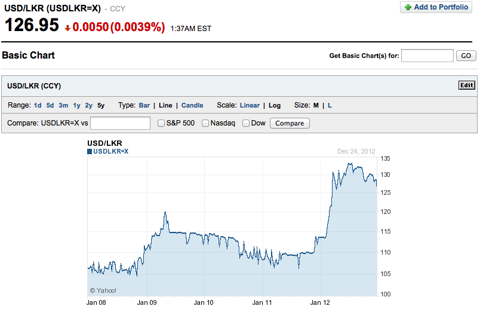 Source: Yahoo Finance, U.S. Dollar Sri Lanka Rupee exchange 5 year chart, as of 25 December 2012.
Readers investing in the CSE should carefully consider currency risks before investing. Markets anywhere in the world can be volatile, and readers are advised to independently study this market and assess the risks for themselves before investing.
© Jon Springer. Please contact for the right to copy or reproduce this article.
Last updated 11 January 2013.