The Khan Mongolia Equity Fund is open to investors worldwide, including the United States. The minimum investment is $50,000 for accredited investors.
Travis Hamilton founded Khan Investment Management Limited in March 2011 and launched the Khan Mongolia Equity Fund in October 2011. The fact sheet for the fund states: "The Khan Mongolia Equity Fund is the preeminent investment vehicle for investors who seek a diversified and liquid exposure to one of the world's most resource rich and fastest growing economies."
Mr. Hamilton previously worked for the Helvetica Group where he was an Executive Diretor at Helvetica Wealth Management Partners (Asia) Pte and Helvetica Australia Pty Ltd. He recently appeared on Bloomberg television and the BBC to discuss Mongolia and the Khan Mongolia Equity Fund.
1 - How did you come to be interested in investing in Mongolia?
Mr. Hamilton: By chance I was first made aware of the vast opportunities in Mongolia at a cocktail party in Beijing in 2006. There I was introduced to an incredibly engaging chap who spoke passionately about Mongolia: a tiny frontier market with masses of mineral wealth on China's doorstep. I was chatting with Robert Friedland, CEO of Ivanhoe Mines (IVN). Based on that chat alone, I knew there must be some exciting opportunities beyond the Oyu Tolgoi, and decided to undertake some independent research of my own. [Mr. Friedland's Ivanhoe Mines in 2006 knew what they had in the Oyu Togloi and Bronze Fox copper-gold mines.]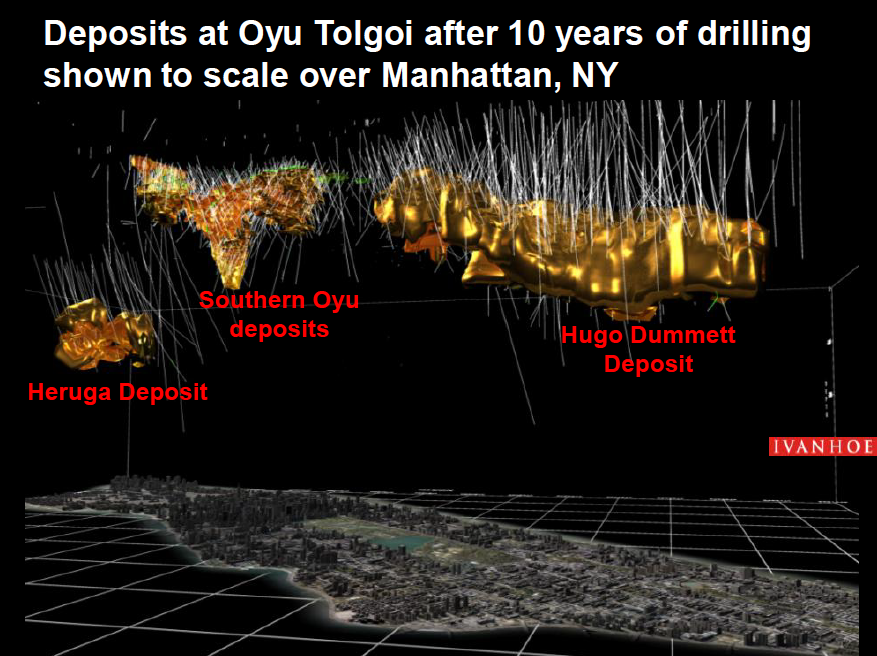 Source: Ivanhoe Mines November 2011 corporate presentation.
2 - So, you began to invest in Mongolia then?
Mr. Hamilton: No. I was in China for business at the time. When I returned to Singapore (my home since 2002) I began investigating what opportunities were available for offshore investors to gain exposure to this nascent market. Disappointingly, I didn't discover much at all, beyond simply buying Ivanhoe. Whilst Ivanhoe represented a good "first step" I was looking for a more diversified exposure. Whilst I maintained a keen interest in Mongolia and developments there I was preoccupied managing Helvetica's Asian business and had little time to dedicate to my interest in emerging and frontier markets. Then, along came the "GFC" [global financial crisis] and my commitments at Helvetica became all consuming.
Fast forward to 2010. Due to a material change in strategy that I could not align myself with, I decided to leave the Helvetica Group and at the end of August began six months of "gardening leave". The timing couldn't have been better. I decided to use this time to investigate further the various Asian frontier markets that had piqued my interest previously. Among several other countries, Mongolia was a must-see firsthand.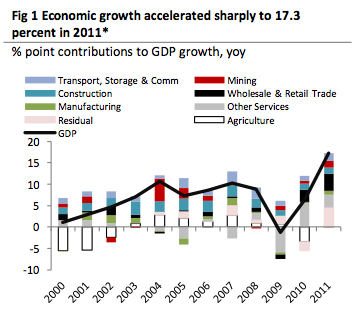 Source: The World Bank's Mongolia Quarterly Economic Update, February 2012.
In November 2010 I traveled to Ulaanbaatar [UB] with a number of Australian investors to review a pre-IPO capital raising opportunity for a Mongolian conglomerate that was hoping to list on the Hong Kong Stock Exchange the following year. Whilst in UB, I took the opportunity to meet with a number of other companies, investment advisers, banks and brokers. I was keen to open a local account and gain some exposure to the Mongolian Stock Exchange. I found the process of opening a local brokerage account at that time though seemed onerous, and I had a number of concerns about the potential advice I would receive, the lack of transparency around trading and the seemingly poor liquidity of the market.
I asked all of the brokers and dealers I met with "why is it so challenging for an offshore investor to gain some exposure to this market" particularly given that in my mind, most investors would only be allocating a small portion of their portfolios to such a tiny frontier market, and wouldn't be bothered with going through the hassles of opening onshore accounts.
"Why don't you have a fund? An offshore collective investment vehicle that international investors can simply acquire through their private banking or broker relationships?"
Their responses were unanimous: "Everyone asks us that!"
I realized that these chaps were dealers and brokers. They did not have the experience, the expertise, nor the motivation to create an offshore investment vehicle that could provide international investors with liquid, onshore Mongolian equity exposure.
Upon returning to Singapore I confirmed through further investigating that indeed no such structure as I had perceived existed. After floating the idea with a number of private investors that I had known since my Credit Suisse days, it was clear that I was not alone in seeking such an investment structure. Here was a need that I could fulfill.
3 - Then why didn't you start a fund that only invests in the Mongolian Stock Exchange?
Mr. Hamilton: The MSE to date remains extremely small and continues to face liquidity challenges. Furthermore, I believe that the Mongolian growth story extends beyond companies that are listed in Mongolia. The Board A of the MSE has 36 stocks, and of these we really only look at small number as potential investments (to date we have invested in 4). The market capitalization of the MSE top 20 is under USD 1.6 billion. Conversely, we have identified 64 companies listed on international exchanges that have substantial operations and / or assets in Mongolia. The combined market capitalization of these companies listed internationally extends beyond USD 40 billion.
Having said that, given the London Stock Exchange's management and modernization of the MSE, important changes to the regulatory framework and the Government's proposed privatization plan for many state owned enterprises (SOEs) - a large number of which are expected to be privatized through IPOs on the MSE - I believe that there are clearly significant opportunities for investing in the local exchange over the months and years to come. In fact, Bold Baatar, Chairman of the MSE, announced in October 2011 at the Mongolian Investment Summit in Hong Kong, that he foresees a potential IPO pipeline on the MSE in excess of USD 40 billion over the next 5 years.
Don't get me wrong. The Khan Mongolia Equity Fund is positioned to provide investors with onshore equity exposure.
However, based on my experience from 2008 and 2009, having worked extensively with high net worth individuals, private investors now demand investment vehicles that offer liquidity. You simply can't lock investor's capital up for years. Previously investment managers were able to launch closed-end structures, and then list them on exchanges in the guise of offering liquidity. The GFC proved that this does work.
Furthermore, as I believe the Mongolian growth story is an opportunity that will continue to attract capital for the next several years, I didn't want to limit the period of time that I had to raise capital.
Hence, we launched an open-ended investment fund whereby investors can subscribe or redeem their shares at an independently audited Net Asset Value every month - without bid / offer spreads and substantial discounts to the true value of their investment.
Providing investors with monthly dealing - the ability to subscribe or redeem - means that liquidity management is key for us. We have to approach our investing from a liquidity management perspective. This is the second reason why our portfolio blends on-shore with off-shore listed securities.
4 - Okay. The Mongolian Stock Exchange as it stands is not very liquid at all. It can take weeks to build positions as a small investor, let alone as an investment fund. Does that mean you are limiting exposure to the Mongolia Stock Exchange?
Mr. Hamilton: No. Among the fund's current 16 positions, close to 30% of assets are invested in the Mongolia Stock Exchange at this time. Thanks to our extended onshore network we are regularly presented a number of off-market opportunities to acquire large blocks of stock.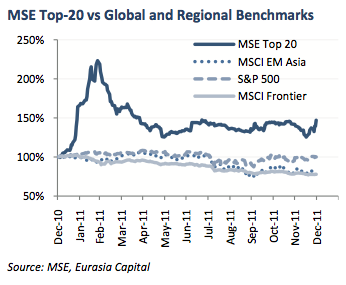 Source: Eurasia Capital's Mongolia Outlook 2012 (published January 31, 2012).
5 - To be clear then, what are the Khan Mongolia Equity Fund's objectives?
Mr. Hamilton: The fund's objective, as stated in the Offering Memorandum, is to capture the opportunities for growth offered by the expanding Mongolian economy by investing primarily in equity securities of Mongolian companies.
Having had our Offering Memorandum written from scratch (at considerable expense) I wanted to make sure however that we didn't close the door on any potential investment opportunities. On that basis, the fund is not restricted with regards to its investment remit. We can be 100% cash or 100% invested. We have the ability to invest in private equity and pre-IPO opportunities. We can invest in debt instruments.
We invest both on-shore in Mongolia and offshore, outside of Mongolia, in any assets that are principally Mongolian investments. We may also invest in the Mongolian bond market, real estate, or any other investment as long as it is " Mongolian", and meets our investment guidelines.


Source: The World Bank's Mongolia Quarterly Economic Update, February 2012.
Whilst our remit is wide, I'd like to highlight again, that liquidity management for us is key. We obviously can't invest heavily into private equity if we are offering investors monthly liquidity.
We have soft concentration guidelines to invest no more than 10% in a single issue at acquisition and typically not to allow a single issue to appreciate beyond 15% of the fund.
We asses pre-IPO and IPO opportunities regularly.
We do not short. We do not use options. We do not use leverage. We do hedge our non-MNT currency exposure back to USD, as we are not trying to make money by trading currencies. We don't hedge MNT exposure, as ultimately we are bullish on the currency. Essentially, we are an unleveraged big beta play on Mongolia.
With regards to returns, we are seeking to provide investors with a multiple of GDP growth.
6 - Can you give examples of your IPO participation and opportunities?
Mr. Hamilton: We recently participated in the FeOre (FEO.AX) IPO in Australia that is an iron ore mining company with properties in Mongolia. At the same time, our investment committee reviewed and rejected another recent IPO in Canada because it didn't meet the standard of our fund. We analyzed and subsequently subscribed to a third IPO, however it is yet to come to market.
We are contacted regularly about IPO opportunities. We research each opportunity on its individual merits with an eye to how it fits into the fund's investment profile and objectives.
We are seeing a number of assets that are likely to come onto the ASX in particular over the coming months.
7 - Who is on your investment committee?
Mr. Hamilton: There are five people on the investment committee. 2 representatives from our Investment Advisor, Monet LLC [a Mongolian brokerage house and investment bank], 2 representatives from Khan (including myself), and the Managing Director of our Investment Manager, Gordian Capital Singapore.
After a lot of meetings in Mongolia, we settled on Monet Capital as our local investment advisor in Mongolia. Fiezullah Saidov, their head of investment banking, and Oliver Belfitt-Nash, their head of research, are two members of our IC. Monet undertakes independent research on companies listed, or soon to be listed, both on-shore and offshore, and they provide us with investment rationales, based on their unique insight, for any investment that we are considering for the fund.
In additional to our partnership with Monet, we have relationships with four additional brokerages houses in Mongolia in order to ensure market coverage and to provide access to new and secondary issues as they come to market.
Also on the investment committee to provide a local view independent from our investment advisor we have "Nick" Narantuguldur Saijrakh formerly from Asia Pacific Securities, the brokerage division of Asia Pacific Investment Partners. Nick, who is a Director of Khan Investment Management, is essentially Khan's independent eyes and ears on the ground in Mongolia.
Lastly, we have appointed Gordian Capital Singapore as the investment manager of the fund. Gordian, a licensed investment manager under the Monetary Authority of Singapore, undertakes the legal and risk management responsibilities for the fund, whilst delegating the investment advisory function to Khan & Monet. Gordian's Managing Director, Mark Voumard is the 5th and final member of our investment committee.
8 - I would like to compare your fund to two other Mongolia investment funds, the Quam Silk Road Mongolia Fund and the MSE Liquidity Fund. How do you compare to Quam?
Mr. Hamilton: The Quam Silkroad Mongolia Fund is a very different structure to the Khan Mongolia Equity Fund. Firstly, the Quam Fund is a segregated investment portfolio of Quam Funds Limited, which is an umbrella structure covering a number of strategies and portfolios. Our fund has been structured as a stand-alone single entity and thus avoids any potential contagion issues that may be raised through a structure such as Quam's. A number of "blow-ups" during the GFC highlighted issues associated with umbrella structures, and personally I avoid them.
Beyond that, we have very different fee structures and operate in differing investment universes.
The basis of their fund is the global Silk Road Mongolian Index (not investable), which is a market capitalization based index of the largest listed companies with assets or operations in Mongolia.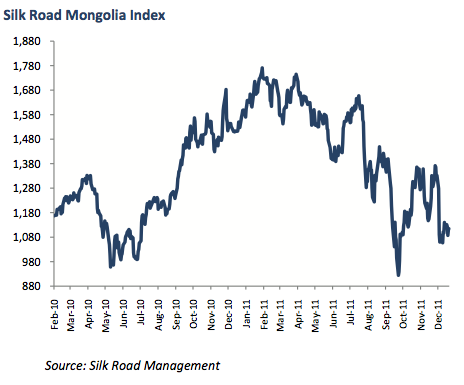 Source: Eurasia Capital's Mongolia Outlook 2012 (published January 31, 2012).
As their portfolio composition seems to be dictated by market capitalization of the companies within the Silk Road Mongolian Index, they do not have any concentration limits with regards to exposure, and I understand their portfolio is heavily weighted to two individual positions. Furthermore, I am not aware of any onshore investments that they have made in Mongolia, and am unaware of their ability to participate in the IPO market.
I was informed recently that the former portfolio manager Richard Harris has left Quam in January of this year. I am not sure if the new portfolio manager Simon Potter will change the investment strategy, or stick with the status quo.
[Interviewer note: This September 2011 article from Frontier Securities indicates the fund had 43% invested in its top position, Ivanhoe Mines, at that time.]
9 - And the MSE Liquidity Fund? As I understand it, the MSE Liquidity Fund is the opposite of the Quam fund, as it only will invest in Mongolia with a minimum exposure of 30% to Certificates of Deposit in Mongolia; and a minimum 30% exposures to equities on the Mongolia Stock Exchange; and with management allowed to choose between equities and CDs with the remaining 40%.
Mr. Hamilton: Again, the MSE Liquidity Fund is a very different type of investment vehicle which offers investors a different type of exposure to Mongolia. We have differing fee structures, liquidity terms and investment universes.
With a very low minimum investment of USD 10,000 they have something different to offer international investors. We know and like several of the team members over there at Origo and ResCap. They are investing exclusively on-shore in Mongolia, whereas we invest on-shore and offshore in any Mongolia related investment. They are essentially different products with differing demands.
10 - Let's discuss fees for a moment. Your fund has a one-time 1.5% subscription fee, a 1.5% annual management fee, and a 10% performance fee with a high water mark. Additionally, there is a 5% redemption fee if redemption is in less than 12 months. The performance fee will only be taken once per year on June 30. My calculations rendered this chart that I based on $10,000 investment for ease of viewing although your minimum investment is $50,000.
Principal

Fund's Gains

Subscribe Fee

Mgmt Fee

Perform Fee

End Value

Real Return

$10,000

10%
(1st yr)

$150

$147.75

$97.02

$10,575.45

5.75%

$10,000

20%
(1st yr)

$150

$147.75

$194.05

$11,488.66

14.49%

$10,000

30%
(1st yr)

$150

$147.75

$291.07

$12,321.86

23.22%

$10,000

50%
(1st yr)

$150

$147.75

$485.11

$14,068.26

40.68%

$10,000

70%
(1st yr)

$150

$147.75

$679.16

$15,814.67

58.15%
11 - Is that accurate?
Mr. Hamilton: All of the performance numbers we publish are NET of fees and expenses.
Assuming that the above gains were on a GROSS basis, yes, the NET return could be roughly approximated by your calculations, however, it is important to note that the management fee is levied on NET Assets Under Management per month. Your calculations assume that the 1.5% management fee is deducted in entirety before any performance is made.
12 - The fund ran a 6.32% loss from October through the end of the year last year. Why choose your fund over the other ways to invest in Mongolia?
Mr. Hamilton: The Khan Mongolia Equity Fund is the only investment fund that combines experienced local on-shore investment expertise with efficient offshore structuring to provide global investors a diversified and liquid exposure to Mongolia. We have appointed industry leading service providers and developed key relationships with multiple brokers and underwriters, both locally and internationally in order to achieve our capital growth objectives. We emphasize and offer liquidity. We have the reach and scope to make purchases globally.
Mongolia's growth story is going to go the rest of this decade and probably longer. Oyu Tolgoi will start production later this year, and will be ramping up production through to 2020. The Tavan Tolgoi IPO is expected this year, and its IPO on the MSE will about double the size of the local market. We expect $40 billion in Mongolian IPOs in the next few years. The number one performing stock market in the world in 2010 was Mongolia. The number two performing stock market in the world in 2011 after Venezuela's was Mongolia.
We believe our fund will be the best way to securely invest in Mongolia for the next five to seven years, after which point we anticipate more efficient ways for investors to gain a diversified exposure to Mongolia. At that time we may shift the fund's style and objective, but that is some time away.
13 - Returning to the fund's outlook. The economic boom in Mongolia is the mining industry. How much of the fund is focused on mining compared to how much is focused on other sectors? Will you try to cap the fund's allocation to mining investments at a certain level? Or, can you talk about the non-mining assets and how you value them in the portfolio compared with how you value and weight the mining assets in the fund's portfolio?
We are not restricted by any allocation limits to specific industries or sectors. When investing in the Mongolian growth story, its fair to say though that its hard to avoid the mining sector and mining related industries. Having said that, the significant amounts of investment that have been made in the mining sector over the last several years are already providing significant spillover effects into other areas of the economy.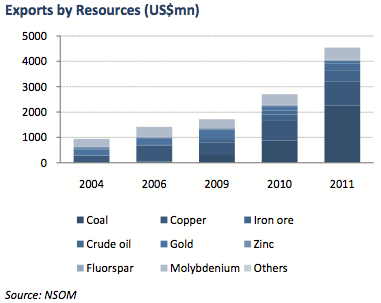 Source: Eurasia Capital's Mongolia Outlook 2012 (published January 31, 2012).
Presently, slightly over half of our portfolio is allocated across various mining exploration, development and producing companies. We have a significant exposure to building materials, consumer staples, and logistics. We foresee opportunities in the coming months to diversify further into financial services, power generation and distribution as well as other companies that will leverage the construction and infrastructure development sectors. We will also be reviewing and potentially investing in additional exploration, producing and mineral processing assets.
14 - One of the biggest challenges in Mongolia is building up the infrastructure to be able to export from their mining operations, and down the road to be able to make finished products from their mining operations. What makes you confident in Mongolia's infrastructure development?
It's still very early days for this nascent economy. As the old adage says "Rome wasn't built in a day", and I think we need to measure our expectations and not forget that it wasn't that long ago that GDP per capita was less than USD 500, almost half of the economy was driven by agriculture, and very few people in the first world had ever considered investing in this former Soviet outpost.
Growth of the economy will remain dependent on attracting additional foreign investment for some time to come. It's the role of the Government to ensure that the right policies and legislative framework remain in place to attract investment for infrastructure development. The private sector is already planning and building the additional infrastructure it requires from power plants to roads. Once the Government coffers begin to fill, following the start of production at Oyu Tolgoi & Tavan Tolgoi, I believe that they will be quick to undertake their own infrastructure initiatives. The wheels are in motion, and I'm confident that in time, the required development will come - just not in a single summer.
15 - Some investors are concerned that Mongolia is dependent on China, as over 80% of Mongolia's exports already go to China, and that China's economy slowing down will curtail Mongolia's economy and GDP growth. What is your outlook on China's economy, and Mongolia's economic relationship with China going forward?
Mongolia and China are unquestionably linked - Mongolia has the assets, China has the appetite.
I have no concerns whatsoever though that European sovereign default, US recessions or a significant slowdown in China are going to derail the current growth forecasts for Mongolia. Let's put things into perspective for a moment. Market commentators are concerned about a slowdown in China when real GDP growth figures come in at 9.1% y-o-y, comparative to a forecast of 9.3% - give me a break! Let's assume for a moment that Chinese growth halves - which personally I don't see happening. No - let's say growth goes to zero.
Even then, the only impediment at present preventing China from acquiring more resource inputs from Mongolia instead of the comparatively more expensive seaborne inputs from Australia, India and Indonesia is the lack of infrastructure in place to transport Mongolia's vast mineral wealth across the border. Furthermore, the large mining projects are yet to hit production.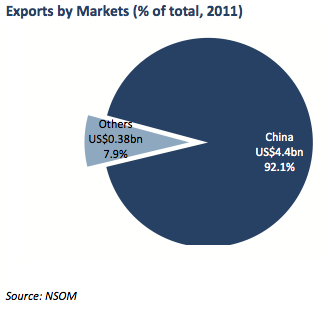 Source: Eurasia Capital's Mongolia Outlook 2012 (published January 31, 2012).
The big mining companies have passed the point of no return - they have invested billions of dollars to bring their projects to production. Some estimates indicate that Rio Tinto (RIO) and Ivanhoe will have spent USD 7 billion before they flick the "on" switch at Oyu Tolgoi. These are sunk costs. Even with downward pressure on prices, so long as they are producing at a variable cost lower than their selling price, they will go on producing. And that means that the flow on effects to rest of the economy will continue.
Let's also not forget the absolute numbers we're talking about here. 2010 GDP in Mongolia was USD 6.4 billion. Preliminary estimates of 2011 GDP are USD 8.6 billion. These are tiny numbers, and are completely insignificant when compared to Mongolia's Southern neighbor.
In addition to feeding Chinese consumption, there are also plans afoot that are likely to open up additional export markets for Mongolia's mineral resources over the coming years.
These are still very early days for Mongolian growth, and I only see the pace intensifying over the coming years.
Thank you for your time Travis. Readers who wish to contact Travis about investing in his fund can reach him at: travis.hamilton@khan-management.com
Note To Readers: Graphics from the World Bank's February 2012 Mongolia Quarterly Economic Update and from Eurasia Capital's Mongolia Outlook 2012 (published January 31, 2012) are cited often herein because they are the most recent comprehensive reports on Mongolia at the time of publication.
© Jon Springer 2012. All Rights Reserved.
Disclosure: I am long IVN.
Additional disclosure: I am not invested in Khan Management Equity Fund and will not initiate an investment in the fund in the next 72 hours. A complete list of investments I am long in Mongolia can be found at my news blog, Mongolia Weekly Update. I have brokerage accounts with the following Mongolian brokerages mentioned in this article: Asia Pacific Securities, Eurasia Capital, and Frontier Securities. Additionally, I am invested in Origo Partners (OPP.L) which is a manager of the MSE Liquidity Fund cited in this article.