WTI Crude is one news story away from dropping below $100 per barrel. Long term I am bullish on oil however, the recent move up in oil is headline driven. In other words, the 8.5% increase in the price of a barrel of light crude over the last month and a half is not because demand for oil has increased 8.5%. In fact the IEA expects oil demand to grow by only 0.9% in 2012, citing a subdued economic backdrop.
Over the last two weeks oil has moved significantly on two false reports: a Saudi Arabian pipeline explosion and coordinated release of strategic reserves by the U.S. and U.K. The take away from these price movements is that oil is poised to run with the headlines in either direction.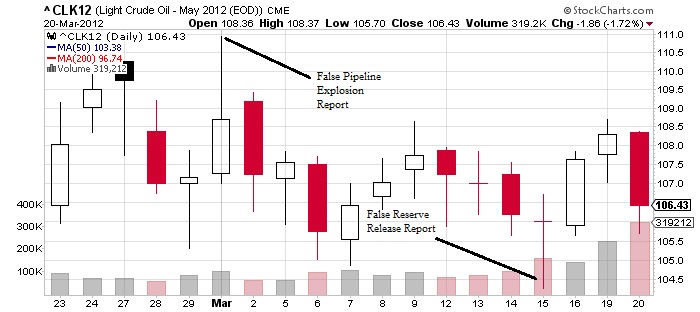 Thursday presents the potential for a price moving headline as President Obama visits Cushing, Oklahoma: The Pipeline Crossroads of the World. USA Today reported that Obama will press for expediting the construction of portions of the Keystone pipeline project:
While visiting Cushing on Thursday as part of a trip to promote his energy policy, Obama will reiterate the administration stance that expediting construction of the southern segment will help relieve a "bottleneck of oil" and bring domestic resources to market, said the official, who spoke on the condition of anonymity because the president has yet to speak on the matter.
Being that there tends to be a correlation between high prices at the pump and election year rhetoric in regards to the price of oil, the potential exists for Obama's speech at Cushing to put short term pressure on oil prices. Moreover, being an election year, the odds are that the content of the speech would be crafted to avoid and price positive rhetoric.
One way to play a short term correction in WTI is using put options in the ETF: United States Oil, LP (NYSEARCA:USO). Weekly put options the day before expiration offer an excellent opportunity to enter a highly leveraged position with a high risk/reward ratio.
Disclosure: I have no positions in any stocks mentioned, but may initiate a short position in USO over the next 72 hours.