NQ Mobile will need to restate earnings; DSO levels are far too high
In NQ Mobile's (NQ) most recent press release they announced that DSO (Days Sales Outstanding) had fallen to 145 days from 158 the previous quarter. DSO is a measure of how long on average it takes a company to get paid. It is calculated by dividing accounts receivable by revenue and then multiplying by the number of days in the period, which in this case is 90 days. At NQ, it is taking them almost 5 months on average to get paid.
The company has repeatedly provided the following explanation for the lengthy time it takes to get paid in China. Unlike in the U.S., payments for smartphone applications are run through multiple companies before they reach NQ. First, the carrier is paid by the consumer. This can take 30-60 days. Then the carrier pays a 3rd party vendor, which can also take 30-60 days. Lastly the vendor pays NQ, which again can take 30-60 days. Simple math tells you that payment can therefore fall anywhere between 90-180 days. If one accepts NQ statements as true regarding the payment process in China, 145 days would not appear to be an unreasonable average. However that's just it. 145 days is the average across all of NQ revenue not just China Mobile Value Added revenue.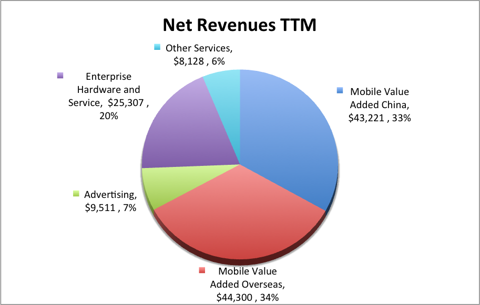 Source: NQ Earnings Releases
34% of NQ revenue is now from overseas which the company has stated have much faster rates of pay. Another 20% is enterprise revenue from NationSky where NQ bills the company directly. Presumably this revenue is at worst 30-60 day pay especially since a significant portion of this revenue is for hardware. Lastly, another 7% of revenue is advertising revenue or Offer Wall revenue. This revenue does not originate with the consumer but rather from 3rd parties, which should cut down the payment time by at least 30-60 days since it removes one of the transaction layers cited by NQ. So if over 60% of NQ's revenue is paying in 60-90 days then for the average to be 145 days the remaining revenue must be extremely delinquent.
Per NQ's most recent quarterly earnings release over, there remained over $70MM in account receivables. To put this in perspective, total NQ revenue for the last 12 months was $130MM. Now also consider my statements in the paragraph above regarding revenue sources and it is clear that $70MM in account receivables is an extraordinary number. It is my opinion that a large chunk of the over $70MM of account receivables is revenue that was recorded well over a year ago from China sources that has no chance of ever being paid. In the most recent quarter, tucked away in the earning release was an increase in the allowance for doubtful accounts to $973,000. This was 4 times the size for the previous quarter. I expect this number to increase materially as NQ attempts to quietly bleed off the bad revenue but they won't be able to do it through the allowance for doubtful accounts alone. They will have to restate. There simply is too much recognized revenue that will not be paid.
I further believe that the acquisition of Feiliu came with a disproportionately high level of account receivables as evidenced by the elevated increase in accounts receivables in Q4 2012, the quarter that the Feiliu acquisition closed. Account receivables rose by 36%(39.97M to $54.475M) from Q3 2012 to Q4 2012. Revenue during the same period rose by just 16%. Is it possible NQ miscalculated the credit worthiness of those receivables?
My belief is that the company is attempting to grow its way out of the problem. NQ management has pointed out that DSO is declining. Declining DSO in the wake of increased current revenues masks the bad revenue problem but does not eliminate it. Since revenue is the denominator in the DSO calculation if one increases revenue by a greater percentage than account receivables, DSO must go down. The bad revenue still exists however. I believe NQ is postponing restating revenue for as long as possible in the hopes that it will appear to be less material in the face of significantly higher overall revenues.
I had been an NQ bull for over a year. I have appreciated the careful analysis of other NQ bulls like Treasure Hunter and Toro Investment Partners. I have battled Gogsie on the Yahoo board under my CCPLP username. I exited my long investment in the $15 range obviously having left some money on the table. I could not ignore my growing concern over the quality of NQ revenues and thus I am now short.
Disclosure: I am short NQ.