By: Eli Inkrot
Utilities have long been the quintessential example of "stodgy" or slow growing, but inherent in this business model is a good deal of consistency as well.
Among companies with enviable dividend track records, it'd be fair to suggest that Indiana-based energy holding company Vectren (NYSE:VVC) is among the most revered; having not only paid but also increased its dividends… for the last 56 years. There's something to be said for consistency.
The company's long dividend streak makes it a Dividend King; a select group of stocks with 50+ years of rising dividends. You can see all the Dividend Kings here.
Here's a breakdown of the different businesses that Vectren operates in: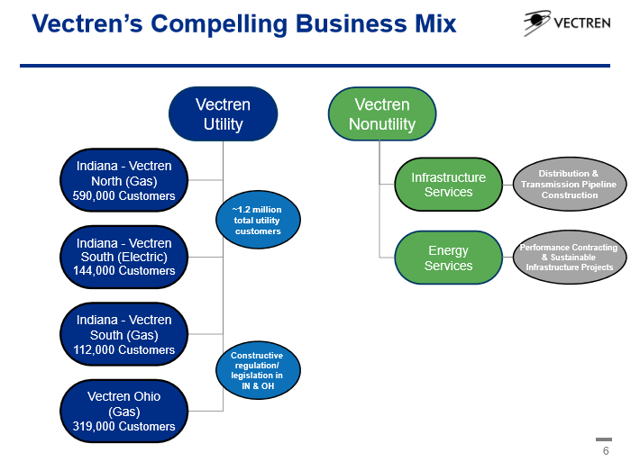 Source: Vectren, AGA Financial Forum, Slide 6
The vast majority (~80%) of the company's earnings are from the utility side. Further, those profits are split roughly fifty-fifty between gas and electric. By 2020 the company expects this ratio to tend toward gas comprising 65% of earnings and electric to be closer to 35%.
The company describes its utility side as "delivering gas or electric to nearly one million customers in adjoining territories that cover nearly two-thirds of Indiana and about 20% of Ohio." Here's what that looks like geographically:
Click Here To Read The Rest Of This Article On Sure Dividend