WARNINGS ! ! ! - Seems like warnings surround us at every turn. Warning labels. Stock market warnings, financial warnings. Inflation warnings, deflation warnings. WELL you get the idea.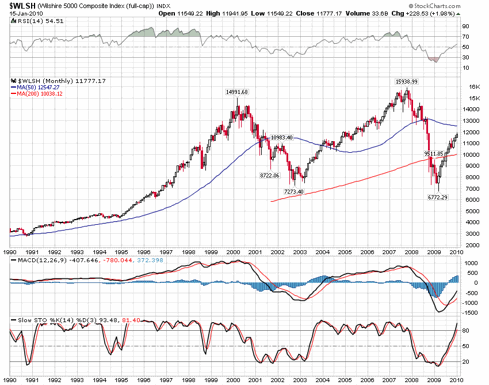 As you can see from the included Wilshire 5000 chart that has most of the 5000 most important stocks in the N.American universe, a case can be made for currently working on the Right Shoulder of a Head and Shoulders with the Left Shoulder achieved in 2000, the head, peaking in 2008, and now attempting to sketch out a Right Shoulder in 2010. "Might Could", I say in my best Jeff Foxworthy-speak, using a double conditional.
Constantly bombarded by guru's warning of the immient demise, paralyzes most investors.
Inflation in what you buy, deflation in what you sell, and uncertainty in investing.
Certainty is knowing people are going to EAT every DAY.

Whether its cyclical crop failures, , bio-fuel consumption of grains, falling grain stocks, all factors contributing to both the cost post and demand pull pricing pressure on food, gives pricing power to companies involved in secondary and tertiary roles in food production .
There ARE ways to invest in Food from Potash, to Phosphates, to Tractors, to GPS's, to Natural Gas. Some substances become scarcer, or simply cost more to bring to market. Part of the power under that FOOD Boom is PEOPLE as Infrastructure. They are working harder, longer and want better food in emerging economies. Possibilities of conversion of time honored methods to "modern" agriculture maybe be good or bad, but there are the reality. Should we have been in on Agrium, or Mosic, or Terra Industries? SandRidge, El Paso, Potash Corp and others? Non-metallic mining will continue to show strength as their products are used to enhance food growing, as will Nat Gas, to be converted into fertilizer. My no-brainer here is two fold: Natural Gas and fertilizers. One third of the planet's newly enfranchised  consumers WANT PROTEIN NOW ! ! !, and can afford it !!!!
Despite constant warnings Natural Gas could not advance in price, it has done so steadily and held its gains. ' Fracing ' will face more difficulties on the supply side, and on the demand side, further designation and use of Natural Gas as an acceptable non-polluting fuel
Energy to drive all this is needed to dry crops, power tractors, and transport, refrigerate it, distribute this food.. Be warned. Warnings surround us. This is a warning, not to be overwhelmed but rather to use these warnings are your beacons to find vehicles to help you profit.
Boring applications like sugar, and flour produced by companies who actually "Take Care of Business" have stocks out there for you to profit from, stocks that continually are yelling for us to look them over. Digital elbow grease will take you where you want to go, hunting for them, so you can bring home the digital bacon.
Intrepid Potash, Garmin Industries, John Deere, all have a stake in agriculture going forward and have their own niche. Intrepid produces potash through a brine process rather than pick and shovel mining.
Garmin produces the GPS's that John Deere uses to control its tractors in plowing, and spreading fertilizer and processing crops in the field. To say the field is limitless is a bad pun and a cliché, but that FOOD has a future where you can invest, and thats a FACT !
Disclosure:
Author has NO positions in any of the stocks listed.