In this short article we will look at what would happen if the EU, India, Japan and US all decided to put anti dumping charges to Chinese module producers. If I wrote this article 6 months ago, most would have said this would have been a very far fetched idea.
Sadly for the Chinese solar companies recent events points in just that direction. The EU already launched investigations, rumors have it India will do the same, and there is a growing dispute between China and Japan. Already there are anti-dumping investigations in the US.
With that in perspective I gathered data on demand in 2013 from the European photovoltaic industry association publication of global market outlook until 2016. They have two future scenario's: Moderate and Policy driven, both numbers will be compared in this article.
Without further introduction here are the graphs, first with the higher number that's a policy driven scenario: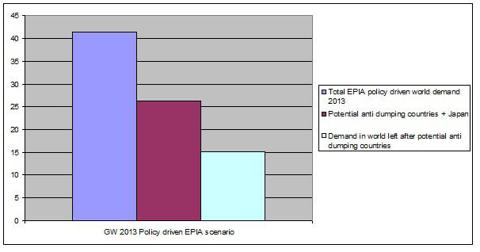 Then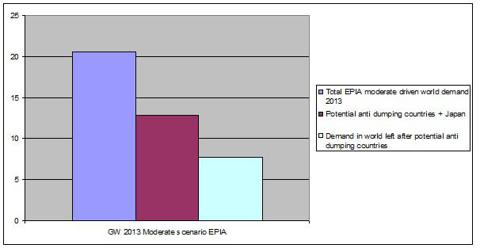 For the supply side of things you could count the capacity from quarterly presentations of chinese companies, or head to a site like solarpvinvestor.com that have a database for wafer to module production in 2012.
Conclusion: None so far as only US has initiated preliminary anti dumping tariffs, so nothing is set in stone yet. But if the current hostilities between Japan and China influence the module market, and US, Japan and Eu all initiated anti dumping tariffs, the consequences for the already financialy strechted Chinese companies could be dire.