In a previous post I mentioned that SLV:GLD was approaching technical target and technical weakness was expected. As of today, we see a sudden drop on the pair of SLV:GLD. I shall repeat that weakness at key resistance level doesn't mean it will reverse here. Topping is a process, not an event. There are abundant chances that it will make a couple "last push" before it heads lower, if here is the top. At this level, risk is high and reward is not proportional, in either directoin. I'd stay away.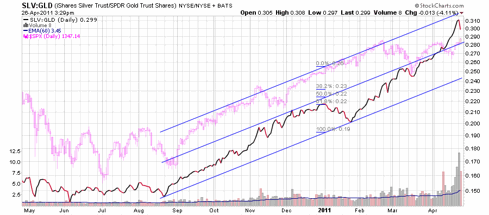 In another post I mentioned that XLK:SPY appeard to form a bottom. In the past a couple of days, this pair still in the process of forming a bottom, but as it formed higher lows, it's more promising now. However, the momentum weakeded a little bit as it approaching 50 day moving average as a key technical resistance. Patience is the key to play this pair.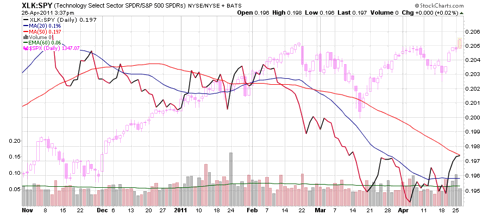 And AAPL did lead the rebound and made good move lately after I mentioned it here and here. Like XLK:SPY, it is laboring at a key resistance level. The volume is light so it shouldn't be a top here. Top usually forms when big players distribute their chips to retailers, which is usually accompanied with heavy volume. That said, it is highly possible that it make a sudden dive here and shake out some weak hands before moving higher. Again, patience is the key to play AAPL at this moment.