Admittedly this is a call of my gut, not based on techinical, fundamental, or catalyst. The hint is that AAPL's recent movement is so text book.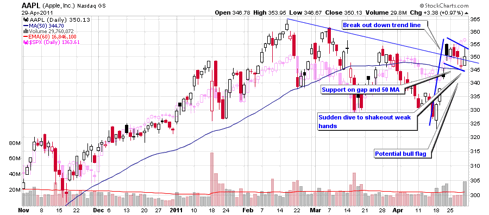 We see break out above down trend line, support at gap and 50-day moving average, sudden dive to shake out weak hands (which is well expected as I mentioned in my previous post), and a potential bull flag. Although today's close is not ideal, it may be that traders take profit before the weekend. And catiousness is healthy. I expect to see AAPL breaks out to the upside in the coming week. 

That said, technically the bull flag could fail if price failed to move above the upper channel of the flag. Traders want to have their risk exposure well managed.