It's been pointed out here that NXT-ID Wocket sales have disappointed - NXT-ID Wocket Sales Disappointed, Now What?
Part of this can be blamed on NXT-ID but some of it is tied to the industry which is still in a state of dysfunctional confusion at the Point of Sale. Blame it on the simultaneous arrival of EMV in credit cards and payments on your phone. Getting a creaky POS infrastructure to adapt to two major technology changes at one time is just too much to ask. It may be best that NXT-ID stays out of this fray until standard implementations and use cases get adopted. In one day I visited three different mainstream retailers that could still not get EMV working with their systems.
However as we begin 2016 the prospects for NXT-ID and new versions of their core technology wrapped in other packages are better than they have been for some time now.
NXT-ID announced the large purchase order from WorldVentures on February 19th. Here's a link to the release on PRNewswire.
Despite the disappointing past year there are reasons to expect much improved fundamentals this year from this new partnership strategy.
New Growth via Partnerships
In the course of selling Wockets directly to consumers via the their website (wocketwallet.com) and using specialized channels it's become clear that achieving large volumes and scale will come much faster using a B2B approach.
This has major advantages for NXTD investors. The company can focus on what they do best which is technology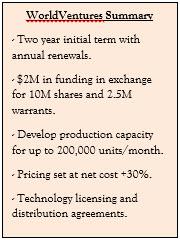 and product development and leverage large value-added industry channels like WorldVentures for customization and distribution.
The impact on numbers is dramatic - although the company will fall well short of our 40K unit estimate for 2015 they will greatly exceed our current 120K estimate for 2016. If all goes as planned NXT-ID will "pull forward" our volume forecast by about two years. Additional partnerships like the one with WorldVentures are targeted for other consumer-oriented markets.
The "shift" to EMV or "chip cards" has muddied the waters in the payment space and made it more difficult for early Wocket customers to enjoy a high level of acceptance. Nearly every major retailer has adopted a slightly different method of dealing with the situation - some have turned off EMV, others support both EMV and traditional swipe, others see the mess as a good excuse to go "all the way" with NFC and mobile payments.
For NXT-ID that means rolling out an NFC-based version of the Wocket which will allow consumers to enjoy broad acceptance of their Wocket card and simpler use at the point of sale. The testing and acceptance process with the major issuers takes time so we're not expecting a new version on the market until 1H2016 but we fully expect the card payment space to remain in a state of flux through that time period. Meanwhile NXT-ID will have plenty to focus on in terms of delivering against their new deal with WorldVentures.
Changes to the Model and IV
The shift in go-to-market for NXT-ID is a major one and so we have taken the opportunity to rebuild the IV model. At the same time this has given us an opportunity to make better long-term expense projections. Basic elements of the model like P/E (15) all remain the same but many things saw major revision including:
Units go up a lot faster. We've got 500K units now for 2016 and based on the deal with WorldVentures alone the unit volume depends mostly on the ability of NXT-ID to produce and deliver. No new customers are needed to make our 2016 projections. Our 1M unit projection for 2017 would require a new customer or distribution partner to close in the next year. (As a point of reference our old IV model didn't have NXT-ID hitting 1M units until 2019.)
We lowered our price expectation from $150 to $90 per Wocket. A number of companies, including Apple, have demonstrated that this is a price sensitive market. By leveraging large distribution NXT-ID can afford to give up some price in exchange for volume efficiency. We'd also note that the ability to generate downstream high margin service revenues might argue for even lower unit prices depending on the service attach rate. (These are things like replacement contracts, upgrades, or even credit-related services.)
Gross margins are lower but more stable since they are driven by large contracts. Specifically we are modeling gross margins at around 30% with the first years slightly below that and later years slightly above.
More established company expense levels are captured in the new model for 2015 and used as a basis to project into future years, but this time we have down so assuming a B2B strategy that offers better returns on sales and marketing spend.
The bottom line is that our IV stands at $6.13 which is a fairly massive potential return and strongly supported by their execution around a single new customer during the next year.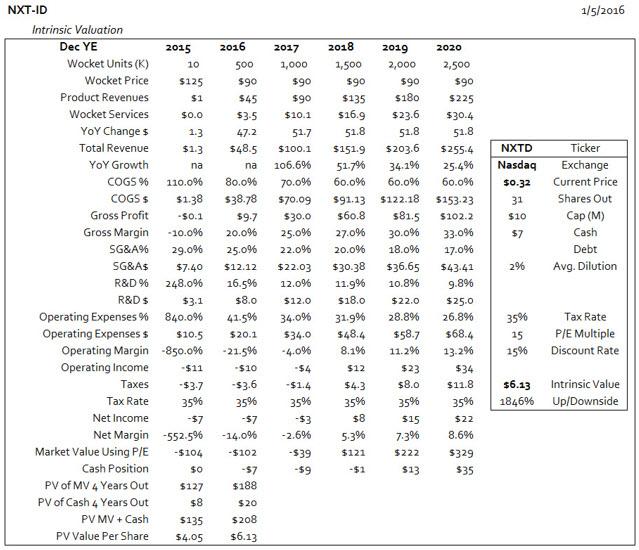 Conclusion
We're in a market that isn't embracing risk, especially small companies with tiny market capitalizations. But we have to acknowledge that for 2016 we have real evidence that the NXT-ID partnership strategy is working and makes the risk/reward very attractive in our view.
All investors should note that this is a micro-cap stock trading under $1 and his not suitable for most investor types - too risky. But given the low vauation relative to the opportunity we think it deserves consideration.
Disclosure: I/we have no positions in any stocks mentioned, and no plans to initiate any positions within the next 72 hours.
I wrote this article myself, and it expresses my own opinions. I am not receiving compensation for it (other than from Seeking Alpha). I have no business relationship with any company whose stock is mentioned in this article.