Aehr Test Systems (AEHR) develops and manufactures products designed for the semiconductor industry. Business is booming, but the stock price does not reflect that right now which gives us a great opportunity to buy cheap. Tech stocks were hit hard in the past few weeks, although many of the big names in this industry have experienced rebounds in recent days. Now that the market is acting better, smaller tech stocks like Aehr Test Systems might be next to rebound in a "catch up rally".
Aehr Test Systems supplies many of the biggest tech companies with its products and it even supplies Apple (AAPL). This company is growing rapidly and it has been reporting very strong financial results. On July 19, 2018, it announced net sales of $29.6 million for fiscal year 2018 which represents a 56% increase over revenues of $18.9 million for 2017. Non-GAAP net income was $1.5 million or 7 cents per share which compares very favorably to a net loss of $4.7 million or 29 cents per share in 2017. This indicates the company has now reached the level of sales it needs in order to be profitable. With fast growth expected going forward, profits could be poised for exponential gains. More positive news was recently announced which includes that the company has a $8.4 million backlog and cash and cash equivalents of $16.8 million. That's a lot of cash for a small company and it only has about $6 million in debt, which means this company has a very strong balance sheet.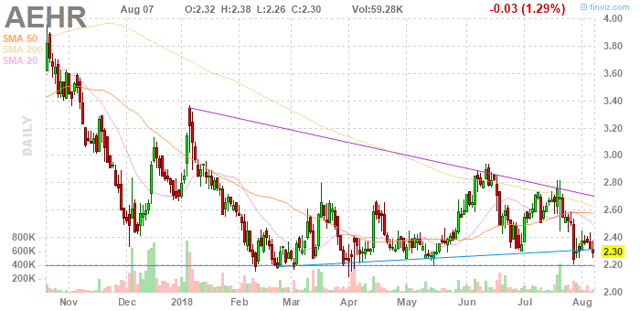 Another reason this stock is worth buying now is because it is trading for around $2.30 per share which is where it appears to have strong support. As the chart above shows, this stock has had multiple rebounds off of this level (in just the past few months) and it often jumped up to the $2.60 - $2.90 per share range within a short time. Buying at the $2.30 range could mean potential downside risks are limited since this appears to be a strong support level, and the stock could quickly gain about 20% from these levels if history repeats. As mentioned before, many large cap tech stocks were not doing so well after earnings were reported but have now started to show strength again and this could lead to more strength in small cap tech stocks like AEHR in the coming days.
In Summary: This stock could and should trade at much higher levels when more investors and analysts get familiar with the company and the very strong growth it is experiencing. This stock surged to about $6 per share in April, 2017 when this company was profiled as an Apple supplier in Barron's. It has also spiked up when the company reported new orders and other positive news. It makes sense to buy at current levels and patiently wait for the next rally or for the long-term upside potential this stock appears to offer.
If you want updates on these stocks in the future or other deep value and contrarian investing ideas, please consider following me. I have recently started posting updates on my Seeking Alpha Blog and by following me, you will have a chance to get these updates on stocks and investing strategies.
Data is sourced from Yahoo Finance. No guarantees or representations are made. Hawkinvest is not a registered investment advisor and does not provide specific investment advice. The information is for informational purposes only. You should always consult a financial advisor.
Disclosure: I am/we are long aehr.