The market got off to a technical bang for 2011, booking one of the best first days of the year since the 1980s.  This, of course, will have no implications for the market outside of the next few weeks or so.  But for the time being, our models continue to suggest that the first few weeks of the year should swing stocks higher.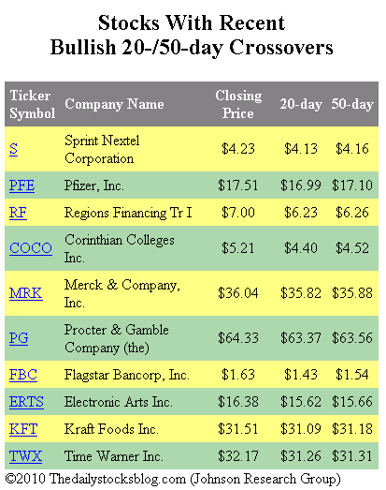 That in mind, it's best to keep an eye on stocks that are transitioning into strengthening technical patters since these stocks will likely gain momentum as their charts continue to improve.  For this, we monitor what we refer to as the "Silver Cross" stocks.  Technicians call it a "Golden Cross" when a stock's 50-day moving average crosses above its 200-day moving average.   We consider it a "Silver Cross" when a stock's 20-day moving average moves above its 50-day trendline.  Monitoring these faster-moving 20-day and 50-day crosses can provide opportunities for those looking to trade with shorter-term investment outlooks. 
The table displays a short list of stocks that have recently seen a "Silver Cross," indicating that the short- to intermediate-term outlook is likely to include upside acceleration in the price move.  We like these stocks for their potential to outpace the market over the next few weeks, providing an opportunity to generate some "Alpha" for our portfolio.
Disclosure:
I have no positions in any stocks mentioned, and no plans to initiate any positions within the next 72 hours.