Though earnings season is winding down, this week is far from light on reports.  In fact, around 65 S&P 500 companies are on the schedule this week.  Though most of the week's bigger-revenue names aren't among the typical "hot" plays – Coca-Cola, PepsiCo, Kraft Foods, Disney, Sprint Nextel, and a bunch of insurers – don't be lulled into thinking that there aren't some attractive trade possibilities.
One such "big" name is defense contractor Northrop Grumman (NYSE:NOC).  One thing you can say about both political parties.  They may mess with a lot of government programs, including the previously untouchable Social Security and Medicare (at least they're talking about it).  But no one is willing to stick their neck out by slicing away at the Pentagon's budget.  Perhaps the growth rate won't be what it was.  But defense contractors should continue to be well fed at the government trough. 
NOC reports earnings before the open on Wednesday, with analysts expecting a 23% decline in earnings from a year ago.  The company usually does pretty well in the earnings confessional, having missed just one estimate in the past 14 quarters.   And the stock usually shows strength after earnings.  In fact, the stock has gained ground in four of the past five quarters one week after reporting.
On the charts, the stock is poking above potential resistance in the 70 area, the site of a 19-month high in April 2010.  The 10-day and 20-day moving averages have been working in tandem to support the stock, which is on a 17% rally over the past couple of months.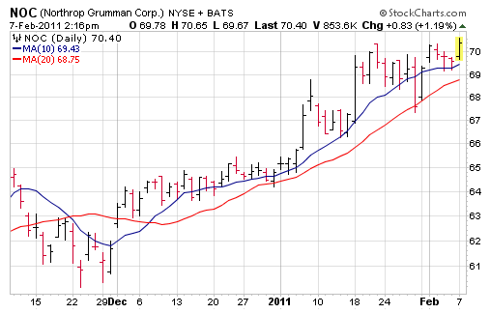 NOC's sentiment picture also supports the bullish cause.  Short interest has been unwinding for the past month, but remains at an elevated level.  The put/call ratio is likewise on the decline from a relative high peak.  And just four of 23 covering analysts rate the stock a "buy."  The bottom line is that there's plenty of pessimism toward NOC.  More importantly, we're seeing signs of this negativity unwinding as the stock presses higher.  That tells us buying pressure is increasing.
With all signs pointing toward NOC continuing its run higher, look for a boost after earnings and pessimism to continue unwinding into more buying power.