The latest surge in Oil prices has caused the options world to turn on its ears as the volatility trade has come alive for the first time in more than nine months. For the sake of background, the CBOE Volatility Index (VIX) has been in a significant decline since its last spike (that took it to readings around 35) in July of 2010. The spike in the VIX then was a signal that the volatility trade was preparing to unwind, which is almost always bullish for stocks.
So the question that begs being asked is "when can you tell that the volatility trade is going to unwind?"
OK, I've been watching the VIX since 1998, so I'm used to applying some measure of technical analysis to the "fear index" to determine buy/sell signals. Interestingly enough, I once worked for a trader that strongly argued that technical analysis on the VIX was worthless, not true.
When using the VIX to determine the correct timing of the buy signal trade there are two methods that can be applied. Well, really there are more than that, but the others are less quantitatively measured and are where one's experience of watching the VIX step-up to make the call. Let's talk about the two quantified measures.
First, the Volatility Bands. Using a set of Volatility, or Bollinger, Bands to maintain a vigil on the VIX is very effective. In the current case, the bands drawn by using the peak in the VIX from May 2010 (charted below) provide all that is necessary to determine the potential breaking point for the VIX. As of today, that breaking point stands at 21.40, meaning that as long as the VIX is able to maintain closes lower than this level we are looking at what should be a short-term buying opportunity for stocks. A break above this upper band (we consider a break as being two daily closes above the band) will signal that the volatility is getting ready to increase, hijacking short-term bullish prospects for the time being.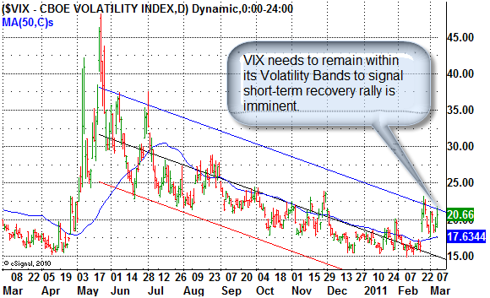 The second measure that you should be watching is a simple psychological level, 20. As is the case with indices like the S&P 500, Dow Jones Industrial Average and Russell 2000 Index, the VIX reacts well to psychologically important levels that are often represented by numbers that end in zeros.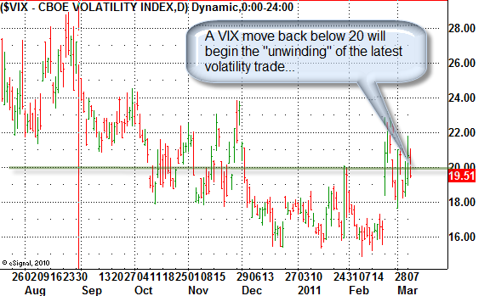 As simple as it may seem, this method indicates that a move below the 20 level by the VIX should signal that the buyers are more likely to start stepping back into stocks, driving the S&P 500 back towards our short-term target of 1,350.
Disclosure:
I have no positions in any stocks mentioned, and no plans to initiate any positions within the next 72 hours.