For those who are unfamiliar with pump and dump scams, here's a quick primer on how it works. A market "analyst" builds a large distribution list for his "expert" stock picks. He or his associates buys shares of a thinly traded penny stock. Then he vociferously and repeatedly touts (pumps) the company to his subscribers as the greatest investment opportunity he's seen in his illustrious career. His pump brings a ton of buyers to the thinly traded market which jacks up the price. He then uses the rising price rise as proof that the stock will skyrocket and continues to pump the stock as he quietly sells (dumps) his shares at a tasty profit. The problem comes as the pump fizzles out and his followers who bought the stock at a high price try to unload their shares and realize there aren't any buyers at the inflated price.
To be clear, I'm not accusing Jim Cramer of being a pump and dump scammer. However, the recent action in Sandstorm Gold (NYSEMKT:SAND) following Cramer's discussion of the company does suggest that his stock recommendations do have the power to move stock prices, especially for smaller, thinly traded companies. We'll call it the Cramer "Bump".
Cramer first mentioned Sandstorm Gold on Mad Money on September 28th as a low risk gold play with a good upside. Then on October 5th, Cramer brought Sandstorm CEO Nolan Watson on his show to discuss the company. From the chart below, we can see that the trading volume for Sandstorm increased around the Mad Money mentions and the price rose 17% in the six trading days following the recommendation. Then on November 13, Cramer initiated a sell call on the stock and the price plunged by 24% on increased volume, from the November 12th close to November 15th. The stock was up 2.3% on November 16th as the Cramer "Slump" seems to have exhausted its hot air.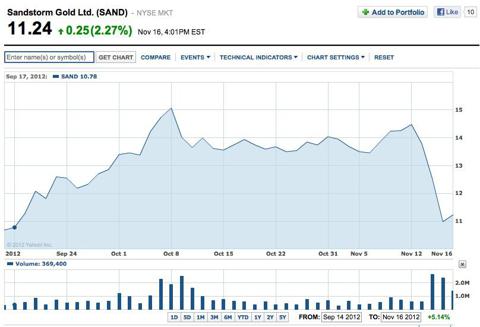 The chart of GLD below shows that the action in Sandstorm Gold has some correlation to the gold price but not really enough to be the sole cause of the volatility and increased volume. There also does not appear to be any major news about Sandstorm, beyond the Cramer comments, that would cause such dramatic swings in the stock price.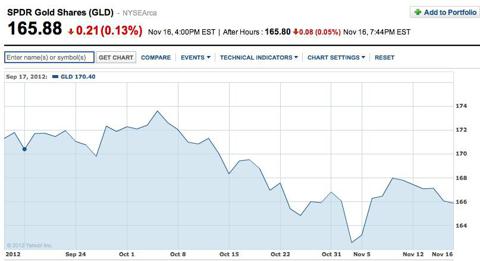 As I mentioned, I don't think Cramer is up to anything sinister. I don't even really know what rules he needs to abide by with his stock purchasing and recommendation activity. (If anyone knows please post it in the comments section.) But his position as a widely followed stock analyst sure does help with performance. My guess is that Cramer really does like the stock so he bought some and then recommended it to his audience. Then after seeing double digit gains in just over a month he decided to book his gains and recommend his viewers do the same. The symmetry of the volume around the buy and sell recommendations suggests that Cramer's viewers played a significant roll in the price rise and drop. My guess is that he welcomes this price drop which allows him to buy back in to this great long term play at a lower price. If he liked it at $12.86 in September I'm sure he loves it today at $10.99. Nice work if you can get it.
The moral of the story is that while we can't all be Cramer and bend smaller company stock prices to our whims, we can take advantage of opportunities when someone like Jim Cramer opens his mouth and a great stock like Sandstorm Gold drops 24% in three days with no change in the fundamental value of the company. It's like getting a great company at a one day only 24% off sale.
As I discussed in a previous SA article - How Sandstorm Makes You a Private Equity Investor - I consider Sandstorm Gold and Sandstorm Metals and Energy (OTCPK:STTYF) to be the kind of stocks that you buy and hold for five years to a decade and maybe longer. My recommendation is buy some, tune out the short term noise, and use these rare opportunities when we get a 24% off sale to accumulate some more.
Disclosure: I am long SAND, OTCPK:STTYF. I wrote this article myself, and it expresses my own opinions. I am not receiving compensation for it (other than from Seeking Alpha). I have no business relationship with any company whose stock is mentioned in this article.
Disclosure: I am long SAND, OTCPK:STTYF.