IsoRay, A Small Company Doing Big Things In Cancer Treatment
Please Note: Blog posts are not selected, edited or screened by Seeking Alpha editors.
Summary
IsoRay In Position To Take Advantage Of The Fast Growing Trillion Dollar Cancer Treatment Business.
With Big Pharma Patents Expiring IsoRay One Of The Few Cancer Treatment Biotech Companies Available For Acquisition.
Clinical Trial Shows IsoRay's Cesium-131 Stopped The Cancers That Other Methods Failed With Numerous Attempts.
IsoRay Chart Showing Potential Huge Upside.
IsoRay, A Great Risk Versus Reward Play.
Cancer treatment has fast become a trillion dollar business. In America alone, there are nearly 14.5 million people alive with a history of cancer as of January 1, 2015. Over 1.6 million new cancer cases are expected to be diagnosed this year in the US. Cancer is the second most common cause of death and accounts for almost 1 in every 4 deaths. According to the Agency for Healthcare Research and Quality (AHRQ) direct medical costs for cancer in the US in 2011 were almost $89 billion. Worldwide, the World Health Organization (WHO) estimates cancer treatments costs of more than One-Trillion dollars. They estimate that 1 in 3 people will develop cancer in their lifetime. There were 14.2 million cases of cancer diagnosed worldwide in 2012 and 8.2 Million cancer deaths. In 2030 Global cancer is expected to reach 21.7 million new cancer cases a year and 13 million deaths.
http://www.cancer.org/research/cancerfactsstatistics/cancerfactsfigures2015/index
According to the Global Pharma US and EU Outlook 2015 Report, Big Pharmas divestment of non-core assets has resulted in heavy cash positions and will accelerate the next wave of targeted acquisitions. Big Pharma is in a race to acquire assets in hot new therapy areas, such as brachytherapy. The interest in pursuing opportunities in Oncology therapy is unhindered for all major Big Pharma companies. Also, according to the report, research investments in oncology is likely to continue for several more years due to the significant unmet needs existing in this area.
With the exception of a few companies, expiring patents will continue eating away top line profits and they are finding it difficult to replace declining sales with their own pipeline products. These Pharma companies will add financial strength through divesting non-core assets to pursue opportunities in high margin therapy areas, such as brachytherapy. The problem being, that it is fast becoming more difficult to find such assets because they are scarce and if they are available are already trading at very high premium in speculation of getting acquired (ex. Roche-Alexion). Global Pharma continues to remain attractive due to management efforts on the restructuring of entire business model, cost efficiency measures, de-consolidation, acquisition of high value targeted assets, share repurchase program and dividend policy.
http://finance.yahoo.com/news/global-pharma-u-eu-outlook-182000548.html;_ylt=A0LEVvaYvu9UC2oALW4nnIlQ;_ylu=X3oDMTEzbnM3aWYwBHNlYwNzcgRwb3MDMQRjb2xvA2JmMQR2dGlkA1lIUzAwM18x
Here is where IsoRay (ISR), comes into the picture. IsoRay is a small biomedical company out of Richland, Washington with a line of patented products, including Cesium-131, a multi cancer treatment that is currently FDA approved for treating brain cancer, prostate cancer, lung cancer, ocular cancer, head and neck cancer, and other cancers throughout the body. What is so incredible about Cesium-131 is that it has an unbelievably high success rate and minimal side effects compared to other cancer treatments. Also, IsoRay products are covered by Medicare and private insurance. So there are no limitations on receiving payment and reimbursements.
This past November at the annual meeting of the Society for Neuro-Oncology, Barrow Neurological Institute, which is among the world's foremost brain cancer research and treatment sites, presented its five year cancer study results of 27 patients who had various deadly brain cancers. All patients had an average of 2 and as many as 4 extensive conventional cancer treatments previous to the study that had failed, all resulting in a recurrence of the cancers in the same locations. These 27 patients were treated with Cesium-131 and the results were astonishing, 26 of the 27 patients, 96%, had no recurrence of cancer in the treated area. http://www.isoray.com/press-release/isoray-cesium-131-therapy-stops-brain-cancers-from-recurring-in-treated-locations-where-previous-conventional-treatments-failed/
IsoRay's Cesium-131, literally stopped the cancers that all other methods had failed even with numerous treatments.
Another study, a Five Year Prostate-specific Antigen Outcomes In Men Undergoing Prostate Brachytherapy with Cesium-131 at a single institution was done by the University of Pittsburgh School of Medicine, (Clinical Oncology December 2014 Volume 26, Issue 12, Pages 776-780). This study involved 485 patients that had prostate brachytherapy treatment with Cesium-131. At the UPSM at the time of these results, 367 patients had at least 24 months of follow-up and were, therefore, included in this study. The study showed that the patients treated with Cesium-131 had a disease-specific survival of 99.5% after five years. www.isoray.com/assets/Benoit_PSA_Outcome...
In August Doctors at Weill Medical College of Cornell University in NY published another clinical paper titled "Phase I/II study of resection and intraoperative cesium-131 radioisotope brachytherapy in patients with newly diagnosed brain metastases." (Journal of Neurosurgery August 2014, Volume 121, Issue 2, Pages 338-348) The study was conducted between 2010 and 2012 involving 24 patients, all with newly diagnosed metastasis to the brain. Results of the study showed that after treatment with Cesium-131 there were no local recurrences(100% no recurrence of the cancer), no radiation necrosis and minimal toxicity.
These results are remarkable when compared to the standard care for brain metastases, which is whole brain radiation therapy. Whole brain radiation therapy has a high rate of recurrence of the cancer and it also has acute and long-term toxicities. This is yet another study that shows Cesium-131 once again stops the cancers that other cancer treatments cannot and virtually no acute side effects or toxicities. http://thejns.org/doi/abs/10.3171/2014.3.JNS131140
This past April, at the Annual Meeting of the American Brachytherapy Society (ABS), several oral presentations were made concerning clinical study results. www.isoray.com/press-release/isoray-anno.../
One was a "Six-Year Biochemical Outcome in Patients Treated with Cs-131 Brachytherapy as Monotherapy for Prostate Cancer", done at the University of Pittsburg Cancer Institute. The study involved 243 prostate cancer patients treated only with Cesium-131 and the results showed an incredible 95% success rate for freedom from cancer after six years.
Another study, by the Cancer Foundation of Chicago, Westmont, IL, "PSA Outcomes in a single Institution, Prospective Randomized 131Cs/125I Permanent Prostate Brachytherapy Trial", showed after five years patients treated with Cesium-131 had a 93% cancer free rate compared to Iodine-125 of only 90% cancer free rate. It also Also needs to be noted Cesium-131 has a much shorter half-life and less side effects compared to Iodine-125, making it safer and more effective in treating cancer.
The clinical trials and results are great, but what if you are a technical trader? If you are a technical trader, this is where your discipline comes into play and you need to step back and ignore all the opinions, blogs and message boards out there and just go with what the chart is telling you. So let's look at the chart.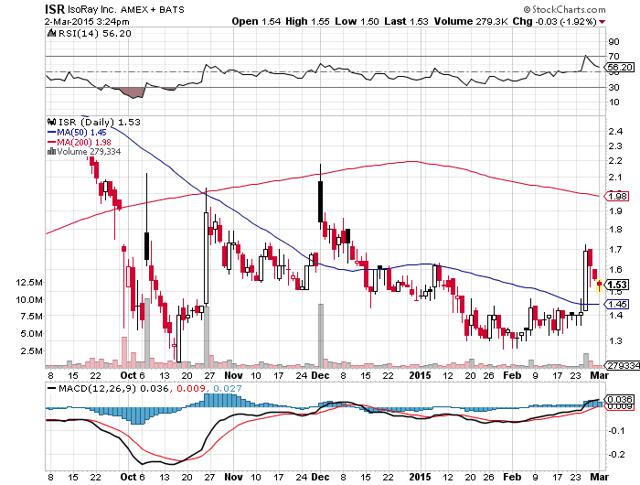 Technically, it was in a downtrend since late June of last year, but that seems to have bottomed with pretty strong support actually a double bottom in the $1.20's. Support has moved up from $1.22, to $1.31 and now it appears support is $1.50. There looks to be a cup and handle forming on the daily and RSI, Stochastics and MACD all appear to be up trending. Technically this looks like a major reversal is about to take place.
Now lets look at the IsoRay chart history, because we all know history repeats itself and everything trades in cycles. The last time the chart set up like this was March of last year, at which time the stock exploded over 250% in one day alone. The current chart set up is almost identical to that right now.
An investor can wait and see if Isoray share price does make its next big run up or if it is going to dip again. The reward side of buying here is a potential multibagger while the risk side is minimal. Also, Maxim rates Isoray as a buy with a $5 target price. https://www.tipranks.com/experts/jason-kolbert
Final analysis on Isoray, whether acquired or not, it may have substantial upside due to patented technology, far superior cancer therapy treatment, incredibly high success rate, minimal side effects, low share price, chart technicals as well as chart history.
Analyst's Disclosure: The author is long ISR.
The author wrote this article themselves, and it expresses their own opinions. The author is not receiving compensation for it (other than from Seeking Alpha). The author has no business relationship with any company whose stock is mentioned in this article.
Seeking Alpha's Disclosure: Past performance is no guarantee of future results. No recommendation or advice is being given as to whether any investment is suitable for a particular investor. Any views or opinions expressed above may not reflect those of Seeking Alpha as a whole. Seeking Alpha is not a licensed securities dealer, broker or US investment adviser or investment bank. Our analysts are third party authors that include both professional investors and individual investors who may not be licensed or certified by any institute or regulatory body.