FSRU:

Short lead time and cost-effective regas solution to meet needs in growing LNG international mkts.
50% cheaper ($0.3/MMBtu) and 2X quicker (6M to 3Y) than onshore regas terminals.
Benefit if LNG is competitive vs oil which is case currently: LNG 5$/MMBtu in Singapore vs ~$9.5 for brent.
Currently, just a handful of FSRU providers which means high returns (unlevered charter yield ~10.8%).

Data:                            

IPO Aug-14, one capital increase since then (Dec-16)
$19.85 current mkt price, $653.3M market cap
9.8X T12M P/E, 8.7% div yield ($0.43/qtr) vs 7.1% for Alerian MLP index, 1.07X distrib coverage.
Stock = 32.911M units = 19.755M common units + 13.156M subordinated units (owned by sponsor).
Analysts: 8 buys /0 hold /0 sell, 12M TP $21.73 ie +9.5% Price + 8.7% Carry = +18.2% 12M TRR

Sponsor:      

HLNG, owns 46.4% of HMLP (100% sub units and 10.7% of LP units).
Recently awarded 2 X 20Y fixed rate contracts with Ghana & Pakistan, 3 FSRUs on order, drop down to HMLP expected to start mid-18.  

Assets:        

HMLP owns 5 of the 20 operating FSRUs in the world.
Fixed rate LT charters
12.2Y average charter remaining duration, earliest expiry 2025.
Avg vessel age 3.8Y.

Latest drop-down:  

51% of "Grace" FSRU occurred in Jan-17 ($370M val, $188.7M check for this portion).
Expected annual EBITDA contrib of ~$40 million (9.25X multiple), with a daily rate of $150k/day (267 days).
Funding: 50% Equity ($94.3M) /  50% Debt. In Dec-16, HMLP offered 5.5M units. Finally placed 6.59M shares at $17.6 raising $116M. Increased LP units count by 50%.

Next drop-down:     

Remaining 49% of Grace, requiring ~$90M equity (partly funded by $21.7M excess of Dec-16 round)
Timing market dependant, but likely 3Q17 (Mgmt said rather sooner than later)
Market expecting Mgmt to lower the DD multiple (look for 9X vs 9.25X prev).
Then gap in DD until mid-2018 (Ghana & Pakistan)

Stable revs:               

Long Term Fixed Contracts,
No direct commo expo. Indirect via opex & contract renego terms.
DD occur after FSRUs go on LT contracts.

Growth:      

Visible Growth with 5 chartered FSRUs at the sponsor to be dropped down over time (excl remaining 49% of Grace).
Grew distrib by 4.2% after 51% Grace DD in 1Q17
Expect another 4% distrib increase by year end, following the DD of Grace's 49% reminder.

Risk:                              

Macro
Strong rally in Gas/LNG prices
Concentration, Credit Risk & Re-charter risk
Frequent cap increase to fin DD.
DD valuation (HMLP/HLNG nego)
Delayed DD (Chile)
HLNG not being able to negotiate favourable terms on new contracts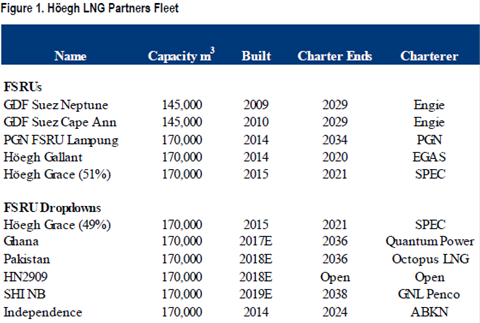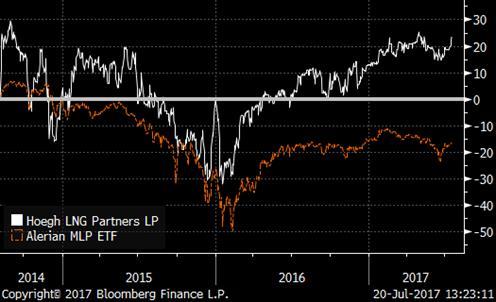 Disclosure: I am/we are long HMLP.